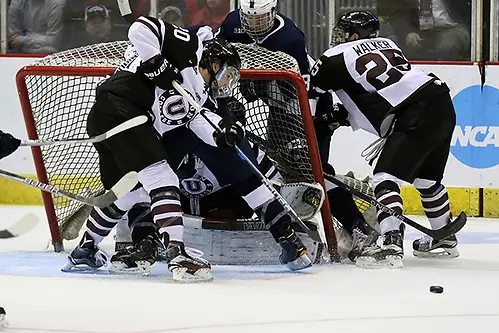 CINCINNATI — Three takeaways from Penn State's 10-3 victory over Union in the Midwest Regional semifinals on Saturday.
1. Penn State's offense is as advertised
Penn State came into the game with the second-highest goals-per-game total and the most shots taken this year in Division I hockey, but no one was prepared for the Nittany Lions to drop double-digits on the 2014 national champions.
The goals were big and came in a steady stream throughout the game, sure. But it was the play off the puck that really impressed. While the Dutchmen kept it close in the first two frames it was the Penn State offense that stayed active, backchecking in several key situations to mitigate opposition chances and turn the puck up the other way.
The forecheck was heavy and liberally applied, which frustrated Union to no end and kept the Dutchmen from settling into a rhythm. It seemed regardless of where they were on the ice, the Nittany Lions offense managed to execute.
2. Youth isn't as much of a limitation as it would seem
The Nittany Lions have faced so many doubts on the road to Cincinnati: a weak out-of-conference schedule, inconsistent in-conference success, the list seems to go on. Penn State's inexperience was perhaps the biggest point of contention, but David Goodwin's postgame answer seemed to sum up what he and his team have maintained these past few weeks: They have gained experience.
What else would one call two double-overtime victories over traditional college hockey powerhouses en route to a conference championship? Saturday's 10-3 win was achieved with five underclassmen playing a top-six forward role, and three of those young men posted three-point games. Freshmen and sophomores have accounted for 112 of their team's 157 goals this season (not to mention nine of Saturday's 10 tallies). Experience is valuable, but lack of said experience is not in and of itself disqualifying.
3. The Nittany Lions defense wasn't that bad
Penn State's blue line has taken some flak this year for underperforming, but that defensive corps held strong when called upon Saturday. They limited the Dutchmen to just 14 shots through the first two periods and maintained a strong net-front presence throughout the evening.
Although they've allowed just 2.68 goals against per game this season on average, the Nittany Lions have depended on a red-hot offense to carry them through most of the season. Add in goaltender Peyton Jones' .907 save percentage entering the weekend and there was reason for concern, but this defensive squad was respectable enough to contain a prominent offense that boasts not one, but two Hobey Baker Award finalists.
Denver represents a similar challenge, but one that this young Penn State blue line looks ready to face.