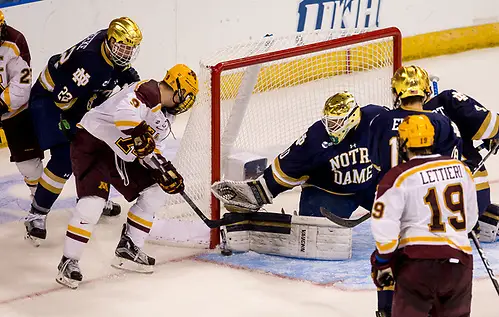 MANCHESTER, N.H. — Here are three takeaways from Notre Dame's dramatic 3-2 comeback upset of Minnesota in the Northeast Regional semifinals on Saturday.
1. When the chips are down, you need your big guns to deliver
Trailing top regional seed Minnesota 2-0 more than halfway through the game, Notre Dame looked to Andrew Oglevie and Anders Bjork for a way back into the game. The two had led the Irish in scoring this season and with the chips down, they delivered.
Oglevie scored his 20th goal at 14:39 of the second, catching Minnesota in a line change, and Bjork followed less than a minute later with his own 20th to tie it.
Bjork didn't stop there. He got the game-winner at 8:42, and made a key defensive play in the closing minute to kill 15 huge seconds on the clock.
"That's their gift," Notre Dame coach Jeff Jackson said. "They have the great instincts and puck skills. You don't win without your best players playing at their best at the most important moments of the year."
Minnesota coach Don Lucia added, "Bjork was the best player on the ice tonight."
2. At this time of year, little things become huge
Minnesota had chances to put Notre Dame away when it still had the 2-0 lead, but couldn't do it.
"We left some opportunities on the ice to extend the lead," Lucia said.
At 10:28 of the second period, Jackson called a timeout, his team down 2-0 to the favored Golden Gophers. Five minutes later, the game was tied.
Coincidence? Perhaps.
But Minnesota's bad line change that led to Notre Dame's first goal was no coincidence at all. It was the opening the Irish needed.
And then on the tying goal, there was a "what might have been" moment.
"One of our best players was right with a guy but doesn't pick up a stick," Lucia said.
Finally, in the closing minute with Minnesota goaltender Eric Schierhorn pulled, Justin Kloos hit the post.
Woulda. Coulda. Shoulda.
3. Notre Dame's win sets up an all-Hockey East matchup that heavily favors Lowell
In Minnesota, Notre Dame may have been playing a future Big Ten opponent, one the Irish has faced the last six years in nonconference play. But until the season ends, they're still a Hockey East team. As a result, it'll be an all-Hockey East regional championship game, albeit a less-than-desirable matchup for them.
Just a week ago, the River Hawks manhandled Notre Dame 5-1 in the Hockey East semifinals, prompting Jackson to admit the obvious.
"This is familiar territory," Notre Dame coach Jeff Jackson said after the loss. "UMass Lowell is a great team and they certainly have our number. They have ever since we started playing them three or four years ago. Same thing tonight."
Are the Irish destined to fall again to the River Hawks?
"First of all, we need to show up," Jackson said on Saturday. "Last week was an anomaly to me because that wasn't the team I've seen over the last eight weeks.
"I think they were mesmerized by the moment, never having played in a big venue like [Boston's TD Garden] before. That was a deer-in-the-headlights moment for us. Hopefully, going through that will help us.
"But I'm at least glad we got our game back in the latter stages of this game."