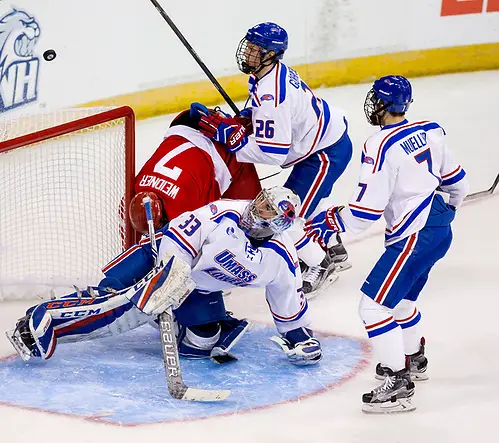 MANCHESTER, N.H. — A 5-0 score did not appropriately represent how tight UMass Lowell's victory was over Cornell in Saturday's NCAA Northeast Regional semifinals. In fact, the shutout for goaltender Tyler Wall was nearly out in the opening minute when it appeared Cornell scored.
But not so fast. That leads the three takeaways from Saturday's game:
1. Reversal of Cornell goal swaps early momentum
It appeared that Mitch Vanderlaan gave the Big Red the lead just 53 seconds into Saturday's game. But upon video review, something that was used extensively in the contest (totaling 17 minutes in additional time it took to play the game), it was ruled the puck was knocked down by a high stick prior to the original shot by Jake Weidner.
"I kind of expected it to get waved off," said Weidner. "I had a pretty good view of it."
From that moment, Lowell's defense tightened up and allowed very little. The River Hawks struck less than six minutes later and added two additional goals in the second and third periods.
2. Lowell took a lickin' and kept on tickin'
With 12 of its 16 skaters 6-foot-1 or larger, Cornell came at Lowell with a physical element effectively throughout the game. The River Hawks effectively absorbed the hits and used speed to combat things.
When Cornell was successful in lining up River Hawks skaters, the ability to move the puck a split second in advance helped alleviate the Big Red pressure.
"They're big and we wanted to keep moving — move the puck, move our feet," said Lowell freshman Ryan Lohin. "We were able to do that throughout the game."
Coach Norm Bazin summed it up more succinctly.
"If you're not moving, you're a sitting duck," said Bazin.
3. Noon start didn't faze the combatants
It's not often in college hockey that you wake up, eat breakfast and then head to the rink. That was the case for both teams with a noon EDT start for the opening game of the regional.
You would think that might annoy players, but neither team seemed to mind.
"We're excited to get it going early in the day," said Lowell captain Michael Kapla, whose River Hawks previously played a 3 p.m. game against New Hampshire in the Hockey East quarterfinals. "We didn't want to sit around all day. We wanted to get right at it."
Kapla's River Hawks can rest a little longer before Sunday's regional final. The game is slated for a 3:30 p.m. EDT puck drop.