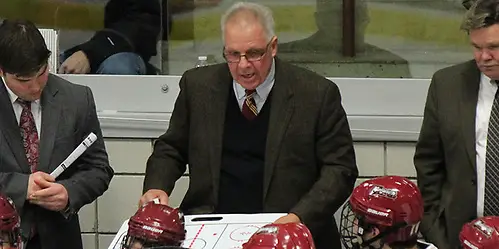 Coming off the 2015-16 season his team underachieved according to many assessments, Norwich Cadets coach Mike McShane has a perspective on that season that only he as coach of this year's 27-1-3 run to the national title can appreciate. The Edward Jeremiah D-III Coach of the Year (for the fifth time) and now USCHO coach of the year saw many things already in place for this year's historic run.
"Everyone likes to say we a bad year last year," stated McShane. "We went 17-8-2, which is a good season by anyone's standard and we had a ton of injuries. I didn't like the last game in the playoffs against Babson, but I was immensely proud of the kids on the whole season."
McShane, who has been coaching at the collegiate level for 36 seasons, the last 22 at Norwich, has compiled a 478-123-36 record with the Cadets that includes four national championships along the way. This year's team finished a remarkable 27-1-3 and has a current unbeaten streak of 25 games that stands as a program best.
"Last year [15-16] we had one senior on the team," noted McShane. "We had 10 seniors back this year and from the very end of last year, they were driven to be better and have the season they felt we could have. None of them had been to a Frozen Four in their careers at Norwich, so there was a big focus and drive to get there this season and compete on a national level. Seriously, I just tried to stay out of their way and let the leadership group keep the team moving forward."
Captain Tyler Piacentini sees things just a bit differently, even with the recent Frozen Four games and his coach's impact on the product on the ice.
"I think the only person with this team that is more competitive than the players is our coach," said Piacentini. "He keeps us focused and motivated and challenges us to be better all the time. He is always coaching and like he said after the Adrian game, he had us looking at some minor adjustments right through overtime."
In the semifinal game against Adrian, McShane saw the opponents rally for two goals in the final five minutes to send the game to overtime. When asked about his message in the locker room at the end of regulation, he offered his sage wisdom.
"I told them that it was behind us, that whatever the next 20 minutes held was the thing in front of us and to focus on. We changed to three lines and adjusted the strategy a hair and got our game going after the first couple of minutes of overtime."
McShane also achieved another significant milestone during this season when he recorded his 700th win as a head coach on November 19, 2016, in a 4-0 road win over Castleton. Ironically, the milestone win came after a 3-2 loss to Skidmore which turned out to be the Cadets' sole loss of the season.
"I am having more fun than ever, said McShane. "I have a great situation here at Norwich with great support from the school, terrific assistant coaches like Steve Mattson, Alec [Thieda], Bryce [Currier] and Cap [Raeder]. I enjoy some terrific friendships with people in the area that have been built over my time here and I just love coaching the kids that come wanting to play for Norwich."