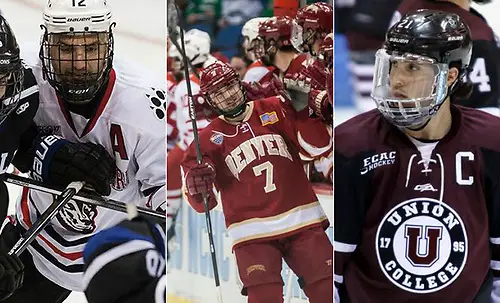 The Hobey Baker Memorial Award on Thursday announced the three Hobey Hat Trick finalists for the 2017 Hobey Baker Memorial Award, honoring college hockey's top player.
Alphabetically, they are: Zach Aston-Reese, senior forward from Northeastern, Will Butcher, senior defenseman from Denver, and Mike Vecchione, senior forward from Union.
The three finalists were selected from the initial list of top ten candidates by the 27-member selection committee and an additional round of online fan balloting to determine this year's Hobey Baker winner. Criteria for the award includes displaying outstanding skills in all phases of the game, strength of character on and off the ice, sportsmanship and scholastic achievements.
This year's Hobey Baker Award winner will be announced Friday, April 7, from the Aon Grand Ballroom at Navy Pier in Chicago during the Frozen Four. The 37th annual announcement will be televised live on the NHL Network at 6 p.m. ET, and at the Hobey website, www.hobeybaker.com.
Zach Aston-Reese – Northeastern – Senior, Forward, Staten Island, N.Y.
Whether its special teams play or five-on-five, Aston-Reese has been a consistent and dominant performer this season. The Hockey East Player of the Year and First Team all-conference sniper is part of a three-way tie for most points in the nation while topping all skaters in the country with 31 goals. The assistant captain for the Huskies recently signed a pro contract and is skating with Wilkes-Barre in the AHL.
• Finished with 31 goals, 32 assists for 63 points in 38 games – had 19 multiple point games – tied for first in nation averaging 1.66 points per game – Graphic Design major
• His 13 power play goals are tied third in nation and 4 short-handed goals are tied second
• Works with elementary schools in Boston area by reading to classes
Will Butcher – Denver – Senior, Defense, Sun Prairie, Wis.
The NCHC Player of the Year becomes the first defenseman since Hobey winner Matt Gilroy (2009) to become a hat trick finalist. Butcher is a complete player, equally efficient at both ends of the ice. His 36 points places him second in the nation in points by a defenseman, while his plus/minus of plus-25 is ninth overall in the nation. His outstanding season garnered honors as Offensive Defenseman of the Year in the NCHC and First Team all-conference for the second straight year.
• Has 7 goals, 29 assists for 36 points in 41 games – Colorado draft (5th round)
• As captain of the Pioneers, Denver were regular season champs; are ranked #1 nationally
• Business major – Hockey Saves volunteer assisting military personal playing hockey
Mike Vecchione – Union – Senior, Forward, Saugus, Mass.
Sitting tied at the top of the nation in scoring with his fellow hat trick finalist, Vecchione is the ECAC Player of the Year and was a finalist for the Best Defensive Forward, proving his value as a 200 foot player. Also named First Team all-conference, he was second in the nation in goal scoring and tied for second with four short-handed goals. He culminated his Dutchmen career as the program's all time points and assist leader.
• Finished with 29 goals, 34 assists for 63 points in 38 games – won 61.8% of faceoffs, 4th in nation – led nation with 21 multiple point games and 7 game-winning goals
• Points per game average of 1.66 is tied for first in the nation – History major
• Active in many events; spearheaded effort to serve Thanksgiving meals at local YMCA