As the lone team returning to the NCAA Frozen Four, the top-ranked Denver Pioneers come in as the favorites to get to the title game, but sitting directly in their path is a hot Notre Dame Fighting Irish team with an experienced goaltender and some talented forwards who could make life difficult.
The Fighting Irish are built from the back end out, and it all starts with their veteran goaltender Cal Petersen. It is not often that a netminder is named captain, but that is exactly how coach Jeff Jackson honored his junior.
Frozen Four 2017
More coverage of the 2017 NCAA men's Frozen Four at Frozen Four Central.
Petersen has appeared in 39 games this season and has racked up a record of 23-11-5 with a 2.13 goals against average and a .929 save percentage.
"It all starts in net," said one opposing coach who saw Petersen early in the season. "Cal Petersen gives them such a boost of calm confidence from the net that allows those guys to play with confidence in every zone."
Petersen has the type of big-game mentality that coaches love.
"Petersen was great against [UMass] Lowell and can steal a game at any time," said another opposing coach whose team saw the Irish recently. "I think he is playing at a really high level right now."
While the Irish struggled along the way this season, Petersen stood tall behind a big, physical blue line corps that should match up well against the Pioneers' smaller, but heavily skilled, forwards.
Up front, the Irish are led by talented junior Anders Bjork. The Mequon, Wis., native is enjoying his best season as member of Notre Dame's forwards, scoring career highs in goals (21), assists (31), points (52), power-play goals (5), short-handed goals (2) and game-winning goals (6).
"Bjork comes to mind as one of the best players in the country," said an opposing coach. "I voted him as one of the top three players in the country that I saw. He was that good."
Bjork has been strong throughout the season for the Irish. He scored seven points in the opening weekend against Arizona State and continued to roll through, scoring five points last weekend during the Northeast Regional.
Consistency has been a major part of his game. He opened the season on a five-game point streak, put up a six-game streak in December that lasted into January, racked up another five-game streak in February and enters the Frozen Four on a two-game streak.
As good as Notre Dame has been of late, it will have to be near perfect if its wants to take down the Pioneers, who are deep at every position.
Denver features one of the best goaltenders in the country in junior Tanner Jaillet. Smaller in stature than what has become the current tradition for goaltending, Jaillet is not flashy, but he makes the saves his team needs him to make. That's enough to keep the Pioneers on the winning side of the ledger most nights.
"His numbers don't lie," said an opposing coach. "He's a junior now. He's been through the wringer and back. It wouldn't shock me if he gets them through and they win it all."
In 36 appearances this season, Jaillet is 26-5-4 with a 1.86 goals against average and a .928 save percentage.
In front of Jaillet, Denver's smaller defensive corps is smart with its shots. Led by senior Will Butcher, freshman Michael Davies and junior Adam Plant, the Pioneers' blue liners do not possess big shots, but rather smart ones. That allows their high-end forwards to create traffic in front of opposing nets, leading to quick goals off those smart shots.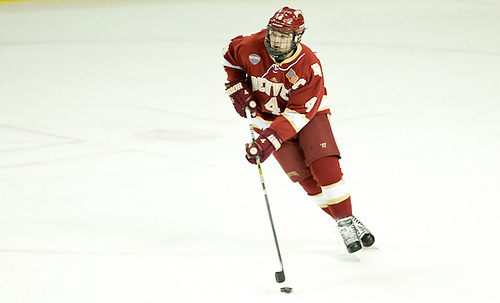 "They don't need much time or space to score goals," said an opposing coach. "Obviously, they have one of the best defensemen in the country in Butcher, who's like a forward playing defense because he handles the puck so well."
Much is made of the Pioneers' top three forwards in freshman Henrik Borgstrom and sophomores Troy Terry and Dylan Gambrell. All three possess strong puck-control skills, which makes them a load to try to stop when they get moving. All three can run the cycle very effectively in the offensive zone, making it tough for opponents to get the puck back.
"I really like their team," said an opposing coach. "They are fast, work extremely hard and don't make many mistakes. Terry, Gambrell and [Jarid] Lukosevicius is a great top line."
Where the Pioneers really shine, however, is with the other nine forwards. With a mix of grit and skill from players like sophomore Colin Straub or seniors Emil Romig and Evan Janssen, the Pioneers are just as comfortable grinding out wins as they are to win running away with their skilled players.
"They have players who understand their roles and play to those roles," said an opposing coach. "They accept them well. That's the key to a team, when you are trying to design a team. Not everyone is going to be the leading scorer or on the power play, but they have to accept that role and play to it. I think they do that maybe better than anybody in the tournament."
The Pioneers' 12 forwards are relentless at tracking pucks down all over the rink, which wreaks havoc on opposing defenders. They are also good at supporting each other, making any breakout attempt an ordeal as opponents have to deal with multiple Denver forwards throughout the 200-foot sheet.
"They are deep 1-12 up front," said an opposing coach. "I think that is the real strength of their team. They are quick. You see that quickness in that they get to a lot of loose pucks."
While the Fighting Irish are hot of late, they will have play a near-perfect game if they want to catch the Pioneers and keep them from using their team speed and relentless puck pursuit to their advantage.
The good news for the Irish is that they have scoring depth, something they can use to their advantage. They will need that depth on Thursday as the Pioneers will attack their breakout in waves.