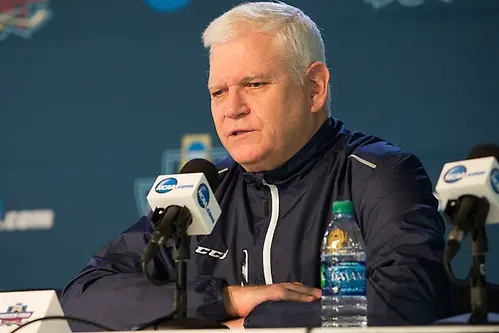 CHICAGO — The student faces the teacher. It's an age-old theme, one the Frozen Four will see yet again when Denver coach Jim Montgomery, the student, faces Notre Dame coach Jeff Jackson.
The two faced each other first when Montgomery was still playing, a star in his own right at Maine joined by superstar Paul Kariya. In the 1993 national championship game, Kariya set up Montgomery for three third-period goals to rally the Black Bears to the title over Lake Superior State, 5-4, denying Jackson what would have become a three-peat one year later.
"It wasn't Jim Montgomery, it was Paul Kariya," Jackson teased recently. "Jimmy just happened to be at the other end of the passes."
Though he gained the upper hand that day, Montgomery recognized coaching greatness when he saw it. When it came time for him to try to break into college hockey coaching, he turned down a paying assistant position elsewhere to learn as an unpaid volunteer under Jackson.
"Our relationship is special," Montgomery says. "I learned from a great coach. He's here [at the Frozen Four] again for the sixth or seventh time in his career, and I've managed to get back here for the second year in a row.
"So whatever he taught me, I've been able to apply. I think both teams play the same way: We don't beat ourselves and we're hard to play against."
Those early years were serious dues paying.
"It's hard to break into college hockey [coaching] now because the [NCAA] eliminated graduate assistantships," Jackson says. "For a lot of young guys that want to be coaches, there's really no easy avenue for them to get into the business, and it's unfortunate.
"We take pride in the fact that we actively go out and find good young people that we think may have potential to be coaches and bring them in as volunteers.
"But it's not easy. They have to have the means to do it because we have to follow NCAA rules. We can't do anything to help them get paid."
Jackson gets great satisfaction that for Montgomery those hard times have borne sweet fruit at Denver.
"That's one of the great things about coaching," Jackson says. "You're not only watching your former players go on to win in the National Hockey League and maybe be all-stars or hall of famers, but you're also watching the guys that went on to be doctors and presidents of companies. But there's also that third aspect of people that work for you as assistant coaches, people that help you, and hopefully you help them.
"With Jimmy, he's a great young coach. He's got a great future ahead of him. He's got all the right aspects to being a great coach. I'm proud of him."
Of course, Jackson still hopes he sends his student home with a loss.
"Tomorrow, we'll go head to head, and whatever happens happens," Jackson says. "It's part of coaching. You develop coaches, and you end up competing against them.
"That's the great thing about coaching. It's the relationships that you establish, and it's been my life, and to see him be successful is a great part of that."