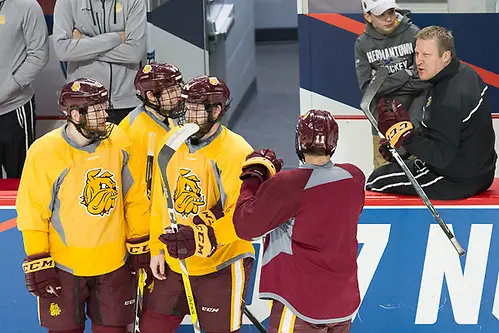 CHICAGO — This is the third trip to the Frozen Four for Minnesota Duluth coach Scott Sandelin, whose Bulldogs last appeared in 2011, when they beat Michigan 3-2 in overtime.
It's the third straight NCAA tournament appearance for this senior class, however, and Sandelin thinks that there are a few things that helped his squad advance beyond regional play.
"Teams sometimes come together quickly. Sometimes it takes a little while. Some never do. This one came together pretty quickly," said Sandelin. "Maybe it was some of those early games that we won, the tight games, it brought them a little closer and believing. Because we've been in a lot of them, so I've got to think it's helped a little bit."
In the first half of the season, Minnesota Duluth was 4-3-2 in games decided by a goal or fewer; since the beginning of January, the Bulldogs are 9-4-2 in such games, including their two 3-2 overtime wins in the NCAA West Regional.
Another reason for surviving regional play, said Sandelin, is the way in which the upperclassmen have steered this year's team.
"It's a pretty close group. I know people say that," said Sandelin. "They've had some success and kind of wanted to drive to take it another step, which they've done now, but they've been a big part of that. They've been our best players, too. That's always important when your older guys, your key guys are your best players."
Senior forward Alex Iafallo leads the Bulldogs with 19 goals and 30 assists in 40 games after sophomore and junior seasons in which he scored eight goals each year.
His classmate, forward and team captain Dominic Toninato (16-12–28) has averaged just above 15 goals per season in his last three years. Another senior, Kyle Osterberg (12-11–23) has one more goal this season than he did in his last two years combined, and he's two behind his career high of 14 from his freshman season.
While Sandelin points to his players, Toninato said that it's Sandelin who has set the tone for this year's success.
"Coach preaches that all year to never be satisfied," said Toninato, "so I think that helps us moving forward and wanting more and wanting to keep getting better."