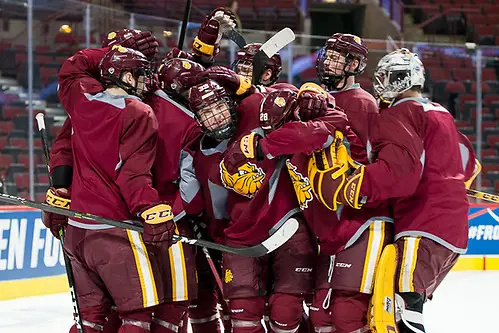 CHICAGO — Entering the Frozen Four, Minnesota Duluth has the ninth-best scoring defense in the nation, averaging 2.27 goals allowed per game on the season — but numbers can be deceiving.
In their first 14 games in the second half of the season, the Bulldogs were allowing 1.86 goals per game and went 8-2-4 in that stretch. Then came a road split against Western Michigan March 3-4 to end the regular season, a 7-4 loss and 6-3 win.
In their last six games — NCHC playoff and tournament games and the NCAA West Regional, all wins — the Bulldogs have allowed 2.67 goals per game on average.
"We want to be tighter and not give teams so much time and space," said captain Dominic Toninato. "We've got to stay focused and keep playing that hard defense because, obviously, Harvard is really skilled offensive team."
Minnesota Duluth's semifinal opponent, Harvard, enters the Frozen Four with the top scoring offense in the nation, averaging 4.14 goals per game. A renewed commitment to defense was part of the Bulldogs' strategy two weeks ago before the West Regional, and even though they have respect for their Thursday opponent, they're not intimidated by the Crimson.
"They're quick," said coach Scott Sandelin. "They transition well. They don't give up the puck. They make plays. Their defense gets involved, especially guys like [Adam] Fox, who's a tremendous player back there, very elusive, smart.
"But … the style they play, we've seen some of that. They do have some similarities to teams we've played. Hopefully [we will] minimize the mistakes, especially with pucks, and certainly, again, hopefully continue to do what we've done and capitalize on our opportunities, because I think we've done a good job of that this year when we get them.
"We're talking about them. Hopefully, we can do the same thing to them. I think if we do that and they do that … it's going to be a heck of a game."