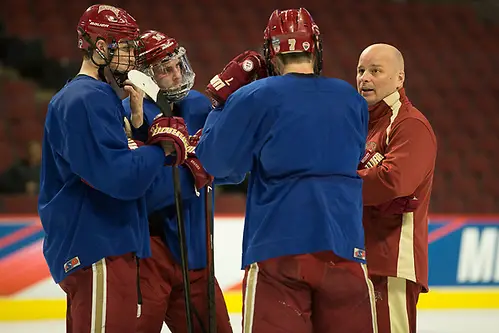 CHICAGO — This is Jim Montgomery's fourth season at the helm of the No. 1 Denver Pioneers, who have made the NCAA tournament in each of those seasons and have advanced one round farther than the last each year.
In 2014, Denver was eliminated in the first round by Boston College. In 2015, Denver lost to eventual national champion Providence in the quarterfinals. Last season, Denver lost to eventual national champion North Dakota in the semifinals of the Frozen Four.
Montgomery and the Pioneers hope to break the one-more-round curse this weekend by winning two more rounds and claiming the program's first national championship since 2005.
Denver sports a 31-7-4 record. The last time the Pioneers won 30 games in a season was 2005, when they went 32-9-2 and beat North Dakota to win the national championship.
The Pioneers' 31 wins are tops in the country, and they also lead the country in team defense, giving up on average only 1.83 goals per game. Freshman phenom Henrik Borgström is tied for first in goals by a freshman with 21, Jarid Lukosevicius is tied for first with seven game-winning goals, and freshman defenseman Michael Davies is first among rookie defensemen in plus/minus with a plus-26 (fourth overall).
If Denver is looking for another omen that can overpower the one-more-round trend, it can turn to its coach.
Montgomery was a sophomore with a Maine Black Bears team that lost to Northern Michigan in the Frozen Four semifinals in 1991, Montgomery's first appearance in the Frozen Four as a player. Northern Michigan then went on to win the national championship with a triple-overtime, 8-7 thriller over Boston University.
In Montgomery's second appearance in the Frozen Four his senior year, he was named the tournament's most outstanding player as Maine defeated Lake Superior State to win its first national championship.
"Yeah, I've talked about that, and I also talked about how in the senior year, when we lost to BU (7-6 in OT, Feb. 19, 1993), how it really put more urgency and purpose in what we were doing. We were never going to coast again. And I think the loss to North Dakota in the NCHC [Frozen Faceoff] semifinal game gave our team a little more direction and purpose for the rest of the season."
In an interesting twist, Lake Superior was coached by Jeff Jackson in 1993; Jackson coaches Denver's opponent Thursday in the semifinals, Notre Dame.