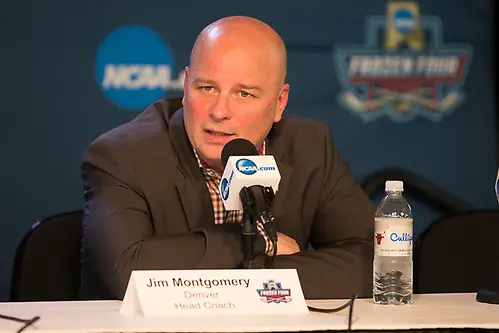 CHICAGO — During their practice at the United Center on Wednesday, the Denver Pioneers looked loose, yet focused. That attitude spilled over into the news conference, which coach Jim Montgomery opened by apologizing for being late, saying, "I couldn't find any hair product after the shower." The bald coach added as laughter rippled through the assembled reporters, "That's true; Turtle Wax."
Yet while the coach and players may feel loose, they are focused, in part because of their experience in Tampa last year at the Frozen Four, where the Pioneers lost 3-2 to North Dakota on a goal by Nick Schmaltz with less than a minute to go in the game. That loss is something Denver's players have referenced as a motivating factor all season long.
"It was a bad taste losing that game to North Dakota last year in the semifinals," said Denver senior captain Will Butcher. "So I think starting off in the offseason, for this coming year, was big for us just because I think the guys put in that extra mile of work with our strength coach, Matt Shaw. And off the ice, the guys were just great. We kind of came together and just said next year is going to be our year. That's kind of been a goal from the beginning of the year."
Denver is, according to some, the favorite to win the tournament. The Pioneers entered the tournament as the No. 1 seed and have been ranked No. 1 for most of the second half of the season.
Their dominating performances in the Midwest Regional, a 5-2 win over Michigan Tech and a 6-3 win over Penn State, add to that feel, yet Denver is more focused on its own play than any external chatter about their chances.
"I think a lot of us try to stay off social media and reading into those things," said senior alternate captain Evan Janssen. "We just try to focus on ourselves. We always preach how you've got to stay in the moment. We've been doing everything that we've done all year, which we call the process. With our preparation, everything's been the same."