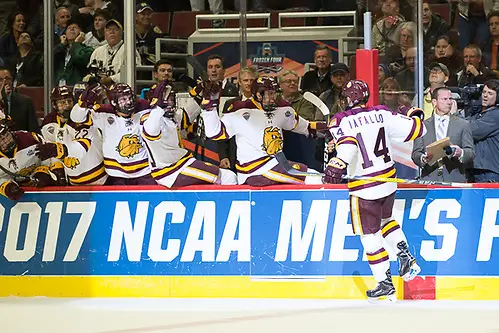 CHICAGO — If the game is close and the clock is ticking and you're Minnesota Duluth, the guy you want on the ice is senior forward Alex Iafallo.
"To say the least," said Willie Raskob, the senior defenseman who passed the puck to Iafallo in the last minute of the Bulldogs' 2-1 Frozen Four semifinal win over Harvard on Thursday. "I think Al's a little bit better of a player than I am, so I'm glad I found his stick and wasn't shooting the puck."
Frozen Four 2017
More coverage of the 2017 NCAA men's Frozen Four at Frozen Four Central.
Iafallo's goal at 19:33 in the third period was his sixth game-winning goal of the season, his second goal in the NCAA tournament and his sixth goal in his last eight games. It would be an understatement to say that Iafallo has elevated his game this season.
"I think personally for him, he wasn't happy with last year," said Duluth coach Scott Sandelin. "He came back just determined to be a better player. He worked hard to get stronger. He's shooting the puck better this year. He's shooting it more; I yelled at him when we had that three-on-two and he tried to pass across the rink.
"In his head, he has thought maybe that he's better than how he was playing, from day one. And he's had some really good moments at times, but I think this year he was really determined to have a consistently good year and be a leader on our team. He's got so many dynamics to his game and he's using them."
Iafallo, a senior from Eden, N.Y., has 20 goals this season, a dozen more than he scored in either of his previous two seasons and nine more than he tallied as a rookie. He has four power-play goals this season after a junior year with none, and this year he scored his first two short-handed goals as well.
For Iafallo, his improved play comes down to one thing. "Confidence," he said. "In other years, I know I wasn't driving the puck as hard, getting to those special areas to get the passes. Tonight, Raskob made a great play and I was able to shovel it in there. Just getting to the right areas."
Raskob said that he has always known that Iafallo would be able to perform.
"When he stepped on campus and I saw him on the ice for the first time, I knew he was a special player," Raskob said. "There's things he does that other guys aren't able to do. I think this year, it's just been one of those seasons for him when he's finally put it all together. He's playing on another level. It's unbelievable. It's fun to watch for me and to have one of my best friends doing stuff like that is special."
"I'm just trying to stay positive," said Iafallo. "I owe it to my teammates, obviously. They're making all the plays."
Sandelin said that Iafallo's senior success brings benefits beyond the statistics.
"For me, the thing I love about him most is that he always comes to the rink with a smile on his face, he loves to play and he loves being in Duluth," said Sandelin. "I think that's the coolest thing."