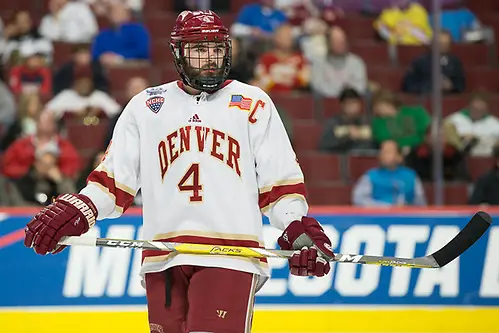 CHICAGO — When Denver takes the ice Saturday against Minnesota Duluth for the national championship, the game will feature many intriguing storylines.
One big one will be Denver's top-ranked defense, which gives up on average only 1.83 goals per game, against Minnesota Duluth's top line of Alex Iafallo, Dominic Toninato and Joey Anderson. That line has been very effective in the postseason.
"They're a great college line, and I think maybe the best line in the country," said Denver coach Jim Montgomery. "And I think you've just got to know when they're out there and match their intensity. Their intensity, I think, fuels that team. And I think the third player that fuels that team with intensity is [Neal] Pionk on the back end."
Against North Dakota in the NCHC Frozen Faceoff, the line accounted for five points, with Anderson scoring the game-winner on a power play with 51 seconds left. In the NCAA tournament, the line has 13 points in three games and has contributed to or scored the game-winner in all three games, all of which were one-goal wins and two of which came in overtime.
"I think just our transition to defense," Denver defenseman and captain Will Butcher said when asked about containing that line. "After we make a play on the rush, we have to get back and reload and also get a couple of guys back. We have to have guys angling bodies, angling the puck. Give TJ [goaltender Tanner Jaillet] enough room to make the save and cover up his rebound if he has one."
One key for Denver will be the play of the line of Matt Marcinew, Evan Janssen and Logan O'Connor. That line often has been matched against the other team's top lines during Denver's postseason run, in part because of Marcinew's skill as a faceoff winner.
"I think Iafallo, Toninato, Anderson, they're all high-end skill guys, but it's nothing we haven't faced before," said Marcinew. "Toninato is a big, strong kid, he can take pucks to the net. We have to get in front of him. Iafallo, he's going to try to go inside and dance through us. We have to keep him to the outside and play the body and win one-on-one battles and we'll be able to contain them just like we did earlier in the season."
Denver's depth also will be important, particularly if Minnesota Duluth plays a physical style and clogs up the neutral zone. When the two teams played in December, Denver won on Friday when Troy Terry and Dylan Gambrell had strong games, with Terry having three points. Saturday, Terry was held pointless and Duluth won.
Countering Duluth's ability to clog up space will be important for the Pioneers. That style was what enabled North Dakota to beat Denver in the NCHC Frozen Faceoff in Minneapolis in March.
"I think one of the biggest things is going to be getting pucks past them in the neutral zone, chipping pucks and breaking the space," said Marcinew. "If they try to clog up the neutral zone, we can chip pucks around them, chip pucks by them, and with our speed I think we'll be able to eat them up that way, and then control pucks in their zone."
Denver has been getting more balanced production in the second half. Colin Staub has been especially effective, getting two goals against Michigan Tech in the regional and contributing two assists against Notre Dame on Thursday. When Denver beat Duluth in December, Staub had an assist on Denver's first goal.
"It's nice that we have four lines and Coach has the confidence to put out all four lines and our line just wants to go out there and contribute in whatever way we can," said Staub. "And last night we were fortunate enough to be able to get two goals, and it really helped our team get started with [Emil] Romig's first goal of the game, and that's just what we want to provide."
"We go out and play our style and hopefully we can gain momentum and roll our lines over like we did yesterday in the first period," said Montgomery. "Yesterday's first period, that was, to me — I was behind the bench and I didn't have to worry about any of it. They were just rolling the four lines and they were playing at an incredible rate."