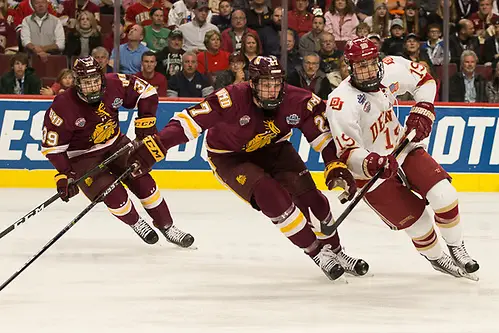 CHICAGO — As a kid growing up near Denver, Troy Terry was a Denver Pioneers fan.
Troy Terry dreamed of becoming a Denver Pioneer.
He did grow up to put on the Denver jersey. And Saturday not only culminated in what for any player would be a dream season, but also in achieving something few have accomplished.
Terry became just the third player ever to win both an NCAA championship and a World Junior Championship gold medal in the same season.
The most recent was Chris Kreider, who won both tournaments in 2010 as a Boston College freshman.
The other was a player Terry grew up watching, Denver defenseman Matt Carle, who won gold in 2004 and the first of Denver's back-to-back national championships that same year.
Minutes after Denver's 3-2 win over Minnesota Duluth, it was still sinking in for Terry, who was sitting quietly as reporters swarmed several of his teammates after the team's locker room celebration.
"It's so surreal," Terry said about winning both. "I think the World Juniors was just starting to hit me."
But as he spoke, the impact of winning the national championship started to hit him.
"The World Juniors was incredible, but I don't know if it tops this. It's a very special feeling," Terry said.
To win it having fulfilled a childhood dream to play for Denver has made it even more special for Terry.
"This was so awesome to be able to win with guys I go to school with and we're all so close," he said. "Especially a team I grew up watching win it in '04 and '05. And to be able to bring it back to Denver is pretty incredible.
"It's definitely an honor. I'll remember this year for the rest of my life."
A dream season?
"It's definitely been the best year of hockey of my life," he said.