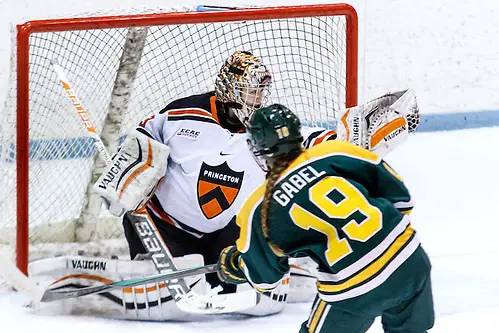 National champion Clarkson swept the final women's Hockey Commissioners' Association awards for the 2016-17 season.
Forward Loren Gabel led the Golden Knights to a 5-0-0 record last month, while helping the Green and Gold earn their third ECAC Hockey regular-season title with a 19-1-2 league mark, the program's first ECAC Hockey tournament championship and second national championship and was named the National Division I Player of the Month for March.
Ella Shelton was tabbed as the National Rookie of the Month for March after the defenseman led all Division I rookies in scoring during the month with five points on one goal and four assists in five games.
Gabel finished the month leading the nation in points (9) goals (6), hat tricks (1) and plus/minus (plus-9). Her offensive prowess helped the Golden Knights finish the season with the longest winning streak in the country with 11 straight victories and the second longest unbeaten stretch at 16 games (15-0-1).
Her 22 goals this season set a new Clarkson standard for scores by a sophomore, breaking the old mark of 19 set by Jamie Lee Rattray in 2011-12. She became the first Clarkson player ever to record a hat trick in postseason play when she netted all three Clarkson goals in the 3-1 victory over Cornell in an NCAA quarterfinal game.
Gabel was also one of three Knights who have reached 40-point mark this season, finishing the 2016-17 season with 22 goals and 20 assists. Gabel has 69 career points (40 goals, 29 assists) in 81 games. Gabel helped Clarkson set the record for most wins in a season for the 14-year-old program with a 32-4-5 overall record, firmly establishing Clarkson as one of the premier programs in Division I.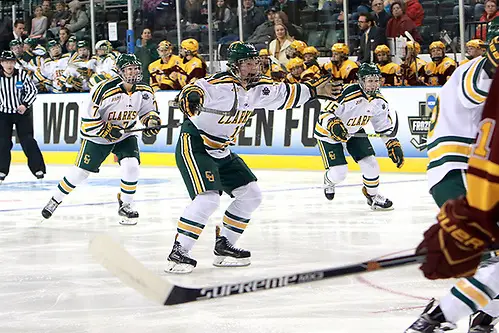 Shelton began the month in grand fashion recording the game-winning goal in the second period versus Princeton in the league's first tournament semifinal game, vaulting the Clarkson into the title contest. Shelton continued to shine and make a presence on special teams adding two power-play helpers during the five-game stretch. She ended up leading the nation among all defensemen in power-play assists with 13 and tying for the lead in power-play points with 15 during the 2016-17 campaign.
The third-team All-League and All-Rookie performer was named to the ECAC Hockey All-Tournament team as she led the NCAA in scoring among freshman defensemen with 25 points on six goals and 19 assists, while registering a 89 shots, tops among her counterparts. She posted a plus-29 plus/minus rating and was recently named the league's Rookie of the Month for the second time (December and March).