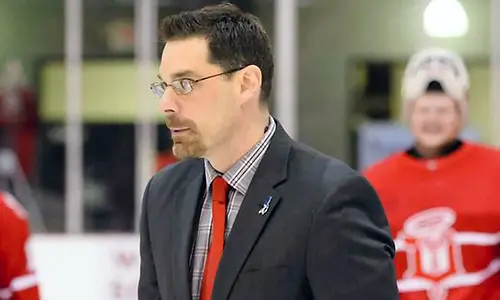 Niagara announced Monday that the school has named Jason Lammers the third head coach in Purple Eagles history.
Lammers is currently the head coach and general manager of the USHL's Dubuque Fighting Saints and will remain in his position through the conclusion of the team's postseason. Dubuque has advanced to the USHL Eastern Conference finals after defeating Muskegon in the Eastern Conference semifinals.
"We are excited to bring Jason Lammers to Niagara University to coach our hockey team," said the Rev. James J. Maher, C.M., president of Niagara University, in a statement. "He has proven to be a very successful coach throughout his career. In addition to his success defined by wins and losses, he is a person who demonstrates character, leadership and faith, which make him a great fit for our hockey team, as well as the entire Niagara University community."
Lammers replaces Dave Burkholder, who was not retained last month.
"Jason Lammers is a transformational hire for this University," added Niagara director of athletics Simon Gray. "Jason has had tremendous success at the collegiate level, as evidenced by multiple bids to the NCAA tournament and his ability to develop NHL-caliber players. His experience of winning at the highest level of NCAA Division I hockey is complemented perfectly by his passion for developing student-athletes into servant leaders.
"The men's ice hockey program is a primary asset of Niagara University. As evidenced during its championship history, the Purple Eagles' success elevates the brand of the institution and fills all of its constituents with pride. We look forward to Jason leading us in the next chapter of Niagara hockey. We are absolutely thrilled to welcome Jason, his wife Michelle, and their children Rhett and Bryn to our community."
Lammers brings 15 years of NCAA coaching experience to Niagara, most recently as an associate coach at UMass Lowell and as an assistant coach at Colorado College and Ohio State. He has played an integral role in coaching teams with a combined record of 164-98-23 at the collegiate level with six NCAA tournament berths and a Frozen Four appearance in 2013. Lammers has recruited and coached 23 players that went on to play for NHL franchises.
"As a family, we are excited to join the Niagara University community," Lammers said in a statement. "I would like to thank Father Maher, Simon Gray and Steve Butler for this tremendous opportunity to serve the student-athletes, staff, alumni and friends of Niagara University hockey as the program transitions into next year and the future. I pledge that we will foster excellence in all aspects of the program, and I cannot wait to get started."
"He is going to bring an organized and professional approach that will benefit the program and move it forward," added UMass Lowell coach Norm Bazin in a statement. "Jason is a relationship builder, which will be great for the student-athletes and athletic department."
In two seasons with Dubuque, Lammers has led the team to a regular-season record of 75-36-9, including a 36-17-7 record and a second-place finish in the Eastern Conference this past season. The Fighting Saints won the USHL's Eastern Conference and advanced to the USHL finals in the 2015-16 campaign, posting the second-most wins in the 37-year franchise history with a record of 39-19-2 as 17 players from the 2015-16 Fighting Saints roster went on to play NCAA Division I hockey for the 2016-17 season.
Lammers developed an elite offense as Dubuque led the USHL in scoring in the 2015-16 season and finished second in scoring in the league this season. Lammers was also selected as the head coach of Team East for the 2016 USHL/NHL Top Prospects Game, and he was named to the bench again this season as an assistant coach for the 2017 USHL/NHL Top Prospects Game.
Both of Lammers' predecessors at Dubuque, Jim Montgomery (2010-13) and Matt Shaw (2013-15), have gone on to win NCAA Division I national championships – Montgomery as the head coach at Denver and Shaw as an assistant coach at North Dakota.
During the 2005-06 season, Lammers was the head coach for NCAA D-III Geneseo. Guiding the program at his alma mater, Lammers led the Knights to a record of 19-9-2, a SUNYAC tournament championship and an appearance in the NCAA tournament.
A defenseman in his time as a player, Lammers was a three-year team captain for Geneseo from 1994 to 1998, serving as a co-captain in 1996 and 1997 before being named team captain in 1998. In his senior season, Lammers guided the Knights to a top-15 ranking in the NCAA and collected SUNYAC All-Conference Second Team accolades. He went on to play 99 games in the West Coast Hockey League (WCHL) from 1998 to 2000 with the Idaho Steelheads and Phoenix Mustangs. Traded from Idaho to Phoenix in the middle of the 1999-00 campaign, Lammers helped the Mustangs move up in the standings from last place to third place before eventually capturing the Taylor Cup as league champions.
A Pittsburgh native, Lammers graduated from Geneseo in 1998 with a Bachelor of Arts degree in history. Lammers went on to continue his education while coaching at UMass Lowell, where he received a Master of Education degree in higher education in 2015.