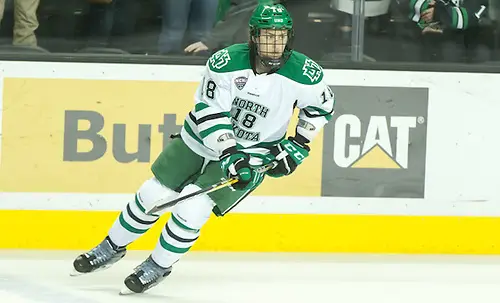 Chris Wilkie, who played the last two seasons for North Dakota, will transfer to Colorado College.
Wilkie will sit out the 2017-18 campaign due to NCAA transfer rules and will have two years of eligibility at CC beginning with the 2018-19 season.
"I am extremely excited to join the Colorado College family," Wilkie said in a news release. "The history, success and tradition of the program speaks for itself. I am looking forward to being a part of that and getting things started on campus."
Wilkie appeared in 62 games for the Fighting Hawks and was a freshman on UND's 2015-16 national championship team. He scored six goals and added 13 assists at North Dakota, including one goal and nine assists in 30 games in 2016-17.
"We are thrilled that Chris will join our program," added Colorado College coach Mike Haviland. "He was an integral part of North Dakota's championship team in 2016 and that experience will be great for us on the ice and in the locker room."
Wilkie was drafted by the Florida Panthers in the sixth round (162nd overall) of the 2015 NHL Draft and is a two-time member of the NCHC Academic All-Conference Team.