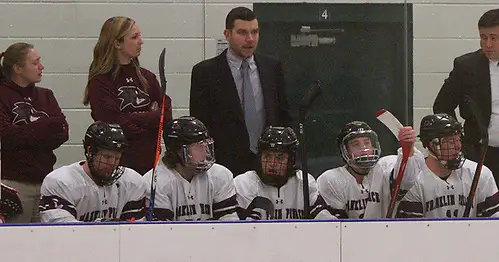 Franklin Pierce announced Tuesday that Shaun Millerick has been named the sixth head coach in program history.
Millerick brings with him experience as an assistant coach at the Division II and Division III levels.
"I am extremely excited and honored to have been selected to lead the men's ice hockey program at Franklin Pierce University," said Millerick in a statement. "The university's commitment to academic excellence and dedication to intercollegiate athletics promises a great opportunity to sustain success at the Division II level."
Franklin Pierce will mark the first head coaching stop for Millerick, who already has a year of experience under his belt as an assistant with the school. Originally brought to the university by late head coach Bruce Marshall as a graduate assistant, Millerick was quickly hired full-time as an assistant director of admissions after his arrival on campus. Millerick remained involved with the program in addition to his role in admissions, and retained the title of interim assistant coach after Marshall's passing, working under interim head coach Doug Michals.
"Selecting an individual so highly-regarded by coach Marshall offers us continuity in the program, and I am excited to give a young coach his first head coaching opportunity," added Franklin Pierce director of athletics Bruce Kirsh. "I look forward to seeing him guide our student-athletes to new heights, both on and off the ice."
Prior to coming to FPU, Millerick spent two seasons as a two-sport assistant coach at his alma mater, Becker, where he worked with both the men's hockey and baseball programs.
"I am excited to build a championship program that attracts talented, hard-working student-athletes, who are relentless in the pursuit of academic and athletic excellence," said Millerick. "I am eager to contribute to the tradition of excellence that is Franklin Pierce athletics."
A two-sport athlete at Becker, Millerick was a team captain of both the hockey and baseball programs as a senior, capping a four-year collegiate career in both sports. In 2013-14, he was named the recipient of the college's Gene R. Alley Award, which is presented annually at Becker to a senior student-athlete who has demonstrated outstanding leadership, dedication and commitment, both in athletics and in the community.
"I would like to thank director of athletics Bruce Kirsh and the entire search committee for providing me with this tremendous opportunity," Millerick continued. "I would also be remiss not to mention my family, especially my mother and father, for the endless support they have given me over the years and throughout my coaching career."
Originally from Hampton, N.H., Millerick is a 2014 graduate of Becker, with a degree in business administration. He currently resides in Jaffrey, N.H., and is pursuing his master's degree in business administration from Franklin Pierce.