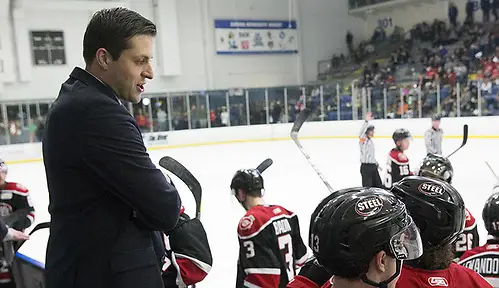 Omaha announced Thursday that Peter Mannino has been hired as the team's assistant coach.
Mannino recently finished his second season as an assistant coach with the Chicago Steel, helping the team win its first Clark Cup as USHL playoff champions.  His primary responsibilities included recruiting, scouting, special teams and coaching the goaltenders.
"We're very excited to have Peter join our staff," said Omaha head coach Mike Gabinet in a news release. "Peter was instrumental in recruiting and coaching with the Chicago Steel in their recent Clark Cup championship and we believe his skill set will be immediately transferable to college hockey.  He has extensive knowledge of our target recruiting pool and he can assist us in acquiring the kind of top talent needed to be successful in the NCHC.
"In addition, Peter had a great professional career as a goalie, including playing in the NHL, and he will be a great coach and mentor for our goaltenders.  He is a great compliment to our staff."
Mannino was a standout collegiate goaltender at Denver, compiling a career record of 61-32-5 from 2004 to 2008.  He helped the team to the NCAA title as a freshman and was named the Most Outstanding Player of the tournament and a member of the all-tournament team.
Mannino went on to a seven-year professional career that included appearances in the NHL with the New York Islanders, Atlanta Thrashers and Winnipeg Jets.  He also played in both the AHL and ECHL.