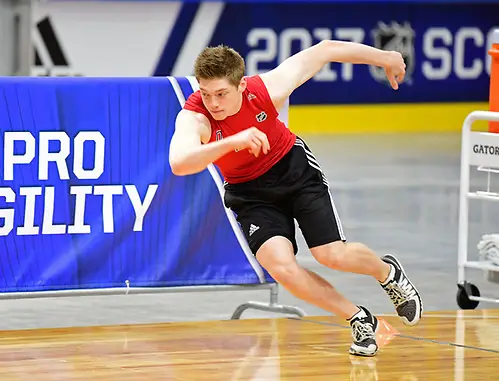 A year ago in Buffalo, it was a banner day for college hockey at the NHL Draft.
This year will be proof just how different draft classes can be from year to year.
One year after 11 players with college ties were selected as first-round picks, a number that tied the record high, there is a possibility when this year's first round concludes on Friday night that as few as four players will know their NHL fate.
From there, it will become a wait-and-see game for the remainder of the 83 college players- both current and incoming freshmen – who made the final NHL Central Scouting lists (and maybe a handful not ranked who seem to be late-rounders) at the annual event being staged this year in Chicago.
After Friday's opening round (7 p.m. ET, NBC Sports Network), the second through seventh rounds will take place on Saturday (10 a.m. ET, NHL Network).
It does seem to be a consensus among the cognoscenti that at least a quartet of players will college ties are first-round locks. Leading that are Minnesota recruit Casey Mittlestadt and Massachusetts freshman-to-be Cale Makar. Both were among the top-ranked players in Central Scouting's final list of North American forwards and defensemen. Also ranked high is Eeli Tolvanen, a Finnish-born player heading to Boston College.
The top-ranked current collegians are St. Cloud State's Ryan Poehling (ranked 13th among North American skaters) and Boston University goaltender Jake Oettinger (top-ranked North American goaltender).
Goaltenders, though, often aren't first-round selections. In the last five years, only three have been selected (Andrei Vasilevsky, 2012; Malcolm Subban, 2012; Ilya Samsonov, 2015) on Friday.
All of this isn't to say that this still can't be a banner year for college hockey as a draft isn't only about the opening round. It's quite possible given the number of players ranked by Central Scouting that more players could become NHL property than last year when 61 were taken over the seven rounds.
And as for those with high rankings, NHL scouts have plenty to say.
Mittlestadt, the future Gopher, has impressed Central Scouting despite having played much of last season in high school, as opposed to junior hockey where most players build their pedigree.
"We've watched him play against his peers in international tournament and have seen him play in the USHL and various camps, and he always makes a difference," said NHL director of Central Scouting's Dan Marr. "It doesn't really matter where he plays because you get the same game from him no matter the environment."
His Central Scouting report list his as "a strong, dynamic skater who has elite quickness both with and without the puck."
Makar, who raised eyebrows when he first appeared on Central Scouting's players to watch list last spring and then premiered on the midterm rankings ranked 10th (he ascended one spot to ninth on the final rankings), is the top-ranked defenseman in the draft and could crawl into a top-five spot if an NHL club wants a good, puck-moving defenseman.
"It's his hands and how well he can pass and handle the puck at that speed that really catches your eye," said NHL Central Scouting's John Williams. "He moves it with great vision and good lateral mobility which is important in today's game."
Finnish-born Tolvanen, who played last year in Sioux City of the USHL, at 5-foot-10 might not have the stature, but scouts really like his hockey sense.
"He plays the game at a high pace and it very tough to contain," said NHL Central Scouting's David Gregory. "He understands the game very well and can be responsible in all zones."
Gregory also touted Tolvanen's passing skills and ability to see the open man and called his shot one that he can "release on the fly."
Poehling, who scored eight goals and 13 points in 36 games for St. Cloud State last season, is likely to be the current collegian picked first. He earned a spot as a top-three center as a freshman and towards the end of the season was played most games on the Huskies second line.
"I think [Poehling] has great range and a nice long, strong stride," said Gregory. "He uses good puck protection and has a long reach. There is really nice upside."
Oettinger isn't the only goaltender with high draft aspirations. Keith Petruzzelli, who is headed to Quinnipiac, was compared to Pittsburghs' two-time Stanley Cup winner Matt Murray by Central Scouting's goalie guru Al Jensen.
"He's good on his angles and is square to the shots," said Jensen of Petruzzelli. "He's tough to beat low and has good rebound control with soft pads and absorbs higher shots well into his body."
Jensen also praised Oettinger, calling his positional play "very good," noting he has a "phenomenal butterfly with great rebound control."
All of these players have potential to be first-round picks and are all likely to fall no lower the early second round.