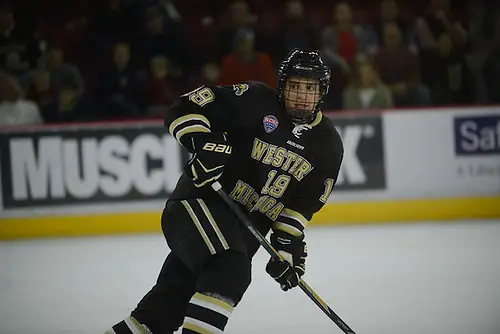 Western Michigan junior forward Frederik Tiffels has signed with the Pittsburgh Penguins, giving up his final season of NCAA eligibility.
Originally drafted by Pittsburgh in the sixth round (167th overall) in the 2015 NHL Draft, Tiffels leaves WMU after three seasons, appearing in 105 career games with 59 points on 27 goals and 32 assists. Tiffels was the first German national to play for the Broncos when he made his debut back in 2014.
This past season, he tied his career-high with 21 points on nine goals and a career-best 12 assists, helping the Broncos reach the NCHC semifinals and the NCAA tournament for the sixth time in program history.
"We're really excited for Freddy's opportunity," said WMU coach Andy Murray in a statement. "He's done everything the right way at Western. For a guy who English was a second language, he was an 'A' student and a leader on the ice and in our locker room. He leaves us in great academic standing and is close to completing his degree."
"I'd like to thank Coach Murray, the staff and my teammates as well as Kathy Beauregard for giving me this opportunity," added Tiffels. "Western Michigan hockey had all the resources that I needed to get better and it was a wonderful experience in my three years here. I'd also like to thank the Pittsburgh Penguins for taking a chance and drafting me. I look forward to repaying that trust as I continue to work hard and improve every day."
Recently, Tiffels starred for Germany at the 2017 World Championships, scoring two goals in the tournament and helping the team advance to the quarterfinals.