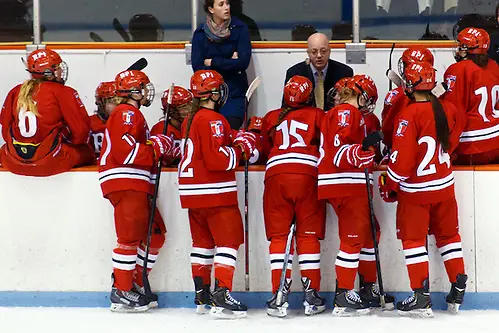 Rensselaer fired women's hockey coach John Burke, the school announced on Saturday.
Burke had a 184-228-52 record in 14 seasons leading the Engineers.
RPI was 10-24-2 last season and finished eighth in 12-team ECAC Hockey.
"We conduct annual evaluations of our athletic programs and the performance of all our coaches at the end of the season and we have determined that a change in leadership is necessary," RPI athletic director Lee McElroy said in a statement. "We appreciate Coach Burke's contributions and wish him the best in his career."
Burke is the second hockey head coach to be fired at Rensselaer this year. The school dismissed men's hockey head coach Seth Appert in March and replaced him with former Canisius coach Dave Smith.
Rensselaer hasn't had a winning season in women's hockey since 2009-10.
Burke took over as head coach after Bill Cahill died in October 2003 and led the Engineers through a transition from Division III to Division I in hockey.
Before being the women's head coach at RPI, he was an assistant coach for the school's men's team.
A former player at Bowling Green, Burke also coached at Worcester Academy in Massachusetts and as an assistant at Hamilton.