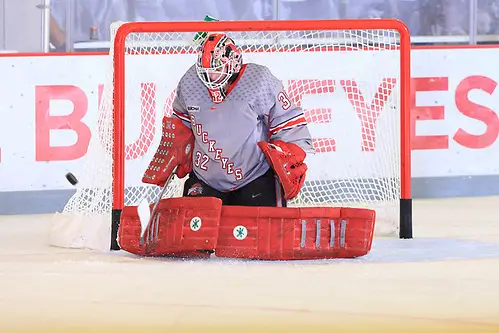 On paper, it looked like it could be a breakout year for the Ohio State women's hockey team. Redshirt junior Kassidy Sauve was named the WCHA preseason Player of the Year, they had a promising incoming class including two talented transfers, and they'd had a few seasons that showed flashes of brilliance under their belt.
Added to that, this was the first season in the past four where the same coach was returning from the previous season and the staff was set before anyone returned to campus. After a lot of turmoil, things appeared to be primed for a breakout.
That being said, it rarely follows that things that look good on paper translate so well into practice — especially so quickly. It's still early, but if what we've seen from the Buckeyes so far is any indication, it's going to be a great year in Columbus.
They've already scored the same number of goals in the first four games that they managed through 10 games last season. At the moment, they are averaging four goals a game and are tied for first in the country in team offense. This after last season's abysmal 1.86 goals per game average.
One reason for the improved offense is North Dakota transfer Charly Dahlquist. The junior is centering the Buckeyes' top line with two freshmen on the wings. The three have half the team's goals and assists through the first two weekends.
When the Fighting Hawks announced the dissolution of their women's program, Dahlquist wasn't sure where she'd end up. She'd looked at Ohio State as an incoming freshman, but didn't feel like it was a good fit. Despite the urge to get back on the ice, she said she decided to make her transfer based on academics, first. She found a home at OSU, and then found she slotted in incredibly well on the ice, as well.
Her childhood best friend Laura Boyle is on the Buckeyes, and North Dakota associate head coach Peter Elander joined the OSU staff. Dahlquist moved into a house with six other hockey players, headed to Columbus over the summer, and felt ready to have an impact season the second it officially opened in September. The transition, especially on ice, was much easier than she expected.
Having chosen to focus her school choice more on academics, Dahlquist said she was pleasantly surprised when she started training with the team.
"To be honest, when I committed to OSU I was not fully aware of who (else) was committed here; what the team was going to be like," said Dahlquist. "I made sure it was the right fit for me. When I got here and the whole team was here, I was like, 'This team is good.' I was not aware. We're good and we can actually win. That's where I got excited."
Over the summer and in practice, Dahlquist said there was a feeling among the players that this team was special. Nearly three-quarters of the team stayed and trained in Columbus this summer, and the team chemistry is something Dahlquist and Sauve said they've never experienced the likes of before.
But even though the team was feeling confident and sure of themselves, there's still always a bit of self-doubt that wiggles in. Aside from putting the Buckeyes above .500 for the first time in years and giving them a win over Minnesota for the first time in a decade, what those wins gave the Ohio State players was confidence – the reassurance that they are as good as they think they are.
"It shows we have it in us to win and to be the best, and I think that was an eye-opener," said Dahlquist. "We thought we were good, but (now we know) we actually are good and we can beat (anyone). We saw we went up in the polls, so our next task is UMD and we want them, we're coming after them. We want to get that fifth spot. That's what keeps pushing us."
Though they know it's early in the season, what's most important and lasting about the wins over Minnesota is the reassurance and confidence they gave Ohio State. Where in the past the Buckeyes might have found a moral victory in tying a top team or playing a close game, now that's not good enough. The Buckeyes are no longer satisfied.
"Now that we know that we can beat a team like that, the only thing that can get (in our way) is ourselves," said Sauve. "We have all the right pieces, we just need to make sure we keep using them."
While the newest class getting up to speed and making an impact immediately has played a big part of the story thus far, it's the senior class that's guiding and leading the team.
It's been a difficult four years for the class of seniors (and Sauve, who redshirted due to injury). Three different coaches. Numerous off-ice distractions. Little-to-no consistency or stability. But Sauve said all that's done is make them closer — and stronger.
She credits the fact that they've faced so much and stuck together through it all with making them ready to lead the team this year. After the past three seasons, this summer and preseason were a breeze.
"Everyone put in the work this summer; everyone was kind of on the same page to develop and grow as a team, not only on the ice but off the ice as well," Sauve said. "Having the girls from last year come back stronger and better and then have our newcomers come in ready, I just think it was the perfect mixture to create that right environment. It's been really cool to see this team grow so fast. Usually teams don't grow this quickly."
Sauve was one of just three goaltenders to face more than 1000 shots last season. At times, it felt like she was single-handedly keeping the Buckeyes together. With the improved offense, the pressure on her is immensely different than in seasons past. Though she's rather unhappy with her personal performance during the Gophers series (seven goals against in two games), she says it's such a relief and change of pace to be in a situation where she knows her team can bail her out.
Despite the rush of the weekend in Minneapolis, both players said the team knows that it's still just October and it's a long season. That's why they both focused so much on what the wins meant mentally, as opposed to in the standings.
"I think that it's really important for us to stay humble," said Sauve. "It's so important as a team to know that you're good and capable. We were the underdogs the past three years, and it was something that worked for us and I think there is still a mentality that it could have been a fluke. I think we still have that mentality that people underestimate us."
If teams do underestimate Ohio State, it's likely they'll do it at their own peril. Sure, things didn't magically change in the WCHA overnight and every weekend will still be a battle, but what these opening two weekends did was signal a tide change in Columbus.
"We have to take it step by step, and each series is a step closer to our goal. But I think we're on a good path," said Dahlquist.
Coach Nadine Muzerall has referred to her program as the sleeping giant. Dahlquist said she came to understand quickly exactly what that meant. With the way they've opened the season, the Buckeyes may have signaled to the rest of the country that the giant is done napping.