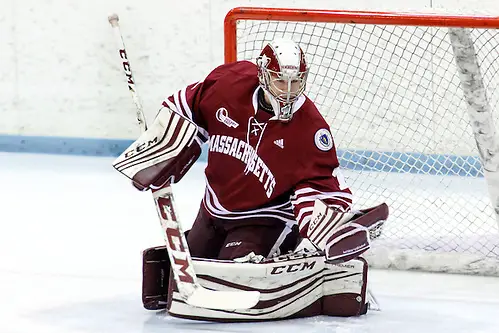 Stop me if you've heard this one before: UMass finishes last in Hockey East.
The Minutemen finished in the Hockey East cellar the last three years, and in the previous four seasons managed no better than next-to-last or third-to-last. This year, more of the same was projected: Hockey East coaches picked them to share the cellar with Maine.
All of which makes UMass's 3-1 start one of the feel-good stories of the early season, especially factoring in a road upset of a Union team that last year tied Harvard for the ECAC regular-season title and qualified for the NCAA tournament.
What has gotten into the Amherst water?
It starts with talent.
For years, UMass, like almost every other program in the wrong half of the standings, has had to settle for the crumbs off the tables of the perennial powers. Athletes like to win. If given a choice between a first-place and a last-place team, they will go to the winning program almost every single time.
Under the leadership of second-year coach Greg Carvel, however, that seems to be changing.
Although its incoming class doesn't match Boston University's for depth of excellence, UMass claimed a couple of the bluest blue chips. Defenseman Cale Makar was picked fourth overall in the NHL draft, the highest of any collegian, and fellow UMass blueliner Mario Ferraro went in the second round. Other Minutemen followed in later rounds.
"It's a good recruiting class," Carvel says. "It's highlighted by Makar and Ferraro. Those guys jump off the page when you're watching the games. They really stabilize us in the back end.
"But my assistants also did a real good job bringing in a good group of kids with a lot of character. The identity that we want to play requires kids that are committed to team first, doing things the right way, and they've done that."
So how does a school that has been taking its lumps in the Hockey East standings for seven straight years attract a strong recruiting class?
"It's difficult to recruit when you're at the bottom and you've been at the bottom for a while," Carvel admits. "But when a new coaching staff comes in, there's new hope. There are new investments by the athletic department. Our athletic director, Ryan Bamford, is a real breath of fresh air around here. He's young, he's vibrant, he's got a vision, and he's making things happen.
"So when we bring kids in here recruiting, I'm a new coach. I coached in the NHL for a long time. I coached at the highest level in the world championships. Then they can look at the facilities that we have, and the investments that we're making to make the facilities even better. There's really a lot to like here."
The untapped potential of the UMass program is what lured Carvel from his alma mater, St. Lawrence, where he took over an 11th-place team in a 12-team league–sound familiar?–and elevated it to second- and fourth-place finishes his last two seasons.
"I believe strongly that there's no reason why UMass can't perennially be an NCAA-tournament team. Kids want to play in Hockey East, and UMass is a school on the rise, with education a part of it. It's a good school to go to. It's a fun school. It's a great college town.
"We're addressing the few areas that needed to get addressed. We're building a brand new weight room specifically just for hockey players, which is right off our practice rink. We have two sheets of ice."
To get the most out of what Carvel and his staff thought was a strong recruiting class, they brought their incoming freshmen, and a good number of returning players, to campus this past summer to train. Of course, there are NCAA-mandated limitations. No on-ice practices. But there still was much that could be accomplished.
"With 15 new faces to our program, it allowed us to get a jump start," Carvel says. "Get the kids bonding and get them familiar with the school, but most importantly, familiar with expectations and standards as to how we want to play. That, as well as the physical training that they did with our strength coaches, has been a real key to our start. I couldn't be happier with the progress of this team considering how many new faces we have."
There's enthusiasm building in Amherst, but it is still October. A three-game winning streak doesn't mean Carvel is booking Boston hotels for an inevitable trip to the Garden and the Hockey East championship game.
"I can't tell you we hope to win this many games or be in this position at the end of the year," he says. "We're day to day. We have standards and we have values that we feel that if we adhere to good things will happen for us. We're a young group, and you just hope to continually improve day to day throughout the season. Then you see how far it can take you."
With only one senior and four juniors, it's a program with arguably its best years still ahead, but for now, the Minutemen are 3-1, playing well, and having fun.
"I'm happy for our kids that they're winning some games here early on," Carvel says. "I'm proud that they've been able to follow through and buy in and believe and support each other. It's been really impressive, and when the kids have a good skill set to go along with all that, it makes us competitive."
At the Other End of the Spectrum
While UMass was picked to share the cellar with Maine, Boston University was projected to finish first, followed closely by UMass-Lowell. Instead, UMass has impressed while BU and Lowell have not.
Lowell has certainly struggled out of the gate. The River Hawks opened with three straight losses, including two league games to (at the time) lightly regarded New Hampshire. Fortunately, the River Hawks completed a U-turn with an impressive 5-2 win over Omaha Saturday night, seizing an early 3-0 league it would never relinquish.
BU, on the other hand, opened the season with two wins, but then was unceremoniously swept at home this weekend by unranked Minnesota State. On Friday night, the Terriers lost 6-3. One night later, they were shut out, 3-0.
"Obviously, it was a disappointing weekend," BU coach David Quinn says. "[Friday] night, I was very disappointed with how we played; [Saturday night], I was more just disappointed that we lost because I thought we did a lot of things that we didn't do [the night before]. We competed; I thought we were physical."
In recent years, BU has laid claim to some of the top recruiting classes in the country. Typically, those are 18- and 19-year old NHL draft picks, and indeed this year BU topped all schools with seven NHL selections (including future commits). Invariably, there are stretches when the youthful half of that "young talent" equation predominates, and others when it's the talent half.
This was supposed to be the year that a bit more age was part of the recruiting class, and therefore fewer wild, youthful swings in performance.
This weekend, however, there were youthful emotional swings.
"When we face adversity in the middle of a game, we tend to feel sorry for ourselves," Quinn says. "That's what was going on [Saturday] with the body language and the sagging of the shoulders and dropping the head."
And there were the physical limitations of youth.
"We played against a team that plays a man's game," Quinn says. "They're physical, and they're fast. And I don't say this critically, but they don't have a 20-year-old in their lineup. I'm not making excuses, but we go to battle people and we lose the battles. Hopefully in the next few months we'll win more of those battles and create more scoring chances for ourselves."
Of course, no school is going to feel bad for BU. Opposing fans roll their eyes at every mention of the youth on perennial powers like BU. How awful it must be to have all those young draft picks!
(Hey, everyone follows the same rules. And I'd argue the rules should stay exactly the way they are. I love it when a kid pays some extra dues to achieve his dream of playing college hockey. It also aids parity in the sport. But let's save that argument for another day.)
The point is that the Terriers may have been picked to finish first, but they're a long, long way from a finished product. BU's range of possible outcomes this season is significant. It's a team that could be playing for a national championship in April, or it could miss the NCAA tournament entirely, perhaps even missing the Garden on Hockey East Championship weekend.
It'll be fun to see how it all shakes out.
** Scott Weighart contributed to this column. **