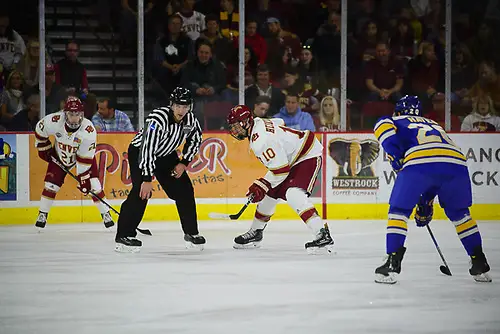 Each week during the season, we look at the big events and big games around Division I men's college hockey in Tuesday Morning Quarterback.
Jim: It wasn't a great week to be part of the USCHO.com top 10.
Though no team got swept, St. Cloud State was the only to escape unscathed, improving to a perfect 5-0-0 on the young season after taking two games from Boston College.
Every other team in action at least tied one of its games, with six top-10 teams posting losses.
Some of those losses are worse than others. Notre Dame lost Thursday to a Sacred Heart team that two weeks earlier got routed by Northeastern. Penn State lost on Friday to a previously winless AIC team, a night after giving up five goals to the Yellow Jackets in a 7-5 victory.
I don't want to be disrespectful to either Sacred Heart or AIC, but the reality is that for top-10 teams, these games should've been wins. Which leads me to ask, is this in your opinion a product of the favorites, in this case Penn State and Notre Dame, not respecting their opponents?
Paula: What a great question, Jimmy.
I can't say for sure what happened with Notre Dame's loss, but I did read that Jeff Jackson said afterward that the Fighting Irish had been outworked – and that is a sign, to me, that the team wasn't as prepared as it should be, mentally, for an opponent. Sacred Heart outshot Notre Dame 14-7 in the final period of Thursday's 6-4 game, scoring four goals in that span. I'd say that is a good sign that Notre Dame may have taken the Pioneers for granted coming into the weekend.
Of course, Notre Dame rebounded with a 3-1 win Friday and outshot Sacred Heart 43-25 in that contest, which is a sign of a team that learns from its mistakes.
I watched Penn State's Thursday night against American International and I thought the Nittany Lions were lucky to have come away with the 7-5 win. The Yellow Jackets were relentless and the Nittany Lions were not prepared for that. AIC scored shorthanded and on the power play late in the third period, and I had the sense that had there been more time in the game, the Yellow Jackets would have tied it up – which is exactly what they did Friday with the final goal in regulation at 11:59 in the third. Given that Friday's game was much lower scoring, I'd say that maybe both teams learned a little about defense from Thursday's contest, but the Nittany Lions clearly didn't learn enough.
I'm with you: Meaning no disrespect at all to either Sacred Heart or American International, when top-10 teams fall to teams that will probably not be ranked all season, you have to think the lack of preparation extended to respect.
On the flip side of that, there are a number of teams that are exceeding early season expectations and they are fun to follow. I'm not too surprised that Clarkson, picked fourth in the preseason ECAC poll, is off to a 4-1-1 start with qualities wins over ranked opponents, most recently having shut out Providence 4-0. Even more interesting are New Hampshire and Colorado College, who split a pair of games this weekend and who are both doing way better than anticipated so far.
What do you think of the early success of teams that were not expected to do well? Is it too early for them to be optimistic?
Jim: Let me first start with the two teams you singled out – New Hampshire and Colorado College.
I was lucky enough to see their Saturday night game, a really competitive, tight-checking matchup of these two early-season eye openers. We've talked about New Hampshire over the last two weeks and I stand by my comments that I think this team is pretty talented and was definitely underrated in preseason rankings.
The same can be said for Colorado College. Talking to their staff, they didn't play with a lot of structure defensively on Friday and thus lost 6-3. But on Saturday, I liked a lot of what I saw. They slowed down New Hampshire when necessary and had a lot of composure, particularly when killing two extended five-on-three power plays. There is a lot of ability for the Tigers, but I certainly do wonder if the grind of the NCHC schedule might get to this team at some point. A very good start, nonetheless.
One other team that is opening my eyes right now is Northern Michigan. Though they lost on Saturday to Wisconsin, the night before they handed the nationally-ranked Badgers just their second loss of the season. It certainly doesn't hurt that Robbie Payne is off to a very strong start in his senior campaign. The top remaining scorer from a season ago, Payne has never posted more than 13 goals in a season. In six games, he already has six goals. The Wildcats are an older team that I think might be able to use that experience to move up the WCHA ladder.
On a bit of a different topic, I've been taking a closer look at special team statistics, something that early in the season when I feel games are often called tighter, resulting in plenty of special teams situations, it's interesting to note some of the statistical strengths and weaknesses.
In the strengths department, watch out for Mercyhurst. The Lakers split a nonconference series with Ferris State this weekend and currently boast the top power play in the nation. The 38.1 success rate with the man advantage is matched by a near-perfect 11-of-12 penalty kills.
On the side of weakness, it's surprising to see that defending national champ Denver has had a tough time killing. They've allowed three power-play goals in eight chances. Combined with a power play that is just 2-for-13, the Pioneers have the second worst combined special teams ratio, ahead of only Maine. Yes, this is a small sample size, but it still stands out to me as something to follow as the season progresses.
Paula: It's funny you should mention the special teams, as that's a topic of discussion that came up in both press boxes I visited last weekend, and just for the very reasons you said.
Because it's so early in the season and teams are getting used to how things are called – and just because it's early in the season anyway – it's difficult to get a completely accurate read on something like the Lakers' success or Denver's lack.
That doesn't mean that it isn't interesting to look at some trends, especially from season to season. St. Cloud State scored four power-play goals in its sweep of Boston College, helping the Huskies' offense continue to shine. Right now, SCSU is tied for first nationally with Northeastern in goals per game (4.60), a vast improvement over their middle-of-the-pack 2.92 goals per game last season. Here's where the power play may have a direct effect; the Huskies were converting at 20.1 percent by the end of last season and they're currently at 29.2 percent.
It is surprising that Denver is having a tough time killing penalties, and we know that a team that can't kill penalties has a difficult time being successful in a given season. Last year, Minnesota's penalty kill was 35th in the nation (81.5) percent and this year so far it's worse (69.7). The Golden Gophers gave up two power-play goals on a single major penalty in the second period of their 4-0 loss to North Dakota after surrendering a power-play goal with the last minute of the first period.
Good combined special teams is often a difference-maker at the end of a season, especially in conferences where the competition is tight. A bad penalty kill, though, can go a long way toward killing a team's chances for any real success.
A Tip of the Cap…
Jim: … to Atlantic Hockey. It was only a few years ago that any time an Atlantic Hockey team won a non-league game against a major player that we were making a big deal of it. This weekend, Atlantic Hockey teams won five non-league games. We mentioned Sacred Heart, AIC and Mercyhurst above. You can also add Air Force beating Bemidji State and Niagara beating Rensselaer (not to mention Canisius pulling out a tie against Colgate).
Right now, Atlantic Hockey has a .438 winning percentage out of conference, ahead of the WCHA (.387) and pretty darn close to ECAC (.441) and Hockey East (.478).
Paula: There's not much more I can add here except kudos to Atlantic Hockey. I've been saying for years that it's a conference that cannot be underestimated. Army, Holy Cross, Air Force and Mercyhurst are among the top 20 defenses in the country right now, and a bit of that play has been nonconference play. Five Atlantic Hockey goaltenders are among the top 20 for save percentage and six are among the top 20 for goals-against. There are a bunch of players from Atlantic Hockey among the top scorers nationally, too.
All of this bodes well for a conference that has always provided exciting league play with increasingly good nonconference competition.