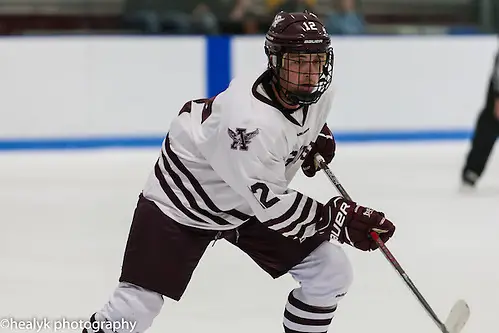 St. Thomas is usually a safe bet when it comes picking a favorite in the MIAC, but this is a league where every game seems to be close and where anyone truly can be beaten on any given night. Last season, just 13 points stood between the top team and sixth team in the standings.
While it was the Tommies that won the title in the regular season, Augsburg prevailed in the conference tournament. To expect anything less than another tight conference race that will go right down to the last weekend is crazy.
The favorites
St. Thomas has a tradition of success, so to not consider the Tommies a favorite in the league would be crazy. The program has enjoyed 35 consecutive winning seasons and has produced 50 All-Americans over the last 46 seasons.
The Tommies have one of the best goalies in the league in Benjamin Myers, who was an All-American last year and allowed 40 goals in 20 games. Johnny Panvica was red hot late in the year, scoring eight goals in the final nine games and also dishing out seven assists. Brett Gravelle will play a key role as well after tallying 24 points last season.
With captain Nate Flynn back in the mix, Augsburg has the potential to contend for a championship once again. The Auggies are the reigning league tourney champs. Flynn scored 15 goals and dished out 15 assists last season and was the team's leading scorer. Fellow forward Eric Brenk is also back and is coming off a year where he punched in 16 goals.
The dark horses
With 13 wins last season, don't count out Saint Mary's. The Cardinals won their final 11 games of the regular season and return two of their top scorers in senior forwards Jay Heinle and Chad Cesarz.
Heinle scored 10 goals and dished out nine assists, while Cesarz led the team in power play-goals with six. Sophomore defensemen Kyle Meech is a legit scoring threat as a defenseman and is coming off an all-rookie season in the MIAC.
Hamline has 11 new players, but could surprise a lot of people. After all, the Pipers have Russ Jordan, who scored a conference-best 18 goals last season, and are never an easy out, having played in 10 overtime goals last season.
Players to watch
Augsburg: Nate Flynn, forward; Nick Schmit, goalie
Bethel: Justin Bonanno, forward; Johan Kling, defenseman
Concordia: Zach Doerring, forward; Jon Grebosky, forward
Gustavus: Jake Bushey, defenseman; Colin Hernon, forward
Hamline: Russ Jordan, forward; Mitch Hall, defenseman
St. John's: Sam Valerius, forward; Huba Sekesi, forward
Saint Mary's: Jay Heinle, forward; Chad Cesarz, forward
St. Olaf: Drew Otto, forward; Tobias Gabrielsen, defenseman
St. Thomas: Benjamin Myers, goalie; Johnny Panvica, forward
Predicted order of finish
1) St. Thomas
2) Augsburg
3) Saint Mary's
4) Hamline
5) Saint John's
6) Concordia
7) St. Olaf
8) Gustavus
9) Bethel
You just never know what is going to happen week to week in the MIAC. Just look at the streak column in the standings from last season. Only two teams finished with a win in the final game they played. St. Thomas has finished first or second in the conference 51 times, and while the Tommies might be the team to  beat, don't rule out another team standing on top when the year is over.