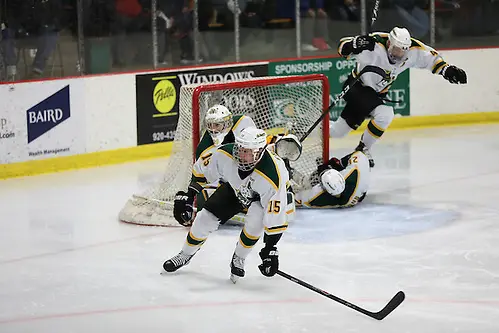 You can't talk about the NCHA without bringing up Adrian and St. Norbert. Both teams reached the Frozen Four a year ago, and both will be the front runners in the conference again this year.
While it's hard to imagine anyone knocking those two teams off, the NCHA certainly is never short on surprises. Need proof? How about Lake Forest stealing a game from St. Norbert in a regular-season series. A total of six teams won at least 10 games in conference play in a league that is highly competitive.
Of course this season marks the first for Trine, which will be counting on several transfers, including Lucas Bombardier, out of D-I American International College, and Ryan Murray, who played at Daniel Webster. Both players are seniors. The Thunder begins their season Friday against Wisconsin-Stout.
The favorites
Adrian is one of the best teams in the nation and returns 90 percent of its goal production, as well as its top two goalies. Kyle Brothers headlines the crew, coming off a year where he dished out 28 assists and finished with 36 points. Trevor Boyd is the team's leading goal scorer, and NCHA freshman of the year Vincent Paquette is a phenomenal scorer as well; he struck for 17 goals last season. Kevin Entmaa is back at goal and is poised for another big year.
St. Norbert will be right there in the mix for a championship, both at the conference and national level. With two of its top four scorers back in Tanner Froese and Riley Christensen — Froese scored 13 goals and Christensen finished with 11 — the Green Knights have the firepower to be one of the best offensive teams in the nation. Roman Uchyn also brings a lot to the offense, finishing with 11 goals, and T.J. Black will anchor the defense, as he returns at goal.
The dark horses
Concordia won a program-best 13 games last year and set a record for wins in a season four of their last five years, so their stock is up. And with several key players back, including junior forward Stefen Steel, who racked up 14 points in 15 games, the potential to be a surprise contender is real for Concordia.
Lake Forest is primed for a solid year as well, as it returns eight players who reached double figures in points last season. Connor Duncan paves the way after a stellar freshman season in which he established himself as one of the top defenseman in the NCHA. The Foresters won 16 games last season and have been in the league tourney 19 times in the last 20 seasons.
Players to watch
Adrian: Kyle Brothers, forward; Trevor Boyd, forward
Aurora: Rhiards Marenis, forward; Brendan Logan, forward
Concordia: Jim Pearson, forward; Jack Romanuik, goalie
Finlandia: Matt Benolkin, defenseman; Kendall Bolen-Porter, forward
Lake Forest: Bron Loiselle, forward; Connor Duncan, defenseman
Lawrence: Josh Koepplinger, forward; Evan Cline, goalie
Marian: Gianni Mangone, defenseman; Derek Thorogood, forward
Milwaukee Schook of Engineering: James Ring, forward; Zach Simpson, defenseman
Northland: Lucas DeBenedet, forward; Ty Kraus, forward
St. Norbert: Tanner Froese, forward; Riley Christensen, forward
St. Scholastica: Brett Radford, forward; Mark Whiteley, defenseman
Trine: Lucas Bombardier, forward; Ryan Murray, forward
Predicted order of finish
1) Adrian
2) St. Norbert
3) Concordia
4) Lake Forest
5) St. Scholastica
6) Marian
7) Milwaukee School of Engineering
8) Northland
9) Aurora
10) Lawrence
11) Finlandia
12) Trine
The NCHA is one of the better conferences in the country, and Adrian and St. Norbert will no doubt be the teams to beat. Neither will lose many games, and their game on Jan. 26 could very well decide who ends up with the best record overall in league play this season.