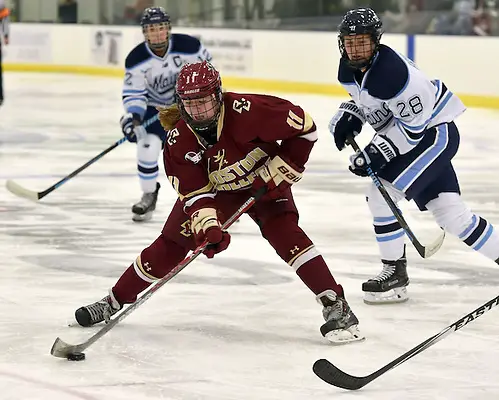 Arlan: This week, we saw more disparity than parity, not necessarily from comparing teams, but comparing games.
The prime example is oft-traveled Robert Morris, which won't play a home game until Nov. 10. The Colonials laid an 11-0 shellacking on Brown as the Bears got their season underway on Friday. The shot totals were fairly similar on Saturday — 20-something for Brown and 50-somehting for RMU — but the Colonials didn't escape with a 3-2 win until senior defenseman Natalie Fraser scored her first goal of the season with two seconds left. How do we attempt to evaluate the relative worth of two teams when the margin has a variance of 10 goals from one day to the next?
Obviously, there were a number of factors at work here. It is understandable that Brown would be at a disadvantage in the opener, debuting against a team that had already played four times. The Bears also started freshman goaltender Lauren Rippy in Friday's debacle; she was torched for seven goals on 35 shots, but senior Julianne Landry's third-period appearance in relief went just as poorly (four goals on 18 shots). Saturday, sophomore Calla Isaac made just the second start of her career and responded with a 48-save effort. Isaac had the benefit of some offensive support, as Veronica Alois and Sam Donovan gave the Bears an early two-goal lead before the Colonials ultimately triumphed.
RMU has displayed a pattern of one good game and one less so in each series thus far. It needed overtime to win its opener in Mankato before a four-goal win the next day. A one-goal win at Maine was followed by a three-goal loss. If nothing else, it surely makes your picks contest with Candace a challenge!
Let's turn to the team that has handed Robert Morris its only loss to date, Maine. The Black Bears already have five wins, half of their total from all of last season. After kicking off their Hockey East campaign with a 4-2 victory over Boston University, they are one of three remaining teams with a perfect mark in HEA action. The Black Bears scored the first three goals of the contest, and then hit an empty net before BU could score an equalizer. Just as surprising as the win was the fact that Maine enjoyed a 35-19 advantage in shots.
After a ninth-place finish made them postseason spectators last season, do we now need to pay closer attention to the Black Bears? And what does this portend for the Terriers, who lost their first four, all league contests, before downing Connecticut on Sunday, 6-2?
Nicole: I think any team that wasn't paying attention to Maine heading into this season did so at their own peril. They had wins over Boston College, Boston University and a series sweep of Northeastern last season, and they have the reigning Hockey East Rookie of the Year in Tereza Vanišová, who played for Czech Republic at Women's Worlds in March. They're young — 18 of their 25 players are underclassmen — but they've shown some sparks of brilliance and look to be on the verge of a breakout. They've won 10 games each of the past three seasons and as you pointed out, are well on their way to eclipsing that this season.
They'd been a bit stagnant, so maybe this youth movement and being able to count on Vanišová's scoring ability are the kick the needed to take the next step. They've also stepped it up on defense, allowing nearly 1.5 less goals per game. Goalie Carly Jackson seems to have taken a step up in her sophomore year. She played the majority of Maine's games last season and has considerably better numbers so far this season.
Before the season, I picked Maine to finish eighth, but also pointed out that the middle of the pack in Hockey East is pretty much up for grabs. I expected more from some of the other teams, so there's definitely an open door for teams willing and able to seize the opportunity.
As for the Terriers, coach Brian Durocher said before the season that they had a lot of uncertainty, and that's certainly playing out on defense and in the net. Erin O'Neill hasn't been the goalie they've needed through these early struggles, and she's not getting a lot of help from her defense. There are young players and transfers, but at this level, they need to have found a bit more chemistry by this point in the season. Instead, BU is giving up 3.40 goals per game. and opponents are exploiting the weaknesses. I suppose it's a pretty straightforward problem, but I did expect a smoother transition for them this year.
BU hosts BC this coming weekend, so the road doesn't get any easier. The Eagles had to come from behind twice to earn a tie with Connecticut on Friday, a result I wasn't expecting. They bounced back with a win over Vermont. It does seem Boston College tends to have one or two head-scratching Hockey East results every season, so I'm not sure anyone is too worried about what these games say about the rest of the season, but with so much chaos happening in the conference right now, should BC be worried?
Arlan: Yes, the Eagles should worry that their trophy case might not be large enough. Beyond that, I think that a couple of injuries to the wrong people are about the only thing that could potentially end the run that Katie Crowley's team is on these days in Hockey East. BC has a top-10 offense, but two players have accounted for two thirds of the goals, Daryl Watts and Caitrin Lonergan with six apiece. Makenna Newkirk and Kenzie Kent each have scored over 30 times in an Eagles jersey, so they can likely pack more scoring punch if needed, but the loss of either Watts or Lonergan for any time would be felt.
With Megan Keller and Kali Flanagan centralized with Team USA, the blue line is thin. When Grace Bizal missed the first couple of games, the rotation was short on kids who have played a lot of shifts in pressure situations at this level. Toni Ann Miano is vital to BC. Cayla Barnes is going to be a great player, but a senior like Miano can anchor the unit and be a model for the others.
Senior goalie Katie Burt's importance can't be overstated. She looks likely to set a new NCAA mark for career wins, having picked up her 95th over the weekend to pull within 23 of the record. If she were not available, BC's prospects would change drastically. Classmate Gabriella Switaj has made eight starts in her career, but none so far this year and only two last season. Burt's goals-against average and save percentage are nearer the middle than the top, but she's always piled up wins for BC.
People who think that the Eagles are more vulnerable than I do point to Northeastern as being the primary threat. The Huskies have a realistic shot at the NCAA tournament this year, but I don't see where they have an advantage over BC. The Eagles have better scoring averages both offensively and defensively, although that can be attributed to Northeastern starting with a tougher schedule. Maybe if the Huskies pile up conference wins early, then that could put some pressure on BC, but I would still think that it will emerge on top. With BU not firing out of the gate, it figures to be at most a two-team race.
A couple of heavyweights in the ECAC met this weekend in a nonconference, home-and-home series, and Clarkson defeated St. Lawrence in both. The Golden Knights pulled away from SLU as the season went along last year, and they seem to have retained that superiority this year despite a couple of key graduation losses. Do you see any hope for the Saints that they'll be able to get back to a more equal footing versus Clarkson by the time the teams meet again at the end of next month?
Nicole: Unfortunately for St. Lawrence, I'm not sure it's going to get better. In addition to having to try to fight off Clarkson, I think they're also going to have a difficult time with Colgate, and I'm not sure they've got the depth to keep them both at bay.
The Saints had some magic last season with Kennedy Marchment and Brooke Webster up front. Marchment is doing well again this season, but hasn't found the same chemistry and connection with another teammate, and she can't do it all on her own.
St. Lawrence's defense has been doing a passable job and is allowing just more than two goals a game, but the offense is managing a meager 1.67 goals a game, and that's just not going to cut it in the ECAC. If the Saints can't find a way to pick it up on the offensive zone, I don't see them being able to keep with the top of the conference.
Compounding St. Lawrence's own offensive struggles is the fact that both Clarkson and Colgate are scoring at a prolific rate. Clarkson has primarily built themselves as a defensive program, and despite losing Cayley Mercer to graduation, they've been especially dominant, averaging 3.38 goals per game. Colgate has been even better, scoring four goals a game. Beating either team is going to take a lot of discipline and a lot of goals, something the Saints haven't shown themselves capable of.
Colgate has been such a pleasant surprise so far this season. The Raiders had shown some great potential last season, but it really seems to have come together for them so far. What have you seen from them? Do you think they have what it takes to pressure Clarkson and make a postseason run this year?
Arlan: The Raiders had a breakthrough season in 2015-16 when they hosted an ECAC quarterfinal and knocked off Harvard in a thrilling three-game set to reach the semis. For a time last season, it looked like Colgate might be poised to climb another step. Ultimately, although it won 22 games for a second straight season, it felt as though there was potential that went unrealized. Midway through last season, there seemed to be four or five teams at the top of the ECAC that could finish in any of a dozen permutations, but both St. Lawrence and Colgate declined near the end, while Clarkson and Cornell were playing their best hockey at the finish.
Has Colgate's 6-0-0 start been surprising? I don't know; the Raiders opened 12-0-1 last season, so this isn't exactly uncharted territory. In a season where so many top programs are having to fill many holes due to graduation or national team centralization, the Raiders came into the season with a deeper roster than last year. Cat Quirion had a nice senior season on Colgate's blue line, but she was really the only big loss from the core players. Now Greg Fargo adds another strong recruiting class that includes Malia Schneider up front and Shelby Wood on defense, so it is logical that the Raiders would be improved, especially when compared to the competition.
The bigger mystery to me is Clarkson. I would expect that there would be a period of adjustment after losing Mercer and Geneviève Bannon, but the only stumble, if you can call it that, was the season opening tie at Northeastern. In both of their national championship seasons, the Golden Knights were a second-half team. In 2013-14, they went into the break with a 14-4-2 record before sprinting home at a 17-1-3 pace. Last year, they had a 15-3-4 mark over the holidays, but finished with a 17-1-1 kick.
Two years ago, Clarkson got off to a strong start at 9-0-0, but because Wisconsin won its first 18 games and BC rattled off 40 in a row, the Golden Knights were overshadowed. That team came very close to ending the Eagles' perfection in the Frozen Four semifinal.
So overall, I expect Colgate to be very good and contend all year. In the end, that may not be enough, as Clarkson is just a well-coached team that plays its best hockey when it matters most. We don't seem to appreciate the Knights enough, because we always seem to be looking somewhere else.
One of those places we focus is Madison. How are the Badgers looking as they prepare to take their 10-0-0 record across the border to face Minnesota?
Nicole: This past weekend was the first time I was able to watch the Badgers in person. The opening period against Bemidji State is one everyone would like to forget, but I think it bodes well for Mark Johnson's team that they were able to bounce back and make mid-game adjustments to overcome the sluggish start. It's been interesting to me so far to watch and see how this team has built and developed. They don't fit the sort of prototypical Wisconsin model and are a bit more the sum of their parts than recent teams have been.
That being said, I think one of the reasons they were able to weather these early weeks where the rookies work to get their skates under them and the team tries to gel is that they had such good scoring depth — even if it did dessert them when they needed it most. Despite losing more than half of last season's points to graduation or the Olympics, they had 15 players on last season's roster that scored double-digit points. The freshmen also look to have caught up quickly. Brette Pettet has four goals and four assists over the first five weeks. Sophomores Presley Norby and Abby Roque have taken on bigger roles and seem to be handling pressure; Roque is tied for first in the country with 14 points.
Had Wisconsin's schedule lined up a little differently this year, I'm not entirely sure they'd be in a much different situation than the Gophers. Wisconsin faces Minnesota, Ohio State, Cornell, Northeastern, Boston University, and Minnesota-Duluth before the holiday break. It's about as brutal a stretch as anyone will face this season, and they have to at least manage a .500 split over the course of those 10 games. They definitely won't come out of it unscathed.
Despite the early success and unblemished record, I'm still not sure what to expect from Wisconsin from here on out. Certainly the road should have been a bit bumpier given how differently the team is made up and how they've had to approach this season versus season's past. Kristen Campbell has been such a huge get for them. She's started her Badger career 10-0-0, something no other goalie at Wisconsin has done. I joked with coach Johnson that people across the country are going to be shaking their heads at his ability to continually unearth gems in the net. Campbell's presence in back has given the new players the cushion they needed to be able to make some mistakes and ease themselves into their roles a bit. She, too, won't come out of the next few weeks unscathed, but multiple teammates and coaches have extolled Campbell's commitment and dedication, and those habits will serve her well.
The Border Battle between Wisconsin and Minnesota is one of those rivalries where the relative talent or skill of either team at the time they play doesn't really have an effect on the outcome; both teams will be playing their best hockey against each other, and the rest of their results have little bearing on what will happen here. For the past three years, the Gophers have been able to host Wisconsin at Ridder on the final weekend of the regular season. This year, the tables have turned, and the Badgers get to host that final series, making this an early-season trip up to Minneapolis.
It does seem like the Gophers are moving in the right direction and that they've just needed time to develop chemistry and confidence. Do you expect that to continue for Minnesota? By the time March hits, will we be looking at these early weeks as nothing but an irrelevant memory, or do they still have a lot of room to grow? Putting you on the spot, what do you think the results will be this weekend?
Arlan: I have a different perception of the Wisconsin versus Minnesota rivalry: by the time that all of the season meetings have been played, the better team has usually emerged. The only exception that I can remember is 2009-10, when Johnson was coaching the U.S. Olympic team and the Badgers couldn't find their way out of the first round of the WCHA tournament, but they still managed to take three of four from the Gophers. The underdog might get one game or a tie, but the cream usually rises. Wisconsin got a split two years ago, but Minnesota took three of four after Amanda Kessel returned and shifted the balance in its favor. I think that most people who watched the teams split four games down the middle last year would conclude that the Badgers were the better team, but they just had a tough time finishing against higher-level competition.
What the Badgers have managed to do better than any other team over the past few seasons is stop opponents from scoring. They're doing that again, although the most productive offense that they've been asked to contain thus far belonged to Minnesota State, and the Mavericks average two goals per game. Statistics suggest that Minnesota will pose a tougher test, as they average 3.38 goals a game, which happens to be the same as Wisconsin.
I'm not thinking that the Gophers offense will look all that daunting to the Badgers. Minnesota had a great five-year run behind an offense that featured creative players like Kessel, Kelly Pannek, and Hannah Brandt. I doubt fans of other teams fully appreciate how vital Brandt was to all that Minnesota accomplished. She is Minnesota's career leader in plus/minus at plus-236, which is 64 higher than anyone else posted in maroon and gold. The offense survived for a couple of months in her aftermath thanks largely to a dominant top line of Pannek between Sarah Potomak and Dani Cameranesi and a productive power play. Then Cameranesi got hurt in Madison, the production of both the top line and the PP waned, and the end of the Minnesota reign was inevitable.
Now all of those players are gone, and Minnesota is left with an offense that is good but not great, coupled with an inconsistent defense that ranks in the middle. Three of its top four scorers are defensemen, and that's from a team that only had four healthy defensemen to dress last weekend. The power play percentage is about 10 points below where it has usually been, and one player has 80 percent of the power-play goals. Defensively, Minnesota has a ceiling that is pretty good, but it can mix in stretches that are borderline horrific. At this time last year, soft goals allowed by Sydney Peters were the team's biggest flaw. The pendulum has swung such that outside of a disastrous 11-minute stretch in the opener versus Merrimack, Peters has been their best hope of winning.
To answer your first question, I've only seen one of Minnesota's last four games, so I could be wrong when I say that I've haven't observed a lot of chemistry developing. The centers of the top three lines on Saturday have three assists combined, which used to be a good period for Brandt. Minnesota was unlucky in the loss to Ohio State when a shot wide of the goal deflected in off of a defenseman for the game-winner. The bounces evened out and then some on Saturday, when Minnesota-Duluth hit pipes with three shots in the second period alone. At the other end, as much as Minnesota missed its three forwards that are currently centralized, the Bulldogs likely missed goalie Maddie Rooney even more.
As for the second question, yes, there is room for the Gophers to grow, and many painful lumps to be endured between now and March — assuming that they're even still playing come March. Regarding the final question, that likely depends on the Badgers. If they have a four-inch square to shoot at, will they whistle a bullet through the opening, or push a shot three feet wide of the target? If they spend enough of the weekend doing the latter and staring up at the rafters, then the Gophers could steal some points. Either way, I think Minnesota has declined sufficiently this year that the series of greatest impact takes place in the North Country when Colgate and Cornell visit.
We've already talked about the Golden Knights, Saints, and Raiders. What are you expecting from the Big Red as they kick off their season with a tough road trip?
Nicole: All the teams we've talked a bit have had a bit of time to ease into their seasons and find their way. That's one heck of an opening weekend for Cornell to start off with, and I worry it's not one they're ready for. What the Big Red have going for them is a young team that gained some experience last season, but I'm not sure that's enough to carry them through this opening test. I did pick them to finish second in the ECAC above all the previously mentioned teams but Clarkson, but starting so late can really put the Ivies at a disadvantage.
What Cornell has going in it's favor is a solid goaltender in Marlene Boissonnault and a speedy forward in Kristin O'Neill. However, they need to find a supporting cast for O'Neill, and time will tell who that may or may not be. The Big Red excelled at special teams last season and had one of the stingiest defenses, but were somewhat anemic on offense. They're also probably fairly lucky to have St. Lawrence before Clarkson in this tough road trip. We mentioned some of the difficulties for the Saints so far and though it's not much of a relief, Cornell has to be happy to get a chance to work up to Clarkson a bit, so to speak.
If they're going to push Clarkson and Colgate for the top of the conference, I think Cornell has to find a way to balance the defense with offense. Now graduated Hanna Bunton was the only member of the team to record more than 100 shots last season. In some ways, the Big Red are a low-power offense by design, and I think they're really going to have to evolve from there. Clarkson is a primarily defense-minded team that's found a good balance with a couple of really talented forwards, and Cornell might want to take a cue from the Golden Knights. They won't score goals if they're not taking shots, and they really can't succeed if two of their top five scorers are on the blue line.
On the one hand, it's only October and the season is young; on the other, we're about a third of the way through. Who's stood out to you and landed on your radar through this first third? For me, the focus has been on some fabulous freshman. BC's Watts, Clarkson's Elizabeth Giguere, and Ohio State's Emma Maltais have all made quite the impression early on and shown remarkable ability to adapt to the college game. I'm excited to see how they continue to grow.
Arlan: It does seem to be an especially loaded crop of rookies, and frankly, the sport needed that after graduating a high percentage of its impact players in the spring. That class has been supplemented by a number of transfers, with the displaced former North Dakota players alone changing the landscape for a number of programs.
You've already mentioned what Cambell has meant to Wisconsin, and Maltais has been aided by the arrival of Charlie Dahlquist. I got my first look at the rebuilt UMD offense, and I expect that sophomore Ryleigh Houston and previous Fighting Hawks recruit Ashton Bell will be part of the foundation of its attack for the next few years. UND players are popping up in other leagues as well: Abbey Stanley is at Boston University, RMU gained Sarah Lecavalier, Quinnipiac picked up Anna Kilponen, Taylor Flaherty is at Vermont, and Mercyhurst has three UND refugees. It makes one think of what the potential impact on the balance of power would have been had North Dakota abandoned the sport a year earlier while someone of the stature of Halli Krzyzaniak still had eligibility.
In addition to Maltais, the Buckeyes have also gotten big contributions from freshman Tatum Skaggs. Recruiting is so vital in college athletics, and when players are recruited so young, it really complicates the task of evaluating how well a new coach is doing. Most think that Nadine Muzerall has done a good job at the helm of Ohio State for a year plus. We view her work in Columbus at least in part based on how well her team performs after adding players like Maltais and Skaggs, but these aren't her recruits, or in this case, even those of her predecessor. I'd guess that it isn't until the third or fourth recruiting class for a new coach like her that the players are primarily her own recruits. If we extend that, it would take six years or more to get a roster full of players of a new coach's choosing. It requires a lot of patience on the part of the administration, and, hopefully, a program's fans.
Getting back to this year's crop, Watts has definitely made the biggest splash and has a great shot at staying in the running for the Patty Kazamaier Award. She has a feel for the game beyond her years, and she can create offense in so many different ways. It'll be interesting to see as the league schedule unfolds if opponents can devise strategies for slowing Watts down after she burns them in a game or two.
In particular, this class has some very talented power forwards. Brooke Bonsteel of Quinnipiac really has a nose for the net. Bemidji State's Clair DeGeorge is a disruptive force all over the ice. The Gophers' Grace Zumwinkle causes all sorts of matchup problems — as well as deep bruises for opponents' lower extremities.
I'll close with a couple of questions for you. Which freshman stands out for the country's top-ranked team? And on a different note, there are a number of teams that are off to strong starts after having losing seasons last year, including Ohio State, New Hampshire, and Maine. I was ready to add Providence to that list, but the Friars were .500 a year ago. Harvard is 1-0, but the Crimson opened with a win over Dartmouth last year as well before their season fell off a cliff. Of these teams, who do you see as most likely to be a feel-good story when we're putting a wrap on the season?
Nicole: I've been overall impressed with all the rookies at Wisconsin. They seem to have gotten up to speed quickly. It helps that the Badgers have already played 10 games, of course. Brette Pettet is the standout for me so far. She's tied for second on the team with four goals, and she also has four assists. She's gotten involved early, and she's matching the talent on the lines she's playing on. More than that, she's been great to watch away from the puck. Her hockey IQ seems quite high, and she is already anticipating her teammates. Her points are a direct result of how smart she plays on the ice, and it's only going to get better.
It sure seems all three of those teams could be giving us some warm and fuzzies at the end of the season, but Ohio State is the team that's proved the most so far. Both Maine and New Hampshire have shown enough to have me intrigued, but the Buckeyes have wins over two of whom we imagined to be the top three teams in their conference. For the most part, they've been doing it without relying on goalie Kassidy Sauve. They aren't sliding by, and they aren't stealing games. They're playing for 60 minutes (or more) and coming out the winner. We aren't hypothesizing on how good they could be; they are actually playing well against top tier opponents.
Obviously it's October, and there's plenty of things that can trip them up along the way, but right now they're playing some of the best hockey in the country, and have given us no reason to think they won't still be doing so in February.