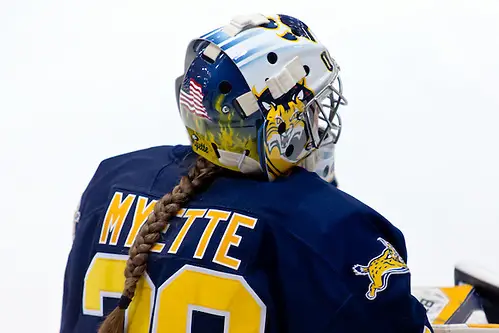 The NEHC looked very different last season, with nearly twice the amount of member teams. Norwich won the regular season crown in the final game of the regular season. It was their seventh straight. Norwich and now departed teams St. Anselm and Manhattanville were neck-and-neck until that final weekend. The teams that finished the season in spots 2-4 are no longer conference members. UMass Boston finished 10 points back of the Cadets. Top-seeded Norwich claimed its fifth NEHC tournament title in the last six years and earned an NCAA tournament for the eighth time in the program's 10-year history.
The favorites
After last season's dominant performance, Norwich would be the favorites starting this season anyway, but add in that they lost just two players to graduation and you realize the Cadets are going to be a formidable foe for anyone else in the NEHC to upset. They return 93 percent of their scoring, as well as goalie Laurie King, who saw 25 of the team's 35 starts last season.
Ranked no. 3 in the preseason national poll, Norwich has high hopes for the season. The Cadets advanced to the national semifinal last year, where they lost to eventual champion Plattsburgh State. They also lost the third-place game to Gustavus-Adolphus. With another year of experience under their belt and the majority of their team back, they'll be looking for more than a conference tournament. They start the season with a tournament at Adrian featuring No. 2 Adrian and No. 4 Wisconsin-River Falls. It'll be a tough early test.
UMass Boston lost just four players to graduation, but finished well behind Norwich in the final conference standings. If any team has a chance to push the Cadets, it's the Beacons, who finished February 6-1 before losing to Manhattanville in the conference tournament.
The dark horse
Castleton had an up-and-down season, but finished strong in February, scoring more than three goals a game over the final month of the season and winning four of their final six regular season matchups. New coach Ashley Salerno has her work cut out for her, but returns a solid core that could make some waves.
Players to watch
Castleton: Hannah Rose, defense; Aimee Briand, forward
New England College: Alexa Scriber, forward; Ashley Castriotta, goalie
Norwich: Sarah Schwenzfeier, forward; Kim Tiberi, defense
Plymouth State: Shannon Hickey, forward; Courtney Evans, defense
Salve Regina: Jennifer O'Connell, goalie; Amanda Fantasia, defense
Southern Maine: Britney Evangelista, goalie; Alex Mitchell, forward
UMass Boston: Rachel Myette, goalie; Maren Brown, forward
University of New England: Annie Mullen, forward; Tatum Gietl, forward
Predicted finish
1. Norwich
2. UMass Boston
3. University of New England
4. Castleton
5. Plymouth State
6. Southern Maine
7. Salve Regina
8. New England College
With a unanimous vote in the preseason coaches poll, it certainly seems like it's Norwich's conference to lose. The Cadets play a tough schedule and have eyes on a bigger prize, but the middle part of the NEHC can't be overlooked. Norwich needs every point to keep pace nationally, and they can lose a lot of ground early on if they're not careful. This early season test against two other top-ranked opponents should let them know where they match up this season.