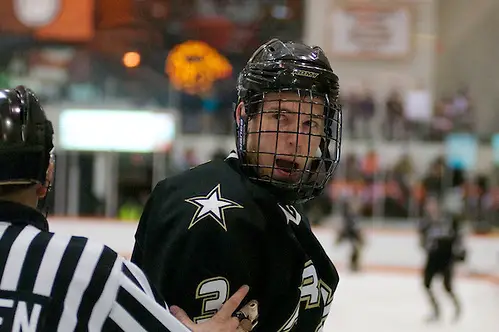 Christian Pomarico never met Derek Hines.
They never skated together and never dressed together in the same hockey locker room.
They both attended and graduated from the United States Military Academy, but neither man met the other.
But to Pomarico, "Hinesy" is still a part of his family.
A 2016 West Point graduate, Pomarico hung up his skates upon graduation for a career in the United States Army. Now an Explosive Ordnance Disposal officer stationed at Fort Campbell, Kentucky, he spends his days studying how to render explosive devices safe. From fellow soldiers to humanitarian demining, he is now protecting people as a member of the Long Gray Line.
In two weekends, however, Pomarico will trade in his fatigues and combat boots for running shoes and shorts when he participates in the TCS New York City Marathon. Running in memory of 1st Lt. Derek Hines, he will lace up for 26 miles through the Five Boroughs to raise awareness and funds for the Bob Woodruff Foundation.
"My girlfriend works for the Foundation, and it was something I asked to run for," Pomarico said. "She told me about the Foundation and what they do, and I knew they had people run for them every year. I saw it as an opportunity to do something to remember Derek Hines even though I'm not as West Point anymore while raising awareness and fundraising for wounded veterans along the way."
Hines' name evokes emotion to anyone associated with the Army West Point hockey program. A 2003 academy graduate, he was conducting security operations in Afghanistan when his unit came under small-arms fire on Sept. 1, 2005. Wounded by insurgents, Hines continued to fight but ultimately succumbed to his wounds at the age of 25.
"I never a played a shift with him, but it's something that sticks with us as guys who played for Coach (Brian) Riley," Pomarico said. "He's become a part of our family without ever knowing him."
With Hines in his heart, Pomarico will run for the veterans on his mind. He will run for the Bob Woodruff Foundation, a nonprofit dedicated to assisting wounded veterans who return home from deployment. It echoes the courage of its namesake – reporter Bob Woodruff – who was seriously injured by an improvised explosive device (or IED) in 2006 while on assignment in Iraq. Following extensive recovery, Woodruff and his family started the Foundation to ensure veterans have access to support and resources.
"For me, this means being able to give back to the family that I'm now a part of," Pomarico said. "We always talked about the 'Army Hockey Family,' and I'm still a part of it and always will be a part of it. But being part of the larger military family itself, it means something to not forget the people who are injured both physically and mentally. It's important not to leave them behind."
It's a lesson he learned while wearing the fabled Black Knight uniform. Recruited by and playing for head coach Brian Riley, it's also a lesson learned within the fabric and culture of the West Point program.
"It's definitely different playing at West Point," Pomarico said. "In our first couple years, we struggled as a team, but we started putting some stuff together during my junior year. We made the Atlantic Hockey Semifinals during my senior year. Going through those highs and lows helped change the team a little bit. You got to know guys really well and how they handled adversity.
"It's hard to explain if you don't go through it yourself, but you want to win for the person next to you," he continued. "That's who you care about because that's how the military operates. You work as hard as you can to be as good as you can be because it makes the team and the guy next to you better. That's a level of selflessness I never witnessed before getting to West Point."
It's also a level of selflessness exhibited by Derek Hines. Every year, the Army West Point hockey team participates in "Hines workouts" designed to work players to their physical limits. From treadmills to lifts, it forces players to push harder and longer than they thought possible, all with the purpose of remembering a fallen brother. It's something Pomarico carried with him after graduation, and it led him directly to the New York City Marathon.
"The closest thing I can think of in a Hines workout is running a marathon," he said. "(Training) is a lot of work, running long distances and whatnot. But it's pretty similar to hockey. You will your body to want to keep moving. That's not unlike hockey or military training. You have to be able to push yourself mentally past your physical breaking points."
It becomes a natural combination, then, to combine what Army hockey players know about Derek Hines to the physical endurance of a marathon with the overarching message of the Woodruff Foundation. "It didn't matter how many losses we had," Pomarico said. "We played to the last whistle and always gave our all. Once we got guys to buy into the system, we changed a couple of things systematically to become a better hockey team. But the bedrock of not quitting is what made the team turn around so quickly.
"Hinesy was killed in action so we try to remember him as much as possible," he continued. "We have guys who lose limbs, but with this foundation, I really take it to heart that they help people with hidden injuries that you can't see. They're dealing with it on different levels and it needs to be addressed. Doing what I do as an EOD officer, I chose this because I wanted to help people. This is an extension of that."
To donate to Pomarico's cause as part of the Bob Woodruff Foundation, visit his donation page.
Program Defining Wins
When AIC and Sacred Heart traveled to Big Ten country for games against No. 11 Penn State and No. 5 Notre Dame, I'm sure many people expected them to simply play fodder for the home team.
The Yellow Jackets and Pioneers apparently missed that memo.
Sacred Heart scored arguably its biggest program victory first, shocking the Fighting Irish 6-4 behind four third period goals. Vito Bavaro scored a hat trick that included the game winner as the Pioneers rallied from a one-goal deficit after two. It was the first program victory over Notre Dame and the first win over a top-five team since a 2013 win over then-No. 1 UMass Lowell.
While that unfolded, the Yellow Jackets gave Penn State all it could handle in a 7-5 defeat. Like Sacred Heart, AIC outshot its opponent in the third period, scoring two goals, including one shorthanded.
The next night, though, saw AIC join Sacred Heart under the center stage spotlight. Rallying from two one-goal deficits, including one with less than 10 minutes remaining, Darius Davidson scored with just over a minute remaining in overtime to silence a sellout crowd at the Pegula Ice Arena. It was AIC's highest-ranked victory and first win over a ranked team since defeating No. 20 Robert Morris in a conference game in 2015.
Up until last year, both AIC and Sacred Heart played in small municipal rinks. Penn State and Notre Dame's home buildings cost a combined $138 million. For the two programs, it was a combined watershed moment that will unquestionably help the AHC in the quest for a second national tournament bid. At the same time, it cast a light on two programs that operated under the radar but always had the desire and skill to compete.
Ahead of the Curve
During the preseason, every coach talked about Atlantic Hockey's depth. Everyone seemed to compliment everyone else's roster while also maintaining excitement about their own roster. As October gets set to turn into November, they're all being proven prophetic.
Though the three all-league goaltenders all departed in the offseason, AHC goalies are still stonewalling opposing offenses. Five goalies are averaging under 2.20 goal per game, while seven currently have save percentages well over 90 percent.
Army West Point's Cole Bruns tops the list with a .947 save percentage and a 1.77 GAA. He's followed closely by Holy Cross' Paul Berrafato's 1.91 GAA and .944 save percentage. Unsurprisingly, both teams sit atop the early standings with six points apiece in four games.
And you get overtime! And you get overtime!
Holy Cross' regulation win over Bentley on Saturday broke a unique streak; it was the first regulation game played by either team to start the season. When they went to overtime on Friday, it became the third straight game for the Crusaders and second straight for the Falcons to start the season.
It also became the fifth and fourth consecutive regular season game dating back to last season and third straight in their rivalry. Playing on the last weekend of last season, the two teams skated past 60 minutes in both games.
That led to Tuesday night, where Bentley and AIC skated to a 2-2 tie thanks to a third period Falcon rally for the second time this season. After tying 3-3 earlier this season, they've now tied SIX straight games against each other. The last regulation game was January 22, 2016 when Bentley beat AIC 6-1 at home. They've also tied six of the last seven games played at AIC, counting both the Olympia Ice Center and the MassMutual Center.
For what it's worth, it also means Bentley's gone to overtime three times in its first four games.
It's been part of an overtime frenzy to start the season. Six additional games this year have already gone past regulation, including AIC's dramatic win over No. 11 Penn State. RIT tied Northeastern back on October 14, while Niagara used extra hockey to defeat RPI, 4-3, this past weekend.
Players of the Week
Player of the Week: Sacred Heart's Vito Bavaro: Bavaro had the aforementioned hat trick at Notre Dame, cementing his name in Pioneer program lore with the first chapeau since January, 2016.
Defensive Player of the Week: Niagara's Noah Delmas: Delmas had three points and three blocked shots in the Purple Eagles' weekend split with New York's Capital District. He scored his first career goal and an assist in the win over RPI, then added another assist against Union.
Goalie of the Week: Holy Cross' Paul Berrafato: Berrafato had 44 saves in the weekend sweep of Bentley. It included a 27-save shutout, the seventh of his career, in the backend victory.
Rookie of the Week: Sacred Heart's Marc Johnstone: The freshman had three assists in Thursday's win over Notre Dame, finishing the weekend with a combined four blocked shots.