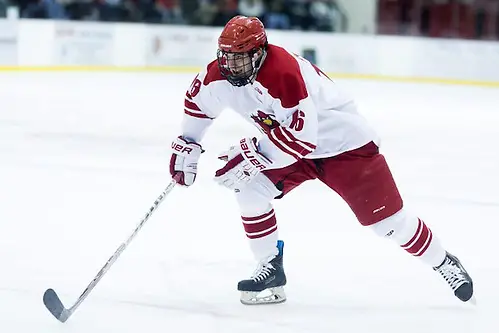 Unlike many conferences that have gone through some changes in make-up, SUNYAC remains intact and formidable in the level of competition across the league. Many, including Geneseo coach Chris Schultz, feel this may be the most competitive the league has been.
"I know we were picked in the coaches poll, but Plattsburgh is really good; Oswego will be good with Ed [Gosek] getting that new group fired up; Buffalo State has been better each year, and Brockport and Potsdam can surprise a lot of teams," said Schultz. "Everyone has something to replace or prove; it will be fun to see how it all comes together."
The favorites
It should be no surprise to find the Cardinals among the conference favorites as the defending champions. Coach Bob Emery returns a strong nucleus, including forwards Cam Owens, Cole Stallard, and Joe Drabin. The key will be in goal where two freshmen and a sophomore, local product Keller Kowalowski, will be competing for crease time to back stop the Cardinals' bid for a repeat title.
Even with the departure of All-American forward Stephen Collins, the Geneseo Knights return a lot of offense to the ice this season. Led by forwards Conlan Keenan and Anthony Marra, the Knights should have a lot of firepower. If junior netminder Devin McDonald returns to the form of his freshman season, one that ended in the Frozen Four, Geneseo could be playing some meaningful hockey in March.
The dark horses
Five years ago, a group of freshmen became a big part of Oswego's Frozen Four run; 488 points later, coach Ed Gosek will be looking to replace the firepower of the departed seniors with a new cast that includes 19 freshmen and sophomores on the roster. Gosek is a terrific coach, and if anyone can get a group together and focused quickly it will be he and his staff that mature the young Lakers in an accelerated fashion.
Brockport just may be this year's sleeper squad. They return a strong group led by eight seniors, including captain Aidan Verbeke and Dylan Shapiro. Coach Brian Dickinson has a bench with depth and experience, and his team plays three of their first four conference games at home. Early success could have the Golden Eagles gaining early confidence.
Players to watch
Brockport: Tim Kielich, forward; Ryan Kangas, forward
Buffalo State: Mac Wood, forward
Cortland: Dan Broderick, forward; Mike Crowley, forward
Fredonia: Jamie Young, defenseman
Geneseo: Devin MacDonald, goalie; Conlan Keenan, forward
Morrisville: Ian Wood, forward
Oswego:    Mitchell Herlihey, forward;
Plattsburgh: Joe Philbin, forward; Pat Egan, forward
Potsdam: Dylan Vander Esch, forward; Kyle Thacker, defense
Predicted finish
1. Geneseo
2. Plattsburgh
3. Oswego
4. Brockport
5. Buffalo State
6. Potsdam
7. Fredonia
8. Cortland
9. Morrisville
While Plattsburgh hosts an exhibition game this weekend, Geneseo will be playing two nonconference opponents in Neumann and Nazareth to open the regular season. Many other teams faceoff with nonconference opponents this weekend and for the first time, the scores count.