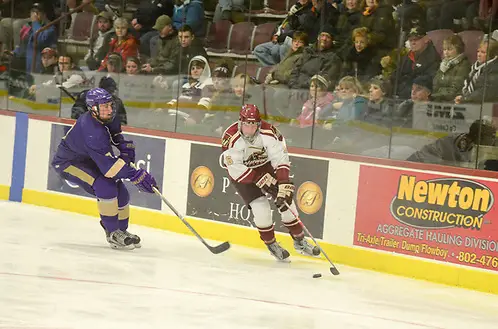 The conference is officially realigned as an eight-team conference with the addition of Hobart from the former ECAC West, where they have won multiple conference championships and appeared in the NCAA tournament without the luxury of an autobid. The schedule is also a bit different, as this year some travel partners will play each other three times, while other pairings play only twice.
"Hobart joining the league is a very good thing," said Norwich coach Mike McShane. "Next year, Johnson & Wales and Suffolk join, and I think they are going to be good too. The level of recruiting now has everyone competing at a high level, so I expect this season to be a great challenge for our team in a well-balanced league."
The favorite
To be the champ, you must beat the champ!
Norwich lost nine seniors, including five center ice men; really! But the Cadets always retool and reload, and this year is no exception. Anchored in goal by captain Braeden Ostepchuk and forward Kevin Salvucci, the key will be to find the right pairings and linemates to provide the offensive firepower lost to graduation.
"We are trying to put together combinations that give us some punch on one line, including Kevin," noted McShane. "We have 13 new guys, and the competition in camp for everyone has been good. Now going into the season, we need to get guys comfortable playing with each other and hopefully producing some goals up front."
The dark horses
It is almost unfair to put Hobart in a dark horse category having won the ECAC West last season before losing a first-round NCAA tournament game. The Statesmen enter the league with some familiarity with the conference, having played Babson and Norwich in recent years. Coach Mark Taylor always has his team ready to play and builds off strength in goal with returners Alexander Connal and Frank Oplinger and experienced leadership with Ben Grenier and Andrew Silard up front.
The Beacons of UMass-Boston fell back a little last season after the departure of a large graduating class that brought them to the Frozen Four. Player of the year in the NEHC Colin Larkin is back to lead a more experienced bunch this season that has depth and skill for coach Peter Belisle.
Players to watch
Babson: Rob Devaney, forward; Charlie Ackerman, forward
Castleton: Kurt Johnson, forward; Ryan Mulder, goalie
Hobart: Ben Grenier, forward; Andrew Silard, forward
UMass-Boston: Nolan Redler, forward; Colin Larkin, forward
New England College: Andreas Zollner, forward; Carlos Fornais, forward
Norwich: Braeden Ostepchuk, goalie; Kevin Salvucci, forward
Skidmore: Brandon Kasel, goalie; Connor Pelkey, defenseman
Southern Maine: Brett Norman, forward
Predicted finish
1. Norwich
2. Hobart
3. UMass-Boston
4. New England College
5. Babson
6. Skidmore
7. Castleton
8. Southern Maine
Exhibition games began last weekend and continue for some this weekend, while other teams jump right into high-level competition, including Hobart traveling to Elmira, Norwich hosting Salve Regina, and Babson facing off with defending MASCAC champions Salem State. The season starts fast and hard for everyone.