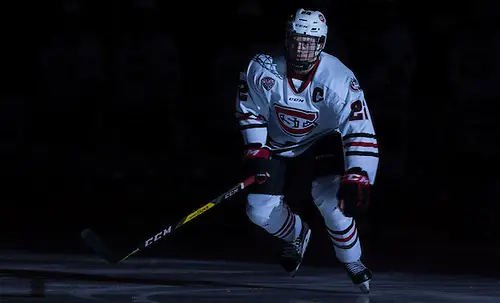 Bye weeks can come in handy for teams on the mend, but being idle is less helpful for a healthy team that's rolling.
Second-ranked St. Cloud State is off this weekend after opening the season with five consecutive wins, three of them against top-20 teams. The two most recent games came at home last week against No. 13 Boston College. After downing the Eagles 5-2 on Friday, SCSU got 36 saves from freshman goaltender David Hrenak in a 3-1 in Saturday night.
It's tough to point out flaws in the Huskies' start to the year. They've yet to score fewer than three goals in a game, and all but two of their skaters already have at least one point to their names.
Still, SCSU coach Bob Motzko isn't getting carried away.
"Every year brings some surprises, and there's no question it's been a very good start for us, but it's the old adage where you don't try to get too high on things and when things are bad, you don't get too low," he said. "All of us teams around the country right now are identifying our shortcomings and what we need to improve on and continue to build on our strengths, and I think that's all you can do.
"It's October, and whether you're 5-0 or 3-3, you don't want to look too far into anything. You just want to keep getting better and improving."
A bright spot Motzko emphasized was the output so far from Hrenak and his freshman classmates. There's only six on the roster, but they're quickly finding their way on a SCSU team that returned nearly all of its offense from last season.
"They've mixed in very well for us right now," Motzko said of the Huskies' newcomers. "(Luke) Jaycox on defense, he's gotten in now for three straight games and has looked very good and added strength and size back there for us that we need and he's another penalty killer.
"We've got a young goaltender who's now played two games in two weeks, and really he was very nervous his first game but showed great signs in the Saturday game against Boston College and was much more relaxed and squared and had a very good night.
"Then there's our forwards," Motzko continued. "We've got three of them (Kevin Fitzgerald, Blake Lizotte and Easton Brodzinski) who have been in there, and they're going to help us this year and the fourth guy, Will Hammer, hasn't been in there yet but he's going to help us. We have tremendous depth this year."
That depth could develop further by the time No. 10 Minnesota Duluth visits St. Cloud next weekend. In the meantime, SCSU is staying productive.
"Our wish list is we wish we were still playing, but it's a quirk in the schedule that comes up where we've got a bye and we just have to trudge through," Motzko said. "We're healthy right now and I think it's a week where we can push ourselves.
"We'll take a little rest this week, but we've got to push hard to keep moving forward."
—–
The good news for UMD so far is that a Bulldogs team that was Frozen Four-bound last season clearly hasn't forgotten how to score goals. What's been more difficult is keeping them out at the other end of the ice.
UMD is 2-2-2 through six games this season and is outscoring opponents 21-19. Last weekend saw the Bulldogs tie Merrimack 5-5 at Duluth's AMSOIL Arena on Friday night on a combined seven power play goals. On Saturday, UMD scored five times in the third period to defeat the Warriors 7-2.
"I'd like to say we're going to score five, six, seven goals a night but I don't know if that's going to happen, but it's nice for those guys," UMD coach Scott Sandelin said. "Every game I go into, I expect us to be in a tight game, and I think we're playing decent defensively and we haven't given up a ton of shots in our games and have had the puck a lot and out-chanced teams, but this weekend more of them went in.
"We capitalized, and that's good and hopefully it helps the offensive confidence level for our team, and it's developing that consistency, like everybody's going through."
After Merrimack went 4-for-6 on the power play Friday, the Warriors were held to 0-for-4 in the rematch. For that and other reasons, Sandelin came away happy.
"I thought all weekend we played pretty well," he said. "Obviously Friday was a special-teams game for both teams, but I think the biggest thing is we battled back from being down 2-0 to take a 4-2 lead halfway through the third and then we took a couple bad penalties in the final six minutes that changed the momentum of the game and the next thing you know, it's gone from 4-2 to 5-4.
"The message was to not take bad penalties, and we were fortunate we got the goal with over a minute left to tie it, but Saturday was much more of a complete game for us even though the game was tight. We had to kill off a penalty at the beginning of the third to keep it 2-1 and then we got a goal and gave one up and killed one more penalty and then opened it up a little bit with some goals.
"I thought our guys stayed with it," Sandelin continued, "but it's a good learning experience from the discipline side of it, and that's how quick a game can change."
One big question mark that remains is the Bulldogs' goaltending situation. A hole was left after Hunter Miska left at the end of last season with collegiate eligibility remaining, and through three games apiece, both junior Nick Deery and sophomore Hunter Shepard have save percentages under .900 ahead of this week's road series at Maine.
"I think the plan was to probably go and split them and see if somebody kind of takes charge, and right now I don't know if either one of them has, quite frankly," Sandelin said. "Shep's won a couple of games and done all right and Nick's played three and had a shutout and the other two were probably average, so I guess it's going to be a battle until someone wants it.
"We might continue with that, but we'll see. We'll see how Friday's game goes, and that could determine whether someone plays back-to-back games or not, but there's no question it needs to be better and they know that, and hopefully they keep pushing each other so it does get better."
This weekend's series at Maine marks UMD's first games this season outside of Minnesota – they lost 5-2 at Bemidji State on Oct. 13 – and could set the Bulldogs up well for what awaits the following week.
"I'm looking forward to getting on the road because I think we've been at home way too much," Sandelin joked, "but it's been a while since I've been in that building but it's a fun atmosphere to play in, and it's another good team that's working its way up the ladder and they put up 11 goals against Miami so they're doing something right, so that opened my eyes.
"I think it's a good road trip for us and good preparation for the following week when we go to St. Cloud, and more importantly we've only had one road game and that was in Bemidji. I think everyone's looking forward to getting on the road, and I want to see how our team does on the road.
"We didn't fare very well in Bemidji even though we played a pretty good game until the third period, but you've got to win on the road to be an upper-level team, so it'll be a good challenge for us and we're looking forward to getting out there."
Players of the Week
Offensive: Gordie Green, Miami: The sophomore forward picked up a career-high five points last Friday at Maine with two goals and three assists before posting another two helpers on Saturday.
Defensive: Grant Hutton, Miami: A junior defenseman for the RedHawks, Hutton posted four goals, an assist, seven shots on goal and a blocked shot in Miami's road split with Maine while helping to kill 11 of the Black Bears' 14 power plays.
Newcomer: Nick Swaney, Minnesota Duluth: The Bulldogs freshman posted four points in a tie and win last weekend at home against Merrimack. Both of his goals came on UMD power plays.
Goaltender: Cam Johnson, North Dakota: The senior goalie allowed only two goals last weekend at home against big rival Minnesota and made his first shutout of the season on Saturday in a 4-0 win over the Golden Gophers.