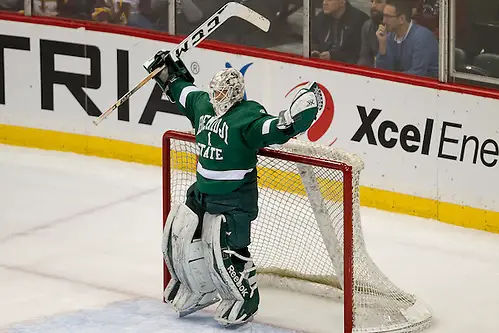 Last season, Bemidji State reeled off eight straight wins to start their WCHA season.
The Beavers didn't even tie a game until their ninth league contest — a 1-1 draw in Mankato on Nov. 11.
That big cushion helped the Beavers clinch their first-ever MacNaughton Cup with time to spare in the season.
Last week, the Beavers started their title defense somewhat inauspiciously, at least compared to last season as they tied with Ferris State on Friday.
Still, it wasn't all bad — the Beavers won the shootout then won the next day to pick up five points on the weekend. They're now 3-1-2 overall in six games this season.
BSU coach Tom Serratore saw the five-point weekend as a positive.
"Opening weekend against (Minnesota) Duluth and then the following weekend against Air Force, I don't think we put back-to-back games like we want together," Serratore told the media earlier this week. "I thought last weekend, we put together 120 pretty good minutes of hockey. So from a coaching standpoint, you're excited about that."
The Beavers were up 2-1 Friday thanks to a pair of goals by Kyle Bauman, but the Bulldogs tied it up on a power play midway through the third.
However, the Beavers didn't break — they outshot the Bulldogs 13-7 in the final frame and 2-0 in overtime before Jay Dickman won them the extra point in a shootout.
The next night, senior goaltender Michael Bitzer stopped 19 shots as the Beavers won 3-0. It was Bitzer's 18th career shutout, adding to his already impressive career numbers.
"It's not necessarily the outcome, it's the effort and the execution and I thought it was there last weekend," Serratore said.
The Beavers hope they can keep stringing those consecutive weekends of execution together this month. They start November with a trip to Fairbanks to take on the Alaska Nanooks. They also host instate rivals Minnesota State and travel to Princeton — all tough series in their own ways.
Freshman Finishers
One month into the season and Bowling Green's freshman class is already making a big impact.
The Falcons have three freshman with at least four points this season, the most amongst WCHA teams. Cameron Wright leads WCHA rookies with seven points (four goals, three assists) in seven games. Max Johnson has six points, while Brandon Kruse has four.
How does that compare on a national scale? Well, Massachusetts is the only other team in the country with four four-point freshmen.
In addition, the Falcons also have Carson Musser and Connor Ford with a pair of points, while fellow freshmen Sam Craggs and Justin Wells have also played key minutes.
When you add in freshman goalie Eric Dop, the future looks pretty bright for the Falcons.
Dop was named the WCHA Rookie of the Week after his performance last week, and is part of a platoon with sophomore Ryan Bednard. It's a system that's worked well so far.
"We're both competing every day — in practice, in the weight room, everything," Dop told the Toledo Blade. "We're both trying to go for the starting spot.
"I'm just going to keep doing my thing and see what happens from there."
Bowling Green has a big trip to Michigan Tech this weekend. It could be a nice proving ground for the freshmen.
Three WCHA players candidates for Senior CLASS award
A trio of WCHA players are among 20 candidates for the 2017-18 Senior CLASS Award in men's hockey: Bitzer, Ferris State forward Andrew Dorantes and Bowling Green forward Mitch McLain.
The 20 candidates will be narrowed to 10 finalists in February, and those 10 names will be placed on the official ballot. The winner will be announced during the 2018 Frozen Four in April.
Last season's winner was Bemidji State's Brendan Harms.
Players of the Week
This week's WCHA players of the week were Minnesota State senior Zeb Knutson (offensive), Minnesota State senior defenseman Clint Lewis (defensive), Bitzer (goaltender) and Bowling Green freshman goaltender Eric Dop (rookie).
Players of the Month
The WCHA's players of the month for October were MSU's Knutson (offensive), Michigan Tech senior defenseman Mark Auk (defensive), Bitzer (goaltender) and Alaska freshman forward Stephen Jandric (rookie).