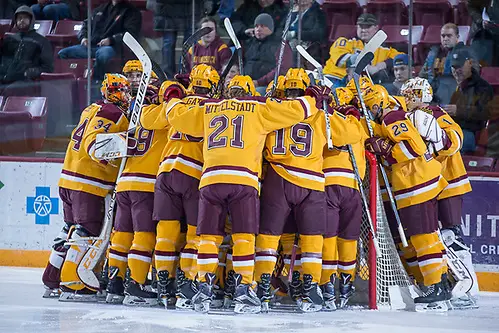 Notre Dame and Minnesota will face off in their first Big Ten series this weekend, but the two teams are far from unfamiliar with each other.
The two teams have played at least once during the last six seasons with Minnesota holding a 6-3 advantage in those nine games. The Irish, however, got the last laugh by ending the Gophers' season last year at the NCAA regional in New Hampshire.
Narratives for previous games have been easy to find.
The most obvious one is that Minnesota's head coach Don Lucia played for Notre Dame from 1977 to 1981. Lucia scored seven goals and added 23 assists during his three seasons skating for the Irish before immediately jumping into the NCAA coaching ranks with Alaska-Fairbanks. Lucia's son, Mario, also played four seasons for Notre Dame between 2012-2016.
Ryan Guentzel, son of Gophers associate head coach Mike Guentzel, also played for the Irish from 2007 to 2011.
"We've certainly had some great games with Minnesota over the years," Notre Dame head coach Jeff Joackson said. "They're a team that plays the game the right way. They're fast, they play a really good transition game and they're very deep."
Those narratives now take a back seat to the fact that six Big Ten points are up for grabs at Compton Family Ice Arena this weekend, but could they help create a conference rivalry between the two teams?
"I'd like to believe so," Jackson said. "We recruit a lot from Minnesota and I think that we cross paths recruiting-wise and because of the relationship between Don and Notre Dame and my relationship with Don and the Lucia family it certainly has the potential to be a good rivalry."
Notre Dame has a natural Big Ten rival in Michigan, who was a former CCHA foe and is a natural school-wide rival because of football, but Jackson said he was looking forward to expanding horizons this year when the Irish joined the conference.
"It should be fun moving forward and I'd like to believe that we will create a lot of rivalries in the Big Ten," he said. "We've always had one with Michigan and I think that in time we'll probably develop one with Minnesota and Wisconsin. I just think it's a natural thing for rivalries to develop and they really develop when there's two quality programs."
Lucia said in an interview on KFAN radio earlier this week that the conference-wide strong play by all seven teams should lead to healthy competition this season.
"If the NCAA started today, I think the Big Ten would have five teams in it, he said. "That's the way it's going to be this year, you've seen a lot of splits in Big Ten play. Every Big Ten team is over .500 on the season and the conference is starting to become the conference we all hoped it would be."
Jackson's team is on a roll heading into this weekend. The Irish have won seven games in a row, have swept three straight opponents and are a perfect 4-0 in Big Ten play.
"We've shown pretty good poise," Jackson said. "None of these games have been easy, they've all been pretty tight games. We showed some maturity being able to win one-goal games and we've had fairly consistent play out of our defense and goaltender."
He's not lying when he says the wins haven't come easy. Notre Dame's last win was a 1-0 overtime victory over RPI and the Irish won by the same score over Penn State the weekend before. All in all, four of the seven wins have been one-goal victories.
"That's an important aspect of having a good team, you have to be able to win different types of games," Jackson said. "There's going to be the close checking games, there's going to be the games where it's more wide-open and up-and-down. You have to learn to play certain opponents certain ways."
After a wild weekend at Michigan, Minnesota returned home last weekend and swept Harvard. The Gophers are 9-4-1 this season.
"It's always nice to win two games," Lucia said in the radio interview. "Harvard played in the Frozen Four a year ago and lost in the semifinals to Duluth, so we knew when we scheduled them that they'd be a good team."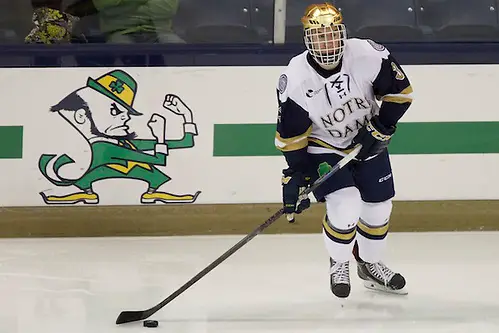 This weekend's series could very well come down to goaltenders. Notre Dame's Cale Morris owns a 9-1-0 record and a 1.75 GAA this season. Minnesota's Eric Schierhorn has a 9-4-1 record and a 2.26 GAA.
Morris is getting the chance this season to prove his worth to the Irish after sitting behind Cal Petersen all of his freshman year.
"Going into the season everybody questioned who's going to replace Cal Petersen and I think as a coaching staff we were pretty confident," Jackson said. "We recruited Cale with the idea that we probably would lose Cal Petersen after his junior year and even possibly after his sophomore year."
Jackson praised Morris on how he handled last season. Petersen started 90 consecutive games for Notre Dame during his tenure, including every game last season.
"We knew Cale was a good goaltender and I give him a lot of credit for how he handled last season because he patiently waited his turn and it paid dividends for him because he had a great attitude and a great work-ethic," he said. "I actually thought he got better last year, despite the fact that he didn't play, and that's a rare thing to be able to do, especially for a goaltender. He's been pretty calm back there, he's given our team a bit of confidence."
This weekend Minnesota gets the chance for revenge against the team that ended its season last year. Notre Dame had the same opportunity against Denver earlier this season. Jackson downplayed the payback-factor before that series and he said the same thing with Notre Dame on the other side of the coin this weekend.
"It's a different team," he said. "I'm sure the players in the back of their mind think about things like that, but when the puck is dropped it's two teams that are two pretty good hockey teams going at each other. Like the Denver series, I didn't even really think about it, I know the players probably thought about it more than I did."
Lucia agreed.
"It's a new year," Minnesota's bench boss said. "I think the disappointment was with the group last year and any time your season ends you're disappointed, no matter how far you go.
"The new challenge is they're 4-0 in the Big Ten. They're a really good team and I think they only lost three players from the team that we saw at the end of last year, so in many ways they're probably the team to beat in our league this year."
Three stars of the week
First star — Notre Dame sophomore goaltender Cale Morris: Morris made 63 saves during Notre Dame's sweep of RPI. He stopped 37 of the 38 shots he saw on Friday night and had a 25-save shutout on Saturday. The sophomore has won seven starts in a row. This is his third career Big Ten weekly award.
Second star — Michigan State freshman forward Mitchell Lewandowski: Lewandowski scored three goals last weekend when MSU swept Ferris State. He scored twice in the second period and assisted on the game winner in overtime on Friday and scored the game-winning goal in the second period on Saturday. This is his third career Big Ten weekly award.
Third star — Penn State sophomore forward Brandon Biro: Biro led the Big Ten in points last weekend with five as Penn State swept Arizona State on the road. He tied a career high with three points during Friday's 7-0 victory and added a goal and assist during Saturday's 4-2 win. This is his first career weekly award.
B1G in the poll
No. 4 Notre Dame, No. 6 Minnesota, No. 9 Wisconsin, No. 15 Ohio State and No. 17 Michigan represent the Big Ten in this week's USCHO.com Division I Men's Poll. Michigan State and Penn State received votes in the poll.
My ballot
1. Denver
2. St. Cloud State
3. North Dakota
4. Notre Dame
5. Minnesota State
6. Minnesota
7. Cornell
8. Clarkson
9. Wisconsin
10. Providence
11. Northeastern
12. New Hampshire
13. Western Michigan
14. Minnesota Duluth
15. Ohio State
16. Michigan
17. Boston University
18. Colgate
19. Northern Michigan
20. Boston University
This week's matchups
Minnesota at Notre Dame (Friday and Saturday, Compton Family Ice Arena)
Michigan State at Penn State (Friday and Saturday, Pegula Ice Arena)
Ohio State at Michigan (Friday and Saturday, Yost Ice Arena)
Wisconsin vs. Mercyhurst (Saturday and Sunday, Kohl Center)