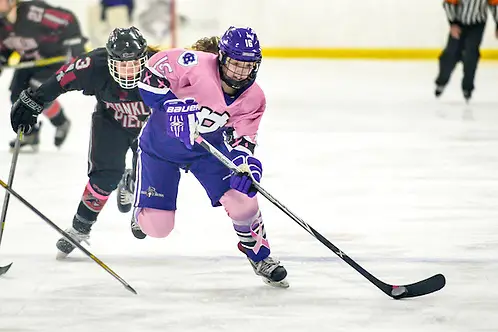 Candace: There were certainly were a fair share of surprises this weekend Nicole. Ohio State struggled against Bemidji State, tying in the first game and then winning. New Hampshire could only muster two 1-1 ties against Rensselaer. Boston College once again tied Connecticut. St. Lawrence tied Princeton. And Clarkson lost again, failing on its penalty kill and losing in OT to Quinnipiac.
However, even with all those results, to me, we have to start with the Harvard-Holy Cross series. The Crusaders held a lead in the second period Friday at Harvard, but the Crimson scored and took a one-goal lead into the third period, then quickly broke it open in the third period and won 8-3. That loss could have been very devastating to Holy Cross, but instead, the Crusaders rallied in the second game at home, blanking the Crimson 2-0 and earning their first victory over a D-I program. Goalie Tessie Salatas made 32 saves in earning the shutout.
Holy Cross is playing a transitional schedule this season before entering Hockey East next year, where some observers expect them to be cannon fodder for Boston College and other top teams in the conference. Certainly losing 9-1 to New Hampshire this season points in that direction. However, in their other games against D-I opponents, Holy Cross has a tie and one-goal loss to RIT, an OT exhibition loss to Dartmouth, and the split with Harvard. Perhaps Holy Cross has the potential to be a playoff team in Hockey East, especially with former Boston University assistant Katie Lachapelle working as associate coach at HC and helping with recruiting.
On the flip side, that loss has to sting for Harvard. I thought perhaps they would be a player again in the ECAC, and there is certainly enough volatility in the conference for Harvard to make a push.
What did you make of the series and what it says for Holy Cross and Harvard?
Nicole: I was definitely surprised by this series this weekend. In this very space last week, I told Arlan I thought Harvard had righted the ship and last season was more an aberration than a sign of a bigger issue — now I feel like I am eating those words a bit.
I'm talking to Holy Cross coach Peter Van Buskirk this week for my column, and I'll be interested to hear what the transition has been like. The Crusaders have lived in limbo for a long time, but were truly dominant as a program playing against Division III schools. They are used to winning. Van Buskirk has been their coach all 18 of their seasons and has compiled a 278-140-29 record. It's going to take a mentality shift for everyone at that program to have the fortitude to go through what will likely be some down seasons as they work on recruiting and creating a program that can compete with the cream of the crop in Hockey East. Whether or not this weekend's games have a huge impact on the current squad, I think their meetings with Division I programs so far this season should go a long way toward showing prospective players that the transition won't be as difficult as it might have seemed, and that Holy Cross can be competitive quickly.
It wouldn't surprise me if Lachapelle is being groomed to become the next head coach for Holy Cross. Van Buskirk has been at Holy Cross for more than 30 years — he is their second most successful men's head coach and put in 15 years as an assistant and head coach for that program before taking on the women's job. He's taken them as far as they could go in their limbo status and is transitioning them and setting them up for a successful future.
As for Harvard, I'm at a bit of a loss, honestly. We've said it before — there are talented players on that roster and on paper, things just don't add up. There wasn't a lot of explanation for their down year last season, but I definitely expected more of a turnaround from them — I kind assumed coach Katey Stone would demand it, honestly. Even though the beginning of Friday's game is one they'd probably rather not dwell on, they did have a very good third period and did all the things you want to see from a team, which is show resiliency. They didn't give up, they engineered a comeback, and got the win. Of course, you'd also want that followed up with a better showing the next day, but those moments are the ones that leave me scratching my head. If the Crimson were just totally breaking down and inept, I feel like I could understand that these are just down years, but that's just not the case. They have good games — or at least good periods — and they have talented players, and yet here we are.
I suppose that's not very insightful, but I feel like if Stone hasn't figured it out, the rest of us aren't likely to, either. Have you seen anything from Harvard to explain the recent woes?
You mentioned Clarkson — what do you make of them getting their third loss this weekend?
Candace: Regarding Harvard, I was curious so I looked up their records this decade. They had a three-year span where they made the NCAA tournament, a span that also coincided with having Emerance Maschmeyer in net. Last year they had Brianna Laing in net. Right now, the Crimson have two rookies in net. Yes I know Beth Larcom is a sophomore, but she didn't play much last season, appearing in eight games. They are also not getting much scoring from Lexie Laing. They are led by two freshmen and a sophomore as far as scoring, and when you look at the Crimson roster, they have a lot of young players. It may take time for them to build consistency. Making the ECAC tournament is likely, possibly winning a round and then going out in the semis, much as they did before that three-year NCAA run.
As for Clarkson, the problem the Golden Knights are having relates to penalties. For all the doom and gloom another loss might make their fans feel, the Golden Knights are 12-3-1. Two of their losses were in OT, and the third was by a goal. In the loss Friday to Quinnipiac, the Bobcats tied it late on a power-play extra-attacker goal. Quinnipiac's first goal was four-on-four. Clarkson outscored Quinnipiac 2-0 playing five-on-five. In the loss to Vermont, the Catamounts' game-winner came on a power play, and Colgate's win over Clarkson came via an OT power-play goal, plus two other power-play goals in regulation. Clarkson's PK is actually pretty good at 89.7 percent, fourth in the country, but Clarkson also takes a lot more penalties than other top teams. Clarkson averages close to 11 minutes in penalties; that's a lot of time to be shorthanded. The only other ranked team in double digits in penalty minutes is Robert Morris with 10.33.
Clarkson is off this weekend, so it will give coach Matt Desrosiers time to fine-tune the PK and perhaps work with his players on reducing penalties taken ahead of a home-and-home with No. 7 St. Lawrence on Nov. 30 and Dec. 2. To me, Clarkson is still the team to beat in the ECAC, despite the fact that Colgate is currently in first place in the conference and has a staggering 13-1 record to start the year.
Speaking of the Raiders, they looked strong again this weekend in beating Brown and Yale, scoring five in each game. This weekend, the Raiders are in the Windjammer Classic, facing Minnesota Duluth in the first game and then either RIT or Vermont in the next game. What are your feelings on Colgate and their strong start?
Nicole: Colgate sure seems to be the real deal. They continue to win against quality opponents — they're one of Clarkson's aforementioned losses — and they're among national leaders in team offense and team defense. And though I'm always wary of a goaltending tandem, Liz Auby and Julia Vandyk are flourishing — both are in the top 10 nationally. They've come through a rough part of their schedule successfully and really shouldn't be too tested until late January.
Frankly, it seems like they've done everything right. They showed heaps of potential in the past few seasons, and that has transitioned into success this year. With all that success comes confidence and the ability to move focus from big picture to fine-tuning, and that really seems to have paid off. It's definitely difficult to pick against Clarkson, but I think my money is on Colgate at this moment. That may change as the season goes on. The Golden Knights have the advantage of having run the full season a few times before, and we've seen more than a few teams slow down as they hit February and March, but Colgate has weathered the early schedule without the stumbles we've seen from Clarkson.
The third ECAC team that seems to be most in the conversation is Cornell. It's really difficult to tell where they stack up as they've only played eight games and their only losses are to Wisconsin and Clarkson. In the coming weeks, they'll have to face Princeton, Quinnipiac, and Colgate, so by mid-January this conversation could be totally moot.
What do you think about what you've seen from Cornell so far? Do they have what it takes to be in the conversation long-term?
Candace: They have the potential to be in the ECAC conversation, but I don't see the Big Red in the NCAA tournament at this time. It is early though, and as you said there is plenty of room for that to change. It's hard to know after eight games. Cornell has three losses already, but they have beaten everyone in the ECAC except for Clarkson. They' yet to play Colgate, and they do have two games against Providence this weekend that will probably tell us more about both teams.
When I look at Cornell, they are getting good scoring from Kristin O'Neill, and Madlynne Mills is having good numbers in her freshman year, but the scoring does drop off pretty significantly after those two. Marlene Boissonnault is putting up respectable numbers with a .925 save percentage, which ironically is exactly what her numbers were last year, but her goals-against is a little worse. Given that Cornell struggles to score consistently, that leaves little margin or error. The Big Red are only averaging 2.62 goals per game, so even when Boissonnault holds Wisconsin, for instance, to two goals, the offense isn't producing enough to take advantage. Witness last night's 1-1 tie against a Penn State team that struggles to score as an example of why I don't think Cornell can get through the ECAC tournament.
I expect the Big Red to make the final weekend of the ECAC tournament, but I'm not sure they are strong enough to defeat Colgate and Cornell back-to-back. Of course, even if they fail to, they may be high enough to still get into the NCAA tournament. They are currently sixth in the PairWise, but that ranking can change quickly. A few weeks ago, Minnesota was out of the top 10, and Arlan though the Gophers wouldn't have enough opportunity to move into tournament contention. Yet if you look at the rankings now, Minnesota is seventh, which, barring Boston College losing in the Hockey East tournament, would be enough to get the Gophers into the NCAA tournament again.
Of course, the Gophers can't afford any losses to teams below them. They should sweep Lindenwood this weekend, but they close the first half with series against Bemidji State and Minnesota Duluth. Both have the potential to play spoiler, as the Beavers did to Ohio State this weekend in earning a draw in one game. What does that game tell you about Ohio State right now? Are they coming back down to Earth? Their scoring has slowed, and Kassidy Sauvé isn't having quite the season she did last year.
Nicole: A thing the Gophers have going for them in those two series is that they get to face Bemidji and Minnesota Duluth at home, which I think will be a tipping point for them. They needed overtime to beat the Beavers in Bemidji and won a close 2-1 game over UMD in Duluth, but I think the loud, packed nature of Ridder will be a big boost for them.
It sure does feel like the bubble burst a bit in Columbus, and it's a little heartbreaking, honestly. I do think the Buckeyes are just trying to get to the winter break right now as unscathed as possible and will be looking to regroup over that hiatus. After the losses in Madison, coach Nadine Muzerall was a bit stumped by her team's play — she really felt they had much more to show than how they'd appeared on the ice that weekend. Has the team been on tilt since then? Regardless, I can't think of a team in the country more in need of a bit of a breather and a break and a chance to take a step back and come back stronger in January.
While I agree her numbers aren't as good this season, after watching Sauvé in person in Madison a few weeks ago, I'm pretty loathe to put any of this at her feet. We throw the phrase "stood on their head" around a lot, but honestly I'm not sure I've seen a goalie move around and make saves the way Sauvé did in the face of pretty much a non-stop onslaught from the Badgers and virtually no support from her defense. Wisconsin's first goal on Sunday was literally scored on a sixth-chance opportunity. Sauvé made five point-blank stops, but there's only so much one player can do, especially with that offense in front of her.
I'm excited to see the Buckeyes play Robert Morris. We've had some great cross-conference matchups already this year, and I love being able to see how different teams stack up and see what we can extrapolate from them. OSU has four games with the Colonials between now and mid-February.
Should RMU come out decisively on top of those games, I think it would go a long way in establishing some credit for the Colonials in a lot of people's minds. Unfortunately for them, the CHA just isn't very strong this year, and I think voters aren't sure how much credence to give to Robert Morris right now.
What do you think of the Colonials so far? Last year's postseason was a bit of an eye-opener for them. Do you see them as stronger this year?
Candace: I see them as potentially stronger. When I look at their record from this year to last year though, I see a lot of similarities. They lost to Maine this year. Last year, they lost to Merrimack. They tied Penn State twice this season; last year they tied Rensselaer and also tied Syracuse early. Robert Morris is getting stronger offense this year. They are deeper, with four players above the point-per-game mark. Senior Brittany Howard so far is averaging half a point more than last year, and last year she was at 1.43 points per game. Sophomore Jaycee Gebhard is also improving on her outstanding rookie season, and juniors Amber Rennie and Kristen Welsh have nearly doubled their point production.
Offense is definitely a strength; However, like some other teams, Robert Morris is unsettled in net. Last year, Jessica Dodds played nearly all the minutes, and she had a .931 save percentage and 1.88 goals-against. Senior Elijah Milne-Price has played most of the games in net so far this season, and she's got a better save percentage and better GAA than Dodds did last year. The question is whether she can maintain it. Prior to this season, she had played exactly four games in her first three years. If she can stay at the level she's at right now, Robert Morris will be in good shape, at least in terms of winning the CHA tournament and autobid to the NCAA tournament.
Of course, the reward for Robert Morris making the NCAA tournament would likely be another first-round matchup with Wisconsin, and I don't see that going well for the Colonials. Luckily, the Colonials do have the potential to move up in the PairWise as they have four games with Ohio State, plus one against Colgate, coming in the next six weeks. Even if the CHA is weak and beating up on RIT and Lindenwood does nothing for Robert Morris, if they can win at least two of those five games, it would go a long to way to proving Robert Morris has the potential to better last season's results.
We've yet to talk about Hockey East so far. Two results stand out from last weekend. One, Boston College was again tied by Connecticut, a disappointing result for the Eagles. Defense continues to be a problem; in the game that was a tie, BC scored three goals, but gave up three. The Eagles need to start improving on defense. We keep saying it will happen, but maybe it won't.
Second, Boston University, showed signs of possibly waking up by sweeping Vermont, winning 7-1 and 3-1. For a proud program like the Terriers, this year has not been a good one. Entering the Vermont series, the Terriers had a win over Connecticut and a win over RIT, and that was it. This weekend, BU has Minnesota State and Wisconsin on the docket, which should prepare them ahead of a series with Boston College the first weekend of December. What did you make of BC's tie and BU's sweep?
Nicole: We do keep saying the Eagles need to improve on defense, and while I think we all stand by that, in the end they've got just one loss and two ties through 13 games, so do they really? I mean, obviously they need to figure some things out before March, but I'm pretty sure they can get to the NCAA tournament as they are with not much difficulty. That means they've got about three months to figure out some stop-gaps and ways to at least mitigate the defensive issues. The coaching staff at Boston College is one of, if not the, best in the country. If Katie Crowley isn't freaking out, I'm not sure any of the rest of us need to. I don't expect miracles, but I do think that the more the defense plays, the better they'll get and with their offense, they don't have to become shutdown defenders.
Things do seem to be improving at BU. They have just one loss in their past six games. Over the past eight games, they are 4-2-2 and averaging 3.63 goals scored per game and are giving up just 1.75 goals per game. The biggest issue is they continue to struggle in close games. They don't seem to have that next level to shut down teams in the closing frame, and they are often having to come from behind and just don't appear strong enough for that this year.
I'm particularly disappointed that BU, which is hosting this weekend's series of games in Washington, D.C., with Wisconsin, Minnesota State, and Northeastern, has not arranged for online streaming of the games. This set of games is another of college hockey's great overtures at putting the game in areas of the country not currently reached by women's college hockey. How can you grow the game if people can't even watch?
I'd have liked to see how BU handled themselves against the Badgers and Mavericks. I think the Terriers have shown signs of improvement, but I'm not sure this next stretch of games is going to do them any favors.
We have BC as the clear top spot in Hockey East, but moving down from there certainly gets muddy. New Hampshire and Providence are tied with Northeastern for third place, though Northeastern has played two more conference games than UNH and three more than Providence. The Friars seem like they might be the most likely of those three teams to finish second. What do you think of Providence so far, and do you see another team fighting for that second spot in Hockey East?
Candace: Providence has definitely impressed me. I saw the Friars' game via streaming against BC a couple of weeks ago, and they looked fast and relentless. So far, they only have one loss that I would consider bad, the 2-1 loss to Syracuse a couple of weeks ago. I think Providence is a home-ice team for the Hockey East playoffs. It's nice to see the Friars rebound from some down years and build. Christina Putigna and Cassidy MacPherson have both increased their scoring nicely and are providing the leadership you'd expect from upperclassmen. Kate Friesen is playing well on the back line. In net, Madison Myers is playing well, if not world-beating, with a .918 save percentage and 2.12 GAA.
The series this past weekend against Merrimack was the type that the Friars had to sweep if they were going to show signs of taking that next step, and they did so. Myers held Merrimack to a single goal on the weekend, and the offense was solid. Friday's road game was essentially a one-goal affair; the 4-1 line was deceiving, as the Friars got two empty-netters in the final 1:17 of the game. Saturday at home, they looked more impressive, including two power-play goals. Myers was solid when she needed to be, making 20 stops.
I've been more impressed by Providence than any other Hockey East team. New Hampshire had looked to be another team in the running, and though they are, the two ties against Rennselaer aren't exactly good for their NCAA hopes. Northeastern has been consistently inconsistent, and perhaps the most disappointing team through the first two months. I keep expecting more out of them, and they just aren't getting it done. Aerin Frankel started both games in net against Maine over the weekend, and started the two agaisnt Merrimack the previous weekend, so perhaps for now Dave Flint has decided Brittany Bugalski needs a breather.
I'll leave you with one last question, and you are well-suited to answer it. What is your opinion of Wisconsin at this point in the year? The Badgers are 16-0, and have looked fairly dominant. I think it's entirely possible that they finish the first half undefeated and untied. Is this Wisconsin team better than last year's?
Nicole: Well no matter how I answer that, the team is definitely going to give me a hard time next post-game.
I think it's difficult to say that this team is, on paper, better than last season's. There's a reason Emily Clark, Ann-Renée Desbiens, Sarah Nurse, and Annie Pankowski are on their respective national teams. In a few years, we might look back and see a number of the current Badgers playing internationally and change that opinion, but as it stands, I think objectively last season's squad was more talented.
At this point, the difference is probably negligible and also a bit hinged on intangibles. This year's team has a bit of a chip on their shoulder, both over last year's Frozen Four and how they were perceived coming into the season. Sure, there's hyperbole to it, but the team gave themselves a bit of an underdog mentality, and it's working for them. They are feeding off proving folks wrong and performing better than anyone imagined. It's also put them in an aggressive instead of passive role. Good, bad, or otherwise, there wasn't a lot of expectation on them coming into the season and then they picked up this "something to prove" attitude. That minor change in mentality is serving them well.
An interesting thing to watch this season has been how squads and players have reacted to losing players to graduation and pre-Olympic camps. Those losses created gaps for young players to step up and assume new roles. Whereas a few schools have experienced growing pains with this, the Badgers had young players step up immediately and embrace those new roles, and that's been a huge difference maker for them.
If the Badgers can continue to play like they did against Ohio State — especially in the first game — they are going to be a difficult team for anyone to beat. That was an early November game that looked like how you want your squad playing in March. In some ways, this weekend in a totally foreign arena against totally unknown teams might be their toughest test. They could lose to anyone left on their schedule after that, but they've also already shown they can beat them all. The final weekend when they get to host the Gophers at home for the first time in years to close out the regular season should be absolutely stellar. Anyone in driving distance of Madison should have already purchased tickets (which are comically cheap at $5).