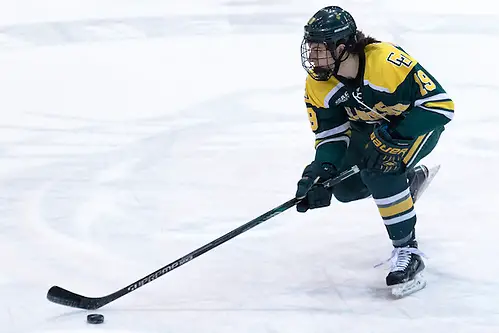 The Clarkson Golden Knights hopped on a bus and started a journey to Belfast, Ireland, this past weekend with two very important ECAC games.
First, they made the 163 mile trip down to Hamilton, N.Y., to face the Colgate Raiders, one of the early surprises in the conference.
The Golden Knights were able to do what not many teams have been able to do this season and put the puck past Colton Point in a 5-2 victory.
The following night, they traveled another 63 miles to the campus of Cornell to take on the last remaining team in Division I men's hockey with an unblemished record.
Clarkson was able to keep the Big Red off the board in a 4-0 victory to sweep the weekend.
For head coach Casey Jones, he was concerned his club would look past these two crucial games and look forward to the Friendship Four series starting on Friday with a conference game against Rensselaer and either Providence or Maine on Saturday
"It certainly sets the tone for the week," Jones said. "I was a little nervous that we might be looking past this weekend (because) of the trip. But knowing we had two really good teams on the docket, it certainly helped keep our focus on the week."
The Golden Knights have started conference play with a perfect 6-0 record while carrying a 10-3-1 overall record on the season.
They have won six straight games after losing a pair of games to Minnesota back on Oct. 27-28. Part of the reason for the six-game win streak is the Golden Knights have found some scoring depth in freshman forwards Jack Jacome and Josh Dickinson, who both arrived to Potsdam from the Georgetown Raiders of the Ontario Junior Hockey League
Jacome, who put up 34 goals and 57 assists for 91 points in his final junior campaign, is off to a pretty good start to his college career with two goals and 10 assists in 12 games. All but one point has come in the past three weeks.
Dickinson, who put up 25 goals and 41 helpers in 52 games last with the Raiders, has found his groove the past three weekends scoring eight of his nine points in his stretch.
Jones is glad those two have become a part of the missing pieces that the team was looking for.
"Our primary scoring was good out of the gate, but we were trying to find some secondary scoring," Jones said. "We are starting to get some lines with some consistency and started to contribute over the weekend. I thought (Brett) Gervais' line and Dickinson's line have really come on. We have Haralds Egle back who's offering stuff. We have more weapons and more confidence."
Egle returned to the lineup last weekend and has a goal and two assists since.
The trip to Belfast will be more than a hockey trip, but that's the main priority.
"We're going to make sure it's a culture experience as well," Jones said. "It's a once-in-a-lifetime experience. I am turning 50 and I haven't been outside Canada and the U.S. I am excited as well — I have my young guy here with me. We are going to enjoy that and enjoy it with our team. We are going to do some touring early in the week and visit some schools. We really want to get into the culture of Ireland and focus in as the week progresses on the hockey games on the weekend."
Clarkson will be the home team in the game against RPI and have the potential to see the Friars for the second time this season. The two teams faced each other on Oct. 21 where the Golden Knights came away with a 4-0 win.
Quinnipiac getting back on track
The Bobcats showed signs in October that they were looking to bounce back after missing the NCAA tournament in 2017.
Quinnipiac went 3-1-1 with two of those wins against Northeastern and looking to make its mark once the calendar turned to November and conference play starting.
Things didn't go to plan as QU started 0-2 in conference play for the first time as the Bobcats faced Colgate and Cornell. They battled the Big Red, but came up short 2-0. The Raiders dominated the Bobcats for a 4-1 victory.
The struggles continued last weekend with losses to RPI and Union.
This past weekend, Quinnipiac's fortunes started to change with a statement victory over Brown, winning 5-0, and turning around on Saturday night with a 3-0 win over Yale.
"I think it has been seven or eight years, I am not sure which, since we lost four in a row," Quinnipiac coach Rand Pecknold said. "It's kind of new territory for us, but a few years ago, we lost only four games in an entire season. Like I said, our players were a little rattled, confidence was down, but I give my boys credit. They rallied and really bought into our identity – we played well against Brown and Yale."
This weekend saw the Bobcats get scoring from one of their key seniors in Landon Smith, who posted a hat natural hat trick against the Bears. He only had one assist in the four games losing streak.
His four-point weekend gives him five goals and three assists in 12 games.
"He has been generating a lot of chances, but he's been a little bit snake bitten," Pecknold said. "It's good to get him going with three goals and he played really well on both games on the weekend."
Pecknold was pleased how his club closed out the victory over the Bulldogs as they stretched the lead from 1-0 to 3-0 late in the third period. Craig Martin scored with about five minutes remaining in the game, while Thomas Aldworth made it 3-0.
It was Martin's third goal of the season and Aldworth's first of the season.
"It was a great hockey game [and Sam] Tucker played really well," Pecknold said of Yale's goaltender. "It was 1-0 late in the game, it was 1-0 for most of the the game. Yale played hard, Quinnipiac played hard. [Andrew] Shortridge was great in net. I thought we did a good things. Kevin Duane's line was really good, kind of grinding Yale down and getting a lot of (offensive) zone time. I think that was the big factor in the game. They might not have scored, but they had a really good game."
Players of the Week
Clarkson's Sheldon Rempal was named the Player of the Week with three goals and an assist in the victories over Colgate and Clarkson. Landon Smith was also considered with his hat trick and assist against Brown. Colgate's Bobby McMann had a goal and two assists against Clarkson and St. Lawrence.
Jacome was named Rookie of the Week with a goal and three assists against the Raiders and the Big Red. QU's Odeen Tufto was also up for consideration with two assists against Brown. Linden Marshall put respectable numbers in goal for RPI in the two losses against Notre Dame in Troy, N.Y.
Shortridge took home Goaltender of the Week honors with the 5-0 win over Brown and the 3-0 victory over Yale. Merrick Madsen of Harvard was considered despite the Crimson dropping two to the Minnesota. He had 48 saves in Saturday's game. Jake Kielly (Vermont), Ryan Ferland (Princeton) and Gavin Nieto (Brown) were also considered.