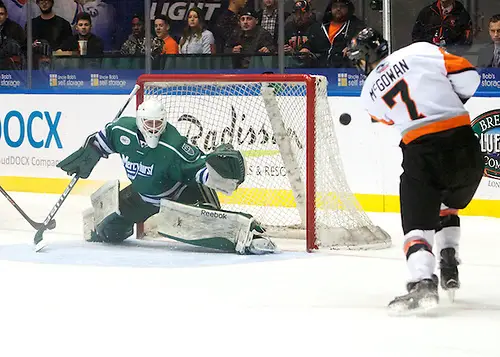 The Mercyhurst Lakers have, in the words of coach Rick Gotkin, "flown under the radar" so far this season.
They haven't garnered much attention despite doing more than their fare share to help Atlantic Hockey to an improved record against non-league opponents.
So far, Gotkin's team has knocked off Penn State (ranked No. 17 at the time), Ferris State and last Friday registered a win against (then) ninth-ranked Wisconsin.
The Lakers lost to those teams as well, recording splits in each series. But a 3-3 record in nonconference play is lifting the league average, currently at .368.
The 3-2 win at Wisconsin last Saturday was hard to ignore, and the college hockey radar is definitely pinging now.
"We had the recipe it takes to win against a very good team," said Gotkin. "Good goaltending and timely scoring."
Mercyhurst erased a 2-1 Badger lead with a pair of third period goals including the game-winner from Josh Lammon with under seven minutes to play.
Senior Brandon Wildung made 33 saves to pick up his fifth win of the season.
Gotkin says that while he was pleased to come away with wins against good teams, he and his team wanted more.
"To be honest, I think we played better in the Penn State and Wisconsin games that we lost," said Gotkin. "When we took it all in, and looked at the tape, we could have come away with a sweep."
The Lakers lineup is dominated by upperclassmen, a whopping 21 juniors and seniors. A trio of juniors sit atop the list of top scorers, with classmates Taylor Best and Derek Barach leading the way with 12 points each.
Fellow junior Lester Lancaster is on a pace to reach 100 career points, currently with 11 so far this season and 66 overall.
So far, 35 of the Lakers' 40 goals have been scored by upperclassmen. According to Gotkin, this wasn't by design.
"I think this is the most (upperclassmen) that we've ever had," said Gotkin, in his 30th season behind the bench. "(It's) just a matter of circumstances. We've fortunate to have a group of very good players that have a lot of experience playing hockey."
For example, senior Jack Riley (nine points) was originally expected to graduate last year, but was granted a medical redshirt after missing most of his rookie season due to injury. Classmate Nathan Ferriero (four points) had to sit out a year after transferring from Northeastern.
Wildung has played every minute in net so far for the Lakers, posting a 9.12 save percentage and a 3.16 GAA.
Will the experience pay off?
"That's the question," said Gotkin. "Can we put it together? Can we get to Rochester?
"We think we have what it takes, but time will tell. But we're a pretty good hockey team."
It's an important distinction — beating Wisconsin was an upset not because it came at the hands of an Atlantic Hockey team, it was an upset because Wisconsin was a top-10 team.
"I think we're there," said Gotkin. "It's not a huge deal anymore. It use to be that when you got a nice win out of conference, your phone would be ringing, texts coming in, from the other (league) coaches with congratulations. That's not happening anymore.
"Now we expect to win."
November's not nice
Mercyhurst's victory over Wisconsin snapped a 0-6-1 skid by Atlantic Hockey teams in nonconference play.
Atlantic Hockey got off to a decent start, opening the season 5-6-1 against non-league opponents. The AHC's record in October was 10-15-3 (.411), a marked improvement over last season.
But November has seen the conference post only a 2-7-1 record so far (.250), for an overall mark of 12-22-4 (.368), which is better than the WCHA (.323) but not strong enough to get a team into position to contend for an NCAA at-large bid.
The league has fared much better at home (6-7-3) vs. away (6-15-1). Unfortunately, of the 28 non-league games left on the schedule, only eight will be hosted by AHC teams.
Closing the gap between the number of home (24) and away (42) nonconference games would certainly help.
Streaking
Rochester Institute of Technology junior Erik Brown scored the lone goal in the Tiger's 2-1 loss to Connecticut last Saturday, extending his goal scoring streak to a league-best five games. Brown has scored at least a point in 10 of RIT's 12 games to date, and leads the team with 14 points.
Sixty miles down Interstate 90, another AHC player is working on an impressive streak as well. Canisius' Dylan McLaughlin has scored at least a point in nine consecutive games. The junior forward has failed to register a point in just one contest this season. He's third nationally in points per game (1.62).
Canisius has the most important kind of streak going, winning its last five games. That's currently the third longest in Division I, behind Notre Dame (nine straight) and Clarkson (eight straight).
Speaking of Clarkson, something's gotta give when Canisius hosts the Golden Knights on Saturday at Harborcenter. The Golden Griffins will be without McLaughlin, who is serving a one-game suspension for a contact-to-the-head penalty against Army West Point last Saturday. His streak is on hold.
Bang from the Blueline
American International is getting great offensive support from its defenseman so far this season. Led by freshman Brennan Kapcheck (four goals and nine assists), the Yellow Jackets have 14 goals by blueliners, second nationally. That's a full third of AIC's goals so far.
Air Force is also up there with 12 goals scored by its D-corps (29.3% of the Falcons offense), along with Bentley (25%) and Mercyhurst (20%).
Weekly Awards
Here's what the league came up with this week. I'd throw in an honorable mention to Air Force's Evan Giesler, who, like two winners below, had a pair of goals and an assist last weekend.
Player of the Week — Drew Callin, Bentley: The junior forward had two goals and an assist to help Bentley to a sweep of Robert Morris. He had the game-winner on Saturday and was plus-2 for the weekend.
Goalie of the Week — Aidan Pelino, Bentley: Pelino stopped 31 of 32 shots on Friday and 30 of 33 shots on Saturday to pick up his first wins of the season in a sweep of Robert Morris.
Defensive Player of the Week — Jonathan Kopacka, Air Force: The senior blueliner had a pair of goals and an assist to help the Falcons to a win and a tie at Sacred Heart. His shorthanded goal sparked a comeback on Sunday to secure a . 5-3 win.
Rookie of the Week — Marc Johnstone, Sacred Heart: The freshman had three goals in three games, including the tying tally with 22 seconds left against Air Force on Saturday. Johnstone leads the Pioneers in scoring with six goals and eight assists.