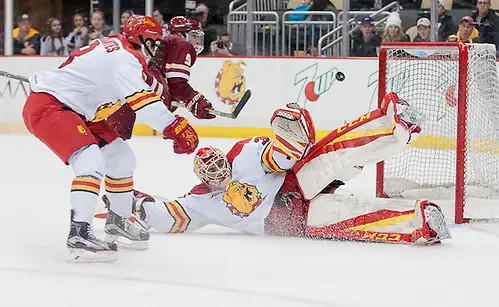 This season has been a bit of an consistency crisis for Ferris State.
Dating back to their opening weekend series against Western Michigan, the Bulldogs have been hot and cold. They'll lose back-to-back games, then win three straight, only to follow it up with a pair of losses.
The search for consistency continues this weekend when the Bulldogs travel to the Upper Peninsula for a series with Michigan Tech.
Ferris State is in the midst of one it's good stretches. The Bulldogs swept Alaska Anchorage and took home a pair of weekly awards.
Goalie Justin Kapelmaster was named the WCHA goaltender of the week with a pair of wins after making 49 saves on 51 shots and posting a shutout. Craig Peley was named the WCHA offensive player of the week after registering four points (two goals, two assists) in the second game of the sweep.
Those individual performances have just been the focal point of a balance game for Ferris State, who have proven themselves as one of the WCHA's best offenses once the calendar turned to November.
Since Nov. 3 the Bulldogs are averaging 3.33 goals per game in the WCHA. Against Alaska ten different players scored, including Ryan Killins, Coale Norris, Taylor Fernandez, and Corey Mackin who each had multi-point weekends.
During this time the Bulldogs have also outshot opponents by 52 and solidified their overall game by killing 33 of 35 penalties.
Now the big question is can they roll that into a pair of wins against Michigan Tech?
By all accounts, Ferris State is a good team, but can they be a consistently good team and climb out of the packed WCHA standings? That's an opportunity they'll have this weekend, and if those positive numbers can continue in a difficult environment, the Bulldogs could emerge as a contender for the regular season title in the second half of the season.
Ice Chips
— For the second of just four weekends this season, all 10 teams will play a WCHA league series. The first such weekend was Nov. 10-11, while it will also happen Feb. 2-3 and to conclude the regular season Feb. 23-24.
— After some struggles in October, Alabama Huntsville has finally found some consistency. The Chargers, who are 5-4-1 since the start of November, have earned in split in each of their last three series. Also playing well is Huntsville native Josh Kestner. The senior forward had two goals last weekend and leads UAH with 10. He's third in the WCHA behind NMU's Robbie Payne and Ferris' Mitch Maloney, who both have 12.
— Bowling Green sophomore goaltender Ryan Bednard is ranked ninth in the NCAA rank for goals-against average (2.02) and save percentage (.927) for. The Florida Panthers product leads the WCHA in both categories.
— During last weekend's 5-3 win over Lake Superior State, Alaska scored three goals in a span of 42 seconds of the first period. That's the second-fastest in school history and 10th in WCHA history. Justin Woods, Colton Leiter and Troy Van Tetering were the responsible parties.
— Four shorthanded goals by Northern Michigan is most in the WCHA and second-most nationally. The Wildcats are one of 10 NCAA teams to score a shorty and not allow one.
— Minnesota State is tied for fourth with 107 wins in the last four-plus seasons (matching Boston College and UMass Lowell), Michigan Tech is tied for 11th with 96 (equal to Union), Bowling Green is tied with Minnesota Duluth for 14th with 91 victories and Ferris State is 18th with 88.
Players of the Week
This week's WCHA players of the week were Ferris State sophomore Craig Pefley (offensive), Northern Michigan senior Jordan Klimek (defensive), Ferris State sophomore Justin Kapelmaster (goaltender) and Bowling Green freshman goaltender Eric Dop (rookie).