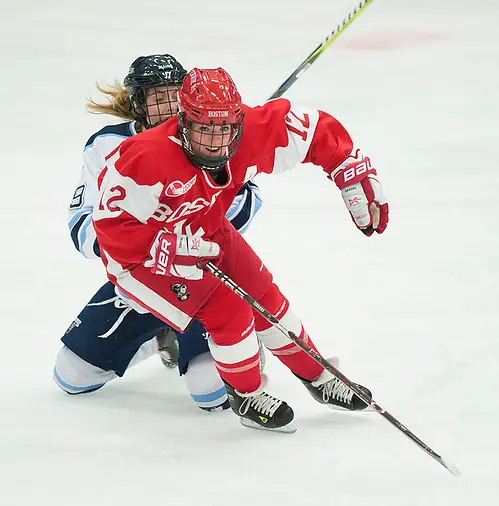 Victoria Bach is coming off one of the single most impressive months of hockey any women's D-I player has ever had. The recently named Hockey East player of the month had a November that players dream of. Remarkably, it was the first player of the month award in program history.
Not only did she lead the nation with 21 points and 13 goals, but she led all skaters in goals per game (1.62), points per game (2.62), shots on goal (61), shots on goal per game (7.62) and plus-minus (plus-17) over the course of the month.
Prior to Nov. 1, Bach had tallied just four goals and eight assists. Her unfathomable month has put her just five goals behind her career-high.
There isn't a clear reason why things have suddenly fallen into place for Bach and the Terriers, she said. It was more an intangible combination of chemistry and confidence that came about as she settled into a comfort zone with her linemates, especially Rebecca Leslie, whom Bach has shared ice time with dating back to their time as youth players in Ottawa.
"I think that our line has a mixture of talent," Bach said. "Me and Becca have played together in the past. (We are) just using our speed and (are) able to find each other and create a lot of two-on-ones; that's definitely contributed a lot. Just building that confidence over those couple of games really helped us a lot, too."
There's a clear before and after thus far in the Terriers' season, and the series against Vermont on Nov. 17-18 is the clear turning point. Prior to that weekend's sweep of the Catamounts, BU was 2-6-2. Including those wins, the Terriers have amassed a 4-2-1 record. That series was also the turning point for Bach.
In the opening game of that series, she tallied a career-high four goals while also adding an assist. She scored again in Saturday's win, and that seemed to remind her and her teammates what they are capable of. Bach followed that up with another hat-trick the following weekend, this time against Minnesota State. She added two more goals against No. 1 Wisconsin and then put up a career-best five points against Brown.
According to the BU press release on Bach's Hockey East player of the month honor, no other player in the country recorded more multi-goal games (4) than Bach, and at one point of the month Bach had outscored 24 Division I women's teams and 30 Division I men's teams.
Not only does Bach not have much explanation for why things suddenly seem to have clicked, but she's also not much interested in focusing on the statistics.
"It's great to get all those things, but I really think the main focus for me is my team's success," she said. "Trying to win a Beanpot. Trying to win Hockey East. That's something I'm really focused on. As a senior, I think it would be (great to have) an accomplishment like that. That's where my mindset is right now."
The Terriers are focused on having a more successful second half, and they won't have a lot of margin for error. At the moment, BU sits in sixth place in Hockey East. The good news is that they're just four points out of a tie for third place. The bad news is they're just 3-6-3 so far in Hockey East play, and both New Hampshire and Maine have games in hand.
The season didn't start how Bach and her teammates had hoped or planned, but all they can do now is learn from those games, including focusing on their own game plan and playing less timidly.
"We just really have to keep the atmosphere positive and make sure there's no negativity," Bach said. "When you start losing some games, people start to get down. We had to really make sure we stayed positive in the locker room and on the bench. We knew that if we kept working hard, things will start to go our way."
If the Terriers are going to make a move up the standings and earn home-ice advantage in the conference tournament, they'll need more months like the one Bach just turned in, as well as the contributions of Leslie. The rest of her teammates have to step up as well. Every Hockey East point will be crucial.
"Every game matters from now on. We need to make sure we come every game prepared and we're ready to play and we're ready to battle. I think coming into the new year, we really need to make sure we leave it all out there every game and we play the game we can play."