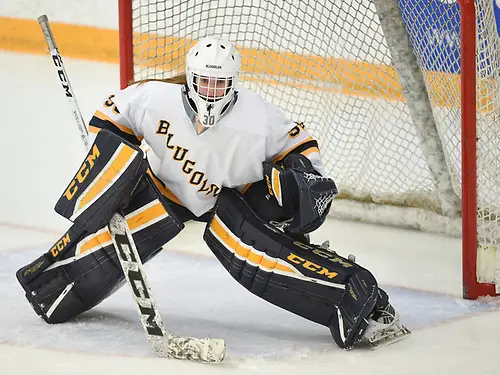 The Wisconsin-Eau Claire Blugolds finished the 2015-16 season with a 9-13-5 overall record and a 2-8-2 record in conference. In the season and a half since then, under new coach Erik Strand, UWEC has a record of 23-14-2 and has spent the last week ranked no. 10 in the country.
The team has responded positively to the new coaching staff, and after a year of feeling it out and getting some experience and confidence, the Blugolds are poised to make waves in the WIAC (Wisconsin Intercollegiate Athletic Conference).
"We're still a program that's growing and trying to take some big steps," said sophomore forward Elizabeth Bauer. "We have a strong group of upperclassmen and just watching the chemistry that everyone creates together (is entertaining)."
Strand has the players focusing on each other, and that the message has gotten through to the players is evident in how often they talk about their team-first mentality.
"(We have made a good) start building that culture and that chemistry," said sophomore goalie Erin Connolly. "When we're on the ice, we want to play for each other. We want to play for the girl sitting next to us. Everyone is playing for each other. We're all playing for a bigger purpose. It's team-first and program-first all day."
In addition to focusing on the name on the front of the jersey, Bauer said the team is working to provide a proper send-off to the senior class that's been through a lot at Wis.-Eau Claire.
"You know that when you're a senior you'd want everyone to play for you, so that's what we're trying to do (for them now)," she said.
As sophomores, Connolly and Bauer know they have a lot of room to grow and mature as players. Connolly talked about spending practically the entire off season on the ice
"I tried to keep in the back of my mind the entire summer how our season ended last year … We can all see that we have that hunger and that drive," she said. "I'm just trying to build off what we accomplished last year — work on being confident and staying calm in my game. Just trying to keep that calm, relaxed demeanor is what coach said made a pretty good impact (last year), so I'm just trying to keep that up."
Bauer has the added bonus of playing with her twin sister, Emily. Both players are small and speedy, and they use their stature to get in behind the defense. Elizabeth said starting a second season playing with the same linemates has helped her game — she's used to a comfort level with Emily and knowing where she is on the ice, but now they're both finding that connection with the rest of the team, as well.
"Last year and this year I've been playing with the same couple of girls, and we've got a lot of chemistry going," said Elizabeth. "That's definitely helped my game, surrounding myself with linemates that are really productive and can put the puck in the net."
Climbing the WIAC standings won't be an easy feat. Wisconsin-River Falls has had a stranglehold on the conference title, but Wis.-Eau Claire has shown they're able to beat the Hawks — the teams split their season series last year. Wis.-River Falls won their first meeting this season, 4-1, but the two teams will close out the season against each other in Eau Claire, and postseason seeding will almost definitely be on the line.
With just four teams in their conference and no auto-bid available, competition is especially fierce. The teams play each other four to five times in the regular season before meeting up again in the conference tournament. There's certainly familiarity, but there's also quite a bit of competition, something that Connolly said only helps improve the Blugolds every week.
"We face a lot of tough competition," she said. "Everyone is playing really well. Being able to face that competition is really helping us. It's showing us what we can do, and it's showing us what we still have to be able to be do in order to keep playing the way that we've been playing and keep playing the way that we want to play this season. When it's against a WIAC team, anything's up for grabs. All the teams want to win just as much as anyone else does. That definitely pushes us and gets us excited to play. You have to give them the respect that anyone can beat anybody at any time. We've seen that already this year, so we're just going to keep working at it and keep trying to play as well as we can against conference teams."