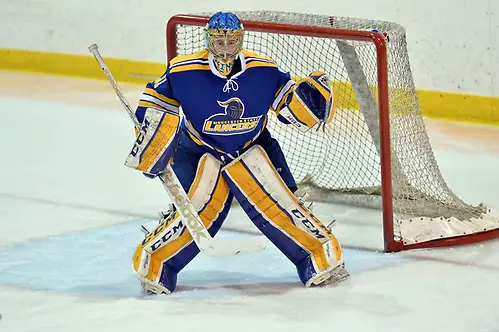 Over the past several years, the MASCAC championship has come down to a battle between Plymouth State and Salem State. This year, there is a new team sitting atop the conference standings heading into the semester break with aspirations of maintaining their fast start and key early season wins over both past incumbent title winners. Worcester State is currently 5-1-0 in the conference and 8-1-0 overall, and their coach continues to rev-up the Lancers' game toward an even higher compete level.
"We are all about playing fast, 'in your face' hockey," noted coach Shayne Toporowski. "It takes being at top physical condition to be ready to play the intense style and speed with which we want our whole team to play at. These guys have committed to being in incredible physical condition and come not only ready to play, but ready to practice at the same level of intensity and physicality."
The Lancers flew out of the gates fast, winning their first eight in a row before last weekend's loss to Fitchburg State by a score of 4-2. Despite the setback, the Lancers' coach feels like his team is ready to continue to the next step and next level, starting with finishing out the remaining nonconference games before the semester break against Post and Stonehill.
"It's probably a good thing not to have to worry about the streak anymore," noted Toporowski. "Our compete level has been fantastic overall, and though we fell short against Fitchburg, everyone is fully vested in the culture and the program with what we want to do on the ice and the individual accountability that comes with that. I am really happy that we have had good balance in our scoring, but I expect all our lines to go out fast and hard and produce. We do not want to be a one-line team at all. We expect everyone that is dressed to play to contribute, and you can see the understanding of that in the great physical condition players have come into the season with. Mike [Moran] is off to a great start, and I have never seen him skating so well, and Josh [Reinstein] is definitely tracking the puck much better in goal than we saw last season. Everyone has taken that collective step up."
One thing that certainly has helped the Lancers in their journey to improve the program has been the availability of the state-of the-art Fidelity Bank Worcester Ice Center, developed by local businessman Cliff Rucker, which has provided a first-class facility for both on- and off-ice activities.
"It is an amazing facility, and Cliff has done a terrific thing for the community, not just our program," said Toporowski. "The ECHL's Railers practice here, and other college programs like Becker College and WPI along with Worcester Academy at the prep level have made significant commitments to ice for their teams in the facility. Our whole student body at Worcester State will benefit as we have purchased ice time to support not only our NCAA team but also club and intramural activities for the school as part of this being our home rink.
"There is an impressive wellness center in the facility for strength and conditioning training and even some high-end restaurants for spectators to enjoy — not such a good thing for me with my office in the building. We have a dedicated locker room in the facility that will take some time and money to build out the way we want for the program. It's still a work in progress, but will be a good focal point for fundraising and alumni supporting the program and where it is headed. It all goes together as part of what we are trying to build here as a program, and we are taking positive steps that you can see clearly on the ice and in the results."
The numbers and the results are all quite positive for the Lancers so far this season. Moran has eight goals and five assists for 13 points in just the first nine games. while Reinstein has posted a minuscule goals-against average of 1.13 and save percentage of .951. The power play is successful at almost 20 percent of their opportunities, and the penalty kill is right around 90 percent. So, what can go wrong for the up and coming Lancers?
"We aren't sneaking up on anyone we play anymore," stated Toporowski. "We practice hard to play hard, and that means guys are competing hard every day to earn ice time in games. We gave the guys Sunday off this week, and Monday was an optional skills day. They go so hard that we can sometimes have injuries in practice, and right now we have a few guys out. No doubt I think the break is coming at the right time for us next week so we can recharge our batteries a bit and get healthy for the second half. For the freshmen that now understand the expectations, it is a chance to put in a little more off-ice work during the break and come back ready to contribute a little more to the program."
Two more wins for the Lancers to close out the first half would exceed the win total for all last season and move them to double-digit wins for the first time since the 2010-11 season, when they won a total of 11 games. The effort and intensity are there, and now proving it is sustainable for the remainder of the season is what the coaching staff and players will be focused on through the break and the key second half starting at Plymouth State on Jan. 6.