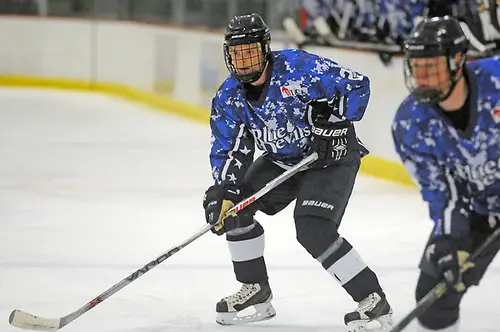 Terry Watkins has been coaching hockey a long time. Thirty years to be exact, all at Wisconsin-Stout.
He's also one of the all-time greats. So he understands the game better than most. Watkins has seen a lot of teams in his time, and this year's Blue Devils squad is one that he enjoys coaching.
"I like this group of kids; they work hard and they are fun kids to be with," Watkins said. "I've been doing this a long time, and there are teams you really like and there are teams that are hard to like. This group works hard, they are committed, and they are doing a lot of good so far."
Wis.-Stout has had only one winning campaign since the 2008-09 campaign, when it won 23 games and made the NCAA tournament. That was in 2010-11 when it won 16 games.
But the Blue Devils are showing promise this year, having won their last two games, with one of those wins coming against national power and WIAC favorite Wisconsin-Eau Claire. Wis.-Stout won that game, 4-3, and sits at 5-6-1 overall and is 2-0 in the conference.
Perhaps the most impressive thing about this team is that it has only two seniors on the roster and yet it's only lost one game by more than two goals.
"We are really young, but we've been hanging in there," Watkins said. "If you look at the scores, we haven't blown anyone out but we haven't been blown out. Our guys compete, and the hope is to get better every time we play. We are progressing, and as a coach, you like to see that."
One of the biggest bright spots for this Wis.-Stout team is goaltender Tommi Ahlgren. The sophomore out of Finland was just named the player of the week in the conference. He recorded 52 saves total in wins over Wis.-Eau Claire and Wis.-Superior, and has won four games in all.
"Tommi is great. He's a fun kid and when he opens his mouth, most of the time you laugh," Watkins said. "He gets along with his teammates, too, and that is key for any goaltender. He's also coachable. We're in a good position with him there."
The offense still needs work, with the Blue Devils scoring only 29 goals. They've scored four or more goals three times and are in the midst of their second two-game win streak of the season.
"It's been our Achilles' heel," Watkins said. "You can't win a lot of games scoring two goals. We have to be able to consistently score four. If you do that, you have a chance to win every night. That is what we are working on."
Mathias Ahman and Hunter Anderson lead the offense, scoring four goals apiece. Both players have six assists as well. Conner Valesano ranks third in points with two goals and six assists. Watkins notes that finding consistency in the offense is key going forward, especially if the Blue Devils want to navigate their way to a winning season playing in the always rugged WIAC.
Finding an identity is important as well to the success of the team.
"The big thing we have talked to our kids about is defining who you are: what is your identity as a player," Watkins said. "You can't have a team identity until you have individual identity. If you had to put a stamp on our program over the years, it's that we have better than average ability but we outwork people. We're still working at that and working to define our roles."
MIAC
St. Olaf salvaged a split in its conference series with Concordia Saturday, defeating the Cobbers, 3-1, to end a two-game losing streak. The Oles are now 5-5 overall and 3-3 in the MIAC.
Tuukka Totro paved the way with a goal and an assist. This is the Finland native's second season with the Oles, and he's the team leader in goals (four) and points (seven). He has tallied at least one point in all but three games this season.
A year ago, he played in 24 games and finished with four goals and nine assists.
NCHA
After getting blanked in Friday's game against Lake Forest, the Milwaukee School of Engineering bounced back with a 2-1 win over Aurora Saturday. Will Gauthier, who is only a freshman, scored the game-winning goal for the Raiders, who are now 7-3-1 overall and 4-2 in the NCHA. Zach Woodman returned to action for the first time since Nov. 10 and didn't look rusty at all, making 35 saves, including 17 in the second period.
It was the final game for the Raiders until after Christmas, and they are good shape.
Gauthier is having a solid rookie season, coming through with two goals and five assists, while Woodman has started six games and has allowed only nine goals. He's won five games.
In the Poll
St. Norbert and Adrian are still one and two in the nation in the latest poll. Augsburg is seventh this week, and Wisconsin-Stevens Point is also in the top 10, checking in at No. 9. The Milwaukee School of Engineering is ranked 15th.