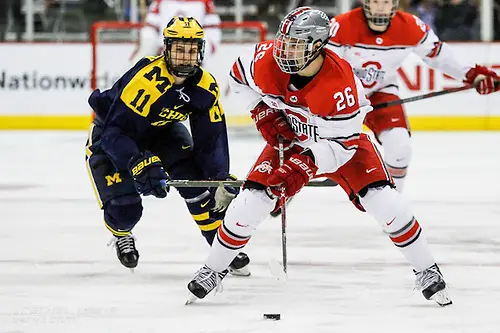 Ohio State's last two weekends have been the perfect example of the type of roller coaster-type highs and lows teams can experience during the season.
Two weekends ago, the Buckeyes went into Ann Arbor and swept Michigan, winning 3-2 on Friday and 5-1 on Saturday.
A week later, things didn't go as well. Penn State came to Columbus and took five of six Big Ten points from Ohio State.
This week, the Buckeyes will get a chance to right the ship when they host Minnesota before taking a three-week break.
Head coach Steve Rohlik would like to see his team start doing the things it did against Michigan and prove that the Penn State weekend was a mirage.
"I don't think our practice week was very good last week and so far this week, we're trying to get them back on track," he said. "Everything's about details and habits and that's how you continue to do well in certain areas. Special teams and team defense are certainly what you're talking about there that we've got to continue to work on and that's how you continue to maintain it."
Ohio State's defense and penalty kill have been impressive so far this season. Even with the nine goals they conceded last weekend to Penn State, the Buckeyes rank eighth in the nation in team defense and are averaging 2.25 goals against per game. Their 91.5 percent penalty kill rate is tied for first in the country.
The offense and its 2.69 goals per game average, however, hasn't been quite up to par.
"There's no reason to go into a game and get shut out," Rohlik said of Ohio State's 4-0 defeat to Penn State on Saturday. "We just didn't get to the dirty areas, we didn't want to get to the tough areas on Saturday. We're capable of scoring goals, we've had some games where we've had plenty of chances and just didn't finish. We've going to score enough goals to win games, we've just got to work hard enough and we've got to put ourselves in that position."
A productive weekend against the Gophers could do wonders headed into the holiday break.
"We all want to go into break and feel good about ourselves," Rohlik said. "We know what kind of team Minnesota has, we respect those guys. Certainly our guys have expectations every time they step on the ice and we expect a great series. We know we want to go out there and empty the tanks because we know we have a long break so our expectations are to go out there and play as hard as we can and see what happens."
The Buckeyes sit fifth in the Big Ten with 10 points. They're five points behind second-place Penn State and four behind third-place Minnesota, who have both played two more conference games. Outside of Notre Dame, who has managed to open a nine-point lead, the middle of the conference table is very congested.
"We played Notre Dame at home and they obviously deserve to be where they're at," Rohlik said. "I truly believe that anybody in our league can beat anybody, that's how good I feel our league is right now. Every point is crucial and you go into the weekend knowing that you've got to battle your tail off to get points."
Wisconsin welcomes red-hot Notre Dame
A week after playing a very entertaining series at Minnesota, the Badgers will once against be featured in a marquee matchup this weekend when they welcome Notre Dame and its 11-game winning streak to the Kohl Center for two games.
Head coach Tony Granato said during his Monday press conference that he was a fan of the hockey he saw being played in Minneapolis last weekend.
"I don't know if you could find two better back-to-back college hockey games than we had Friday and Saturday," he said. "Both games, you probably flip a coin on who probably should have won both nights. We fell a little short on Friday, (but) I thought we played a better game on Friday. Saturday we battled like crazy to find a way to win that one and Minnesota probably walked out of the building thinking they probably should have won that one."
Granato said he felt the games had a playoff atmosphere and predicted that this weekend's games would have a similar feel.
"We're going to be a desperate team that has to respect their opponent with what they've done and how they've done it," he said. "Their goaltending and how they've played defensively has been as good as any college program. We're going to have to battle like we did against Minnesota and just manufacture as much as we can offensively by basically playing a scratch-and-claw game and paying the price to get to the hard-scoring areas."
Goaltending could be an area of concern for the Badgers going into the series. Kyle Hayton was pulled during Friday's loss to the Gophers and Jack Berry got the start and win on Saturday after playing well in relief duty. Granato said after Saturday's game that the coaches would have a conversation about who would play against Notre Dame, but no decision had been made on Monday.
"(Berry) was outstanding in his performance," he said. "I thought the night before, Kyle had some tough plays. They made some great plays back-door that are really tough on any goalie. We're going to need both of them as the year moves along. Both are elite goalies and for us to win they have to be good."
U.S. National Junior Team preliminary roster announced
The preliminary roster for the 2018 U.S. National Junior Teams were announced on Tuesday and featured a number of Big Ten players.
The team, once its whittled down, will compete in the 2018 IIHF World Junior Championship in Buffalo. The tournament runs from late December to early January.
Here's a list of the Big Ten players that made the preliminary roster:
Ryan Lindgren (Minnesota)
Casey Mittelstadt (Minnesota)
Trent Frederic (Wisconsin)
Andrew Peeke (Notre Dame)
Quinn Hughes (Michigan)
Will Lockwood (Michigan)
Josh Norris (Michigan)
Cole Hults (Penn State)
Three stars of the week
First star — Notre Dame sophomore goaltender Cale Morris: Morris made 52 saves in Notre Dame's sweep of Michigan State last weekend. He stopped all 23 shots he faced on Saturday for his fourth shutout of the season. This is his fifth career weekly award and his fourth in a row.
Second star — Penn State junior forward Andrew Sturtz: Sturtz tallied three points for the Nittany Lions as they took five of six conference points from Ohio State. He scored the game-tying goals with 0.7 seconds left in the third period on Friday and had a goal and assist in Saturday's 4-0 victory. This is his second career weekly award.
Third star — Wisconsin sophomore goaltender Jack Berry: Berry stopped 40 of the 42 shots he saw in Wisconsin's 3-2 win over Minnesota on Saturday, including a penalty shot in the first period and 20 shots in the third. He owns a 3-1-0 record this season and a 1.95 GAA. This is his second career weekly award.
B1G in the poll
No. 4 Notre Dame, No. 7 Minnesota, No. 12 Wisconsin, No. 15 Ohio State and No. 18 Penn State represent the Big Ten in this week's USCHO.com Division I Men's Poll. Michigan received votes in the poll.
My ballot
1. Denver
2. St. Cloud State
3. Notre Dame
4. Clarkson
5. Cornell
6. North Dakota
7. Minnesota State
8. Minnesota
9. Providence
10. Northeastern
11. New Hampshire
12. Western Michigan
13. Wisconsin
14. Ohio State
15. Boston College
16. Union
17. Colgate
18. UMass Lowell
19. Penn State
20. Bowling Green
This week's matchups
Michigan State at/vs Michigan (Thursday at Yost Ice Arena, Friday at Munn Ice Arena)
Minnesota at Ohio State (Friday and Saturday, Value City Arena)
Notre Dame at Wisconsin (Friday and Saturday, Kohl Center)
Penn State at/vs Robert Morris (Friday at PPG Paints Arena, Saturday at Pegula Ice Arena)