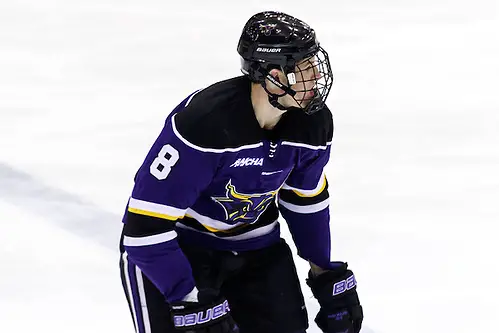 A neophyte might have been a little confused when looking at the Minnesota State-Lake Superior State score from Saturday night in Sault Ste. Marie, Mich: 7-0.
Are you SURE that's not a football score?
Alas, Minnesota State's football team was eliminated from Division II playoff contention a few weeks ago.
But the way the Mavericks hockey team is scoring, seeing one or two "football scores" might be a regular occurrence for fans in Mankato for the rest of the season.
The Mavericks (11-5-0) scored a whopping 12 goals against the Lakers last weekend (if you're doing the math, that's a goal every 10 minutes, making for quite the thumb workout for the goal light operator in the Soo).
In Friday's game — a 5-1 Mavericks win — five different players scored for MSU (Jared Spooner, Parker Tuomie, Zeb Knutson, Jake Jaremko and Daniel Brickley). And Knutson, who scored one of the seven goals Saturday, had a hand in three more on Friday, giving him a cool five-point weekend.
On Saturday, it was two apiece from Ian Scheid and Parker Tuomie, plus one from Knudson, Dallas Gerads and Brad McClure.
Overall, 14 different Mavericks contributed to the offense with at least a point — not entirely unexpected from a team as deep as MSU. Knutson is tied with LSSU's JT Henke for the league scoring lead, while seven other players are in double-digits for points.
MSU's 60 goals in 16 games (3.75 goals per game) ranks first in the WCHA and third nationally, behind St. Cloud State and Penn State. They've also scored 21 times on the power play — also third in the country.
All this is to say: The No. 7-ranked Mavericks are going to be a force to be reckoned with for the second half of the season.
But first, there's one piece of business to take care of — a home series with Alabama Huntsville before taking a week off for the holidays.
The Mavs are currently just one point behind Bowling Green in the league standings. They have two games-in-hand on the first-place Falcons. And if they can get a good result against the Chargers there's a very good chance that they can go into the break in first place.
Granted, there's still a lot of season left. But with a fairly favorable league schedule in front of them — they don't have any more games against either BGSU or third-place Michigan Tech — the Mavericks look like the class of the WCHA at the moment.
Ranked Falcons?
Speaking of Bowling Green, the current WCHA league leader is off this week and doesn't play again until a non-conference game against Dec. 28 against No. 12 Western Michigan.
With that layoff, it's probably the ideal time to break down the Falcons resume as a potential ranked team in the USCHO.
In the Dec. 11 poll, the Falcons are on the outside looking in with 61 voting points, just a smidge behind No. 20 Canisius with 65 points.
The Falcons have a 3-2-1 record against top-20 teams, and haven't lost a game since Nov. 24. (Remember, WCHA shootouts don't count for the NCAA.)
The two teams ahead of Bowling Green, Canisius and Union, both reside in similar conferences strength wise, but have weaker records against top-20 competition (Union 2-5) or played less games (Canisius 3-2) against ranked foes.
So what's holding the Falcons out of the top 20?
It's got to be the ties.
With an 8-5-6 record, Bowling Green is tied with Holy Cross for the most ties in college hockey. Of the 16 teams ranked, only four have more than two ties this season.
A tie is obviously better than a loss, but voters aren't impressed with the Falcons inability to take advantage of close games in regulation on a consistent basis.
Ice Chips
— Alabama Huntsville continues to get good results every weekend. Last weekend, the Chargers got two points from Bowling Green after tying and winning a shootout on Friday. An Huntsville native Josh Kestner keeps scoring goals. The senior forward netted two goals in Friday's 3-3 tie to increase his total to 12. He and Ferris State's Mitch Maloney are tied for second in the league — just one behind NMU's Robbie Payne. UAH hasn't had someone score that many goals since Max McHugh netted 12 in 2014-15.
— Alaska secured the Governor's Cup early. Once for the ninth-consecutive season, the Nanooks beat their rivals from Alaska Anchorage to win the instate rivalry trophy (the Nanooks had to vacate the 2010, 2011 and 2012 titles). The Nanooks, who swept the Seawolves once earlier this season, did it again last weekend in Anchorage. They won 7-2 and 3-2 to secure the trophy again. The teams play one more series in Fairbanks at the end of the season, where the Nanooks will be going for the clean sweep. UAF has now won seven straight against UAA.
— Bemidji State's string of consecutive shootout victories came to an end on on Saturday, as Northern Michigan beat BSU after a 4-4 tie. The Beavers had won all three of their previous shootout attempts, but NMU's Robbie Payne ended that streak. The Beavers' last three games have ended in a tie, and they haven't won a WCHA game since Nov. 4 against Alaska.
— Bowling Green allowed a season-low 12 shots in a 3-1 win against Alabama Huntsville on Saturday. The Falcons also had 42 shots in that game, tying a season high, also set against the Chargers.
— Ferris State goalie Justin Kapelmaster followed up his WCHA goalie of the week award with a season-high 45 saves in a 4-3 win against Michigan Tech in the first game of a weekend split with Michigan Tech. Kapelmaster was actually pulled in the second game of the series and Darren Smith played the third period of a 5-1 loss.
— Northern Michigan picked up a pair of extra points this weekend with shootout and 3-on-3 wins against Bemidji State. The Wildcats won the first game in 3-on-3 after both teams struggled to generate offense — there were just three combined shots — in the first overtime. In the shootout victory NMU took advantage of shooting first and then got the key save.
Players of the Week
This week's WCHA Players of the Week were Minnesota State senior Zeb Knudson (offensive), Minnesota State junior Daniel Brickley (defensive), Alaska sophomore Anton Martinsson (goaltender) and Minnesota State freshman forward Jake Jaremko (rookie).