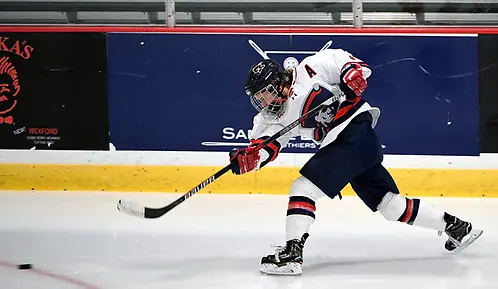 Nearly three months of games are in the books, and though many of the usual suspects make up the top ten, there are plenty of surprises thus far as well. As students wrap up the first semester and the league takes its winter break, it's time to think about what sort of goodies each of these teams hope is delivered by Santa and his reindeer just in time for the second half. From improved special teams to protective bubbles for their best players, there's plenty of wishes that keep coaches up at night as the start to think about March. Here's a letter for each conference detailing the things they're hoping Jolly Old St. Nick will see fit to deliver to them this year:
CHA
Dear Santa,
God save the Queen — or in this case the Colonials. After usurping the throne last season, Robert Morris continues to improve and dominate the CHA. But Mercyhurst has quietly climbed to just a single point back of RMU. The Lakers have a lot of history atop the conference and didn't take losing their top spot kindly. In order to ensure continued success on the ice, here's what I'd like for each of these teams:
Robert Morris hopes we skip Christmas and move right on past to Groundhog Day. They wouldn't mind a repeat of last year or even, more recently, their performance against Colgate. They don't need to ask Santa for confidence, they're finding that all on their own as they continue to improve. A protective bubble around Brittany Howard definitely wouldn't be the worst gift they've ever gotten, and improved special teams would be one of those useful if not particularly shiny presents you get when you're older but still appreciate anyway.
Mercyhurst hopes for a better second half and a run in the conference tournament. Outside the CHA, things haven't gone particularly well, but within the conference, they're just a point behind Robert Morris and hoping to keep pace. They have visions of power-play fairies in their heads — any help they can get with an extra attacker would not go amiss. They've scored just five power-play goals all season.
Syracuse is hoping to find some discipline in their stocking this year. The Orange lead the country in penalty minutes, something that was also an issue last season. Considering how many opportunities their opponents get, their penalty kill is doing rather well at 14th in the country and 86 percent, but all that short-handed time makes it difficult to jump-start the offense. It's not just about the penalty minutes, but how all those penalties affect the rest of the game. Averaging just 1.90 goals scored per game, the Orange should be looking to get their offense consistency and confidence, but it's kind of hard if they don't get to be on the ice.
Penn State has one of the stingiest defenses in the country, so they hope Santa brings them some goal-scoring to accompany it. Some friendlier confines wouldn't go amiss, either. They've struggled at Pegula and really could use all those home points they can get.
The offense continues to improve, so Lindenwood hopes Santa can help them on the blue line and in net. They also hope Santa's time in the skies gives him the ability to grant them easy travel — Lindenwood is home just three weekends in the second half and will be covering pretty much the whole country, from San Jose to Syracuse, over the final two months.
RIT is asking Santa to help them stay out of the penalty box. The Tigers have racked up more penalty minutes than any other team and are spending more than 1/6th of each game down a player. The coaches are hoping the players unwrap some discipline over winter break — playing short-handed is no way to learn or grow a program.
ECAC
Dear Santa,
I, for one, can't wait to see how the ECAC plays out this season. You've already given me the present of great hockey and lots of drama as we wait to see how these teams close out the regular season. The top six teams are within five points of each other, and no one seems to be immune to any of the others. It's going to be an incredibly difficult second-half, and every point will be important, so these teams' Christmas wishes are going to be even more important.
Clarkson hopes history does indeed repeat itself and that their experience helps keep them at the top. They wouldn't mind their own rookie of the year trophy, ECAC or National, under the tree. There's pretty much nothing that isn't working for the Golden Knights so far, so a wish for things never to change is tops of the list for the defending national champions.
Quinnipiac wouldn't mind if Santa could help them create some breathing room. 17 of their 21 games have been decided by two points or fewer. They have actually allowed more goals than they've scored, they've just scored in timely situations. The Bobcats wouldn't mind if Santa helped them keep that knack in the second half. They've played two more conference games than the rest of the teams at the top, so they're hoping for some luck and favorable results from everyone else.
St. Lawrence wishes Santa could figure out how to make them more successful at home. The Saints have played both their games with Clarkson, so the second half looks a bit more appealing. An improved penalty kill would be a pretty awesome present to unwrap, and if everyone else could stumble a bit so they can get back in the top eight for PairWise, they'd leave extra treats for the reindeer.
Colgate wants to know if Santa can deliver smooth sailing over the final weeks. The Raiders have six games against the bottom half of the conference to close out the regular season, so if Santa and his elves would be so kind as to make sure they don't slip up and take all the points, they'd be ever so grateful. A little watchful eye over their currently very successful goaltending pair would also be a happy holiday surprise.
Cornell wants Santa to bring a bit more firepower. The Big Red are young, and their offensive leaders are underclassmen, so if the elves could see fit to hurry up on the confidence, Cornell would be ever so thankful. The Ivies always have a bit of a slower start to the season, so a productive winter break where they find some chemistry (which hopefully improves the power play) would be a special gift indeed.
Harvard sure is hoping things continue to look up. It was a year to forget last season, and even this year didn't get off on a great foot, but right now the Crimson have two games in hand on Clarkson and four games on Quinnipiac and are just five points back from first place. So Harvard wouldn't mind a little helpful magic from Santa to open the doors of opportunity. Things are incredibly improved compared to last season, so the Crimson just hope for some presents that allow that to continue.
Princeton wishes Santa could find some of the old magic for goalie Steph Neatby. Last season's USCHO rookie of the year and ECAC Goalie of the Year finished the season 12-5-1. This year, she's just 2-7-3 and the Tigers are struggling across the board. Of course it's not just Neatby that needs help, but if Santa could help her return to her former glory, the rest of the team might get the chance to follow suit.
RPI is dreaming of some support for Lovisa Selander in net. No other goalie has faced more shots to start the season — she leads the pack with 594, which makes her 2.18 goals-against average even more astounding. They are actually eighth in the country in team defense, so imagine how many teams would be stunned if only they could unwrap some offense.
Union isn't feeling too needy this year — they're already one win shy of last year's record with half a season to grow. There are continued signs of growth and progress, so the Dutchwomen wouldn't mind if Santa just granted them status quo.
If Santa can manage it, some overtime mojo would be really appreciated by Yale. The Bulldogs have already played seven extra-period games, but they've only managed to win one. Their 1-1-5 record in those situations isn't what they'd hoped, so any presents that can help them find that extra level and win a few of those games would make a huge difference in their season.
Brown really hopes some defensive help can be found wrapped up under their tree this year. They are dead last in team defense, allowing 5.54 goals per game. Even the best offensive teams in the country would struggle to overcome that kind of deficit, so any blue line help that can be found would make their holidays bright.
The Big Green are hoping Santa can find a few more upset wins to send their way. Dartmouth is a program looking to grow, and while it's a slow and steady process, a few big wins do wonders for confidence and recruiting.
Hockey East
Dear Santa,
Despite major losses on the defensive side, Boston College remains atop Hockey East. They haven't totally solved their blue line questions, but a truly stellar offense has given them an incredible advantage. From there on down, Hockey East is wide open, with lots of options for how the rest of the rankings will play out. Providence is a pleasant surprise, firmly holding on to second place. Heading into the second half, here are the things these teams hope Santa brings to improve them for the long run.
There's not a lot Boston College needs to change, so they are putting all their wish list power behind asking for some defensive improvement. With three top players off shoring up the blue line of Team USA, a lot is being asked of players who never had to step up into these roles before. A big bag of confidence and chemistry for the D-line would be the perfect thing to open Christmas morning. I'm not saying they've already cleared off a place of honor, but I think we'd all be surprised if they don't find a rookie of the year trophy under their tree.
Santa, Providence is really not too picky this holiday season; all they want for Christmas is an at-large bid or Hockey East tournament championship. They've improved in every statistical category and look to have control of their destiny in Hockey East, but they currently sit eighth in the polls, a good number of votes behind the seventh spot. With Robert Morris below them, they appear to be on the outside looking in. So it's not a lot to ask, really, Santa. Just an NCAA bid.
New Hampshire would like to unwrap an improved second half. They were in a similar spot at this time last year, but went 5-6-1 to close out the regular season. So if the elves could conjure up a strong second half in their workshop, the Wildcats would really be grateful to host a conference tournament series.
Maine is just hoping they don't wake up. If this is a dream, Santa, please let them keep their eyes closed. The Black Bears finished last in Hockey East last season. They've already tied their conference wins total and surpassed their season wins total from last season. From not making the playoffs to possibly hosting the first round, everything right now is a bit of a fairy tale, so whatever Santa's been doing, Maine just asks that he doesn't stop.
Northeastern is grateful for their truly stellar power play and hopes Santa can help them figure out how to translate to even-strength play. The Huskies have four players among the league-leaders in power-play tallies, and as a group, they're seventh in the nation with an extra attacker. They wouldn't mind if Rudolph could help them recapture some of the magic that helped them give No. 1 Wisconsin their first loss, either.
Boston University got an early Christmas present in the form of Victoria Bach this year. The senior has been nearly unstoppable over the past few weeks and her line is almost single-handedly bringing BU back into contention. If Santa were to bring them another gift, their wish would have to be for a more solid defense. Sure, Bach can light up the opposite team and that's given them a lot of breathing room on their own end, but there are only eight Division I teams who are giving up more goals than they are. And their penalty kill is the second-worst in the nation. They're lucky that Bach has become an offensive dynamo — they need her prolific scoring to even give themselves a chance to win the game.
Vermont isn't picky about the help Santa brings, they'll take anything on offer. After showing great signs of improvement last season, the Catamounts have struggled this year. Scoring, defense, and goaltending are all down by comparison, and whatever help Santa could put under the tree will go to good use.
Connecticut could use some help unraveling what's all gone wrong. On paper, this season looked like it could go very differently. A chance over the winter break to breath, evaluate, and improve is something they most want.
Merrimack wishes Santa would help them stop the backslide. They started the season looking like they'd made huge strides over the summer, with wins over BU and Minnesota, but they've won just four games since September. The young program had done incredibly well in its infancy, so some presents to keep them from undoing all the hard work and breaking the confidence of their roster would be welcome.
WCHA
Dear Santa,
Well, the WCHA certainly hasn't played out like anyone predicted when the season started. Minnesota was thought to be the favorite, and no one quite knew how Wisconsin would fare after struggling on offense in the Frozen Four and losing much of their scoring to graduation and the Olympics.
With their 21-1 start, things are looking pretty festive for Wisconsin. What they're most hoping for is a way to avoid the scoring funks that plagued last year's team. They've had a couple of 1-0 games this season that probably should have been bigger wins, though they don't seem to have the same "put 50 shots on net and only score one goal" issues that reared up last season. The power play continues to be a spot that needs work. Just as I wrote here last year, the Badgers need to find a consistent and productive power play. Near the top in most every statistical category, they're middle of the pack with the extra attacker, scoring at just a 16 percent clip. When scoring is your biggest concern, you have to hope Santa can grant you some help.
Though it's been a bumpier road than the Gophers are used to, Minnesota is thankful that they're ranked No. 6 overall and still very much in postseason conversations. What the Gophers need most is a strong and confident defense. The young team struggled to find their footing early in the season, but has had some underclassmen step up on offense and things have evened out. Now, they have to find a way to shore up the D. There's no quick answer, but Goldy will be hoping to find improved blue line play in his stocking.
Ohio State is also hoping to shore up the defense so that they can find the Kassidy Sauve of old under their tree. The goalkeeper single-handedly kept them in games last season and has been left out to dry quite a lot by her defense this season. No one can carry a team on their own, and she's getting offensive help from a couple of talented rookies, but the Buckeyes' defense has to find a way to step up. Sauve can't be stellar if she has to make three, four, five, or more saves on a single play. They definitely wouldn't mind finding a rookie of the year, WCHA or national, under their tree this holiday season.
Minnesota Duluth hopes they've been nice enough to receive an easier second half. They've played one of the toughest schedules in the country, much of it on the road. This young team is just finding its way, so the Bulldogs also hope Santa helps them grow in skills and confidence as the season goes on.
Bemidji State wishes for help finding that elusive something extra. Seven of their ten losses are by two goals or less, and they are 0-2-2 in overtime games so far. They're hoping Santa brings a bit of confidence, a bit of skill, and a dash of clutch scoring to help them earn some points in the second half.
Up in St. Cloud, wishes of offense dance in their heads. The Huskies average just 1.11 goals scored per game, which would difficult enough in any conference, but is especially brutal in the high-flying WCHA. In their stocking, SCSU hopes to find some intangibles — chemistry for their lines, confidence for their shooters, and that elusive "it" that helps teams gel.
Minnesota State is just hoping to gain momentum. They made huge advances for the program last season and don't want to lose any ground. The Mavericks holiday wish is to continue to make steps toward improving.