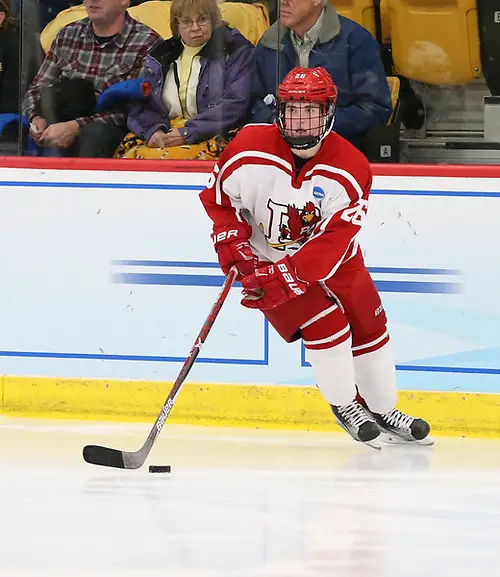 This time of year always feels like it sneaks up on me, and never more so than when talking Division III hockey. We're part way through the season and ready to head into the holiday break. While students finish up finals and you all finish your holiday preparation, here are the things I'm asking Santa for in women's D-III hockey:
Attention for Division III hockey. Lamenting the lack of attention paid to women's hockey at any level is no new refrain, but it's especially apparent at the D-III level. With more players from this level heading into the professional ranks and teams in even more towns than at the D-I level, there's so much hockey people can and should be watching. It's preaching to the choir here, I suppose, but my number one wish is that Division III could get the respect it deserves.
A goalie finishing the year with less than 1.oo goals against. There are currently six netminders averaging less than a goal allowed per game, along with another three with are at 1.10 goals per game or less. No one was able to accomplish the feat last season, but this year's goalies are especially strong.
Dynamic offense. Last season at this time, I asked for a 50-point player, and boy did they deliver. Carly Moran and Sarah Sherub both broke the 50-point barrier, and Kristin Lewicki, Dani Sibley, and Kaylyn Schroka all amassed more than 60 points. This year, seven players currently have 20 or more points, with Melissa Sheeran leading the country with 28 points. It definitely looks like we could have another potent group of scorers atop the list.
Cleaner hockey. Every one of the 62 D-III teams is averaging more than five minutes of penalties a game, and 23 squads have average penalty minutes in the double digits.
Stronger defenses for the 19 squads allowing three or more goals per game. Eight are allowing four or more goals, and two are allowing six or more.
A win for King's — they're the only squad who hasn't gotten to celebrate a victory yet this season.
Conference help for Wisconsin-Eau Claire, Chatham, King's, Weslyan, Williams, Colby, Trinity, Saint Benedict, St. Catherine, Salem State, and Johnson and Wales. Each of them has yet to find the win column against conference foes.
Continued growth. A number of teams are showing massive improvement from last season, including William Smith, which hasn't lost yet and has already matched last season's win total.
A strong finish from Lake Forest. Last season, they lost four of their final six. Luckily, they don't have to face Adrian on the final weekend this year. The Foresters are averaging more than seven goals a game and are atop the NCHA and seem like they have what it takes to go the distance this season.
Some amazing conference races as the season winds down. Five teams in the MIAC are within two points of each other at the top of the table. Just four points separate the top five teams in the NCHA. NESCAC, NEWHL, UCHC, and WIAC all look to be closely fought-contests. It should be a wonderful second-half.
At least as much fun during the postseason as we saw last year. There were a few upsets in the conference tournaments, including eventual third-place team Gustavus Adolphus losing the MIAC. Those wins and losses affected final rankings and how the NCAA tournament shook out. Three of the eight games in the NCAA tournament were won by the lower seed.