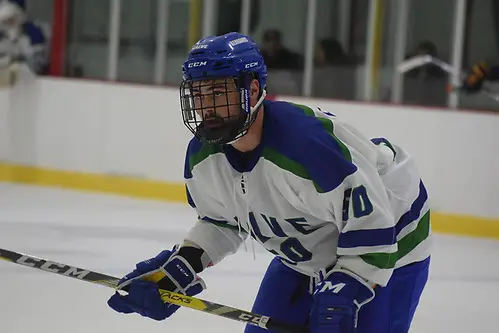 Well it is the most wonderful time of the year — or at least that is how the song goes. Best wishes for the holiday season to all! The first half has closes out for all this week. It's time to think about whether Santa puts your team on the naughty or nice list over the break. So, in the spirit of giving, here are some gift requests from each conference for the Jolly Old Elf's consideration as the New Year and second half of the season starts up in just a couple of weeks. Ho, ho, ho — to all the coaches, players and fans — hoping you find those special presents to help make the second half of the season merry and bright!
CCC
While Endicott remains unbeaten and atop the standings, a solid group of challengers isn't far behind. So Santa, to make sure the second half remains ultra-competitive, can you help out Salve Regina and first-year coach Zach Klann with some special teams' magic and maybe a little recognition for one of the nation's unheralded forwards, Jack Billings, who enters the break with 11 goals, including four game-winners, and 19 points in just 13 games for the Seahawks?
Independents
Santa, is there any chance that there might be some off-ice magic in store for our friends at Bryn Athyn, Canton, and Post? Nothing would mean more to a coach, player, or fan on campus than to know their team has the chance to compete for a conference title or on a national stage if good enough. Hoping you can sprinkle a little Christmas joy of the season over conference administrators to make sure each and every team has an official conference to call home.
MASCAC
Santa, the race for the conference title seemingly has always gone through Plymouth, New Hampshire, or Salem, Massachusetts, so how about adding some other geographic locations to the mix, like, say, Worcester, Massachusetts? The Lancers have been very good boys this year, and I know a new home rink is already a very big present, but how about some continued success on the road where Worcester State has seven key conference games in the second half of the season.
Santa how about a little something special for senior defenseman Jerry Laakso at Massachusetts-Dartmouth, who has already recorded 16 points and two game-winning goals? Maybe some more magic in his hockey stick in the second half.
NE-10
In a conference where every team is very much in the hunt for playoffs, let's keep everyone healthy so the race really comes right down to who is playing their best hockey in February.
For the defending champs from Assumption, how about a little help on the penalty kill — that would be much appreciated Santa. Opponents have been successful on 23.5 percent of their chances, and that will put any team in a tough situation.
NEHC
Santa, you know adding Hobart to the conference really elevated the already high compete level across whole conference. Not surprising the four main contenders of Babson, Hobart, Massachusetts-Boston, and Norwich are all right in the mix and play each other more than once in the second half. Only two points separate first-place Norwich from fourth-place Babson. Here is a wish for at least two of the four finding their way into the national tournament. The autobid always seems to be the sole entrant from the conference, but the caliber of these teams should mean more than one participant on the national stage in March.
NESCAC
Other than the last weekend, Williams has had as good a start as interim coach Mike Monti could hope for, going right to the top of the standings. The power play has been successful almost 40 percent of the time — really, 38.7 percent. Santa, not trying to be unreasonable here but can you keep the Ephs north of 30 percent just to keep other NESCAC coaches worrying more about special teams than they already do?
Santa, the Mules from Colby have everything clicking during their current five-game winning streak. Offense, check; defense, check; goaltending, check; special teams, check and check. How about the team coming back as hot as they leave campus on New Year's for three great games with University of New England, Hamilton, and Amherst to start the second half.
SUNYAC
Brockport has had a pretty good start, and nobody comes out in the first period with as much jump as the Golden Eagles do. Santa, they are a plus-10 in the first period in goals vs. opponents, and plus-31 in shots vs. all opposition. Moreover, they are 5-2-0 when they score first and just 1-3-1 when they don't How about adding some strength in numbers to both the opening and the closing periods (6-1-0 when leading after two periods) that may lead to few more wins and points in the standings?
Santa, the Plattsburgh Cardinals need your help in finding their game. The terrific win at the Primelink Tournament over Thanksgiving has been sandwiched by going 1-6-0 in the conference, where they have been outscored by a 32-14 margin. It's not hard to figure this one — how about just a little more consistent team defense and goaltending? The two freshmen can play, but could use a little help in getting more comfortable with their game at this level.
UCHC
Yes, there are the quirks of the schedule and the games in hand phenomenon, but right now there are just three points separating first from sixth in the standings. Santa, let's keep the race that exciting right to the final weekend so that all competitors in the new UCHC feel like they have a shot at the first-ever title!
It is definitely difficult to start a new program and even harder when you are competing against long-established teams in a conference without an autobid to the champion; you don't get cut a lot of slack in any contest. Santa, the King's and Chatham teams are working hard, so please find some wins in the second half to keep these teams with great positive attitude and momentum.
Santa, Mike Davis has been a great leader in his time at both Neumann and now Stevenson under coach Dawes. He is just 12 points away from the century mark for his collegiate career, so how about a little more puck luck for No. 8 in the New Year?
Santa, most importantly, please make sure all the coaches, players, students, and all their families enjoy a joyous and safe holiday season. The first half has been one of the most competitive in recent years and like the anticipation of Christmas morning, filled with big surprises. So, to all you D-III hockey fans, joyous wishes for the holidays and hopes that all your teams get what you need to have a great start in 2018!