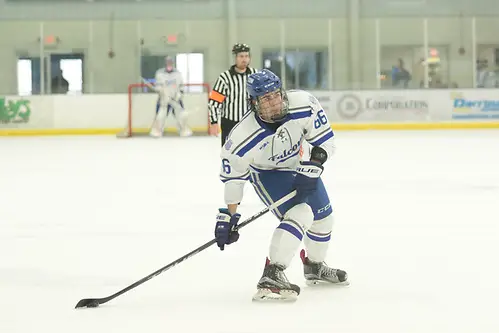 Concordia's Dante Hahn has already exceeded his goal total from a season ago. He's scored six times, and that goes along with one of the improvements he wanted to make to his game.
"I wanted to bring more of a goal scorer element to my game this year," said the sophomore forward. "I've incorporated that a little bit and want to continue working at that."
Indeed he has. Hahn has 10 points, good enough to lead the team, and he's well on his way to beating out last year's point total (17). Fifteen of those points came off assists last year.
He can't complain about how things have gone so far, his effort helping the Falcons get out to a 7-3-1 start. They have lost only twice in their last eight games.
"I'm happy with how the team is doing and having a lot of fun," Hahn said. "There is so much good that can be said about all of the players on the team and the coaches. I'm happy and grateful for the opportunities I've been given and continue to work hard."
The depth of the Falcons is something Hahn notes has been instrumental to success. Eleven players have scored at least two goals, while Nick Malvin and Jack Romanuik have both seen significant minutes in goal.
"It seems like every game new guys are stepping up," Hahn said. "We have such a good base of talent and so much depth. We don't have one guy we count on every night. Everyone brings it and works their tails off."
Hahn has certainly done his part to pace the Falcons and has come a long way since arriving on campus. He came to Concordia after playing junior hockey in British Columbia.
"Concordia had a great offer for me and it seemed like a great school," Hahn said. "I'm definitely happy to be here and happy with how things are going."
Playing at the college level, however, took time to adapt to.
"The physical aspect of the game is different than in junior hockey. It took time to adapt to," Hahn said.
It's no surprise the Falcons are on a roll in the early going of the season, not when you consider how close this team is.
"We have a tight-knit team, the closest group of guys I've played with in my career," Hahn said. "We can go grab dinner and just hang out after a game or practice. It's a great group. I think that friendship plays a huge factor in our success. It's a blessing for us."
Concordia has two games remaining this month, both against Wisconsin-Stout this weekend, and then won't play again until Jan. 5. The Falcons are 4-2 in NCHA action.
"We've gotten off to a really good start," Hahn said. "We are a blue collar team and just keep chipping away and winning games. We want to keep that going."
Johnnies close out 2017 on a high note
Saint John's won its final game of 2017 by taking down Bethel, 5-4. The Johnnies are 9-3 overall and 5-2 in the MIAC.
Brady Heppner continued his dominance of the Royals, scoring his third goal of the season against them. He also has four assists against Bethel this year and has 11 career points against Bethel. Heppner is the team scoring leader this season with seven goals and eight assists.
The Johnnies have won 12 of their last 13 against the Royals and have lost only once in their last seven games overall.
Saint John's, which is three wins shy of matching last season's win total (12), will have nearly a month off before taking on Wisconsin-Eau Claire Jan. 11 at home.
Big win for the Pointers
Wisconsin-Stevens Point stretched its unbeaten streak to seven Wednesday night with a 4-1 win over second-ranked Adrian. The No. 8 Pointers also defeated the Bulldogs Tuesday night, coming away with a 3-2 win.
Luke McElhenie came up big for the Pointers, scoring twice. Willem Nong-Lambert dished out two assists.
The Pointers have scored three or more goals five times in their last seven games as their offense continues to click. They have scored 48 goals in all this season.
McElhenie has played an instrumental role in the success of the Pointers, who are 10-3-2. He has come through with six goals and four assists this season.
In the Poll
The top two teams in the country still hail from the West. St. Norbert is No. 1 and Adrian is No. 2. Wisconsin-Stevens Point is also in the top 10, checking in at No. 8. Augsburg is 11th and the Milwaukee School of Engineering is 14th.