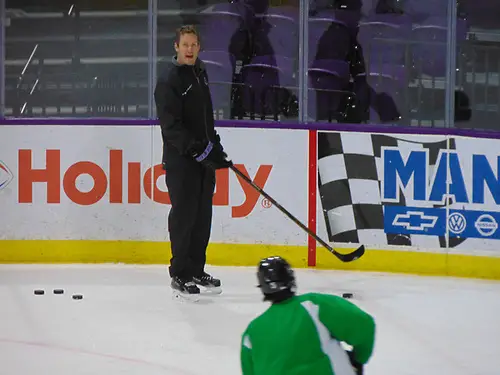 Tim Jackman has gotten used to his fellow Minnesota State Mankato students checking out the old guy in class.
Less than two years removed from a 12-year NHL career as a hard-nosed winger, the 36-year-old Jackman is back in Mankato to finish his undergraduate degree while serving as a volunteer assistant coach for the hockey team he once played for.
The man who made a very good living finishing his checks and showing a willingness to drop his gloves now finds himself conspicuous in a different way.
"Sometimes (classmates) will Google me and find the picture of me with my face covered in blood," Jackman said. "They want to know what I'm doing [at Mankato]. We talk a little hockey and then I ask them to please not knock my books out of my hands when I'm walking to class."
Jackman, who played for the Mavericks from 2000 to 2002 before signing a pro contract with Columbus, began to think about getting into coaching during the late stages of his career. A back injury during the 2015-16 season while playing for the Anaheim Ducks led to surgery, which helped him make the decision to end his playing career and begin making plans for the next phase of his professional life.
"My agent, Ben Hankinson, arranged for me to go to Fargo for the USHL team's summer tryout camp so I could get a taste of what coaching was like," Jackman said. "Then I talked to Minnesota State assistant coach Darren Blue, who I had stayed in contact with since my playing days, and told him what I was interested in coaching."
Blue talked to head coach Mike Hastings and fellow assistant Todd Knott about the possibility of having Jackman serve as a student assistant for the Mavericks, and before long they made the offer. Jackman talked it over with his wife, Chelsey, and both realized that it was too good of an opportunity to pass up.
"It was never on my radar to come back to Mankato, coach the hockey team and go back to school," Jackman said, "but it's been a great experience. I can't say enough good things about the coaching staff, the university and the community that we live in."
Jackman, along with his wife and his young son, James, moved into a home in North Mankato last year as he prepared for life as a full-time student for the first time in 14 years. The drastic change did not always go smoothly.
"I went through some bad days, times that I wished I was still playing," Jackman said. "I took a swimming class my first semester. I had to do the backstroke, and I remember looking at the ceiling and thinking, 'What is going on?'
"The class ended up being great, but I did have that one moment."
And he had Chelsey.
"She was there to help me when I had those tough times," Jackman said. "She was a really good student, too, so he taught me how to study and how to be organized."
Jackman admits that he didn't take school as seriously as he should have the first time around in Mankato. It's something he regrets, and something he talks to the current players about.
"My priorities were hockey first, then social life, then academics," Jackman said. "Fortunately I learned from my mistakes, and I can share that with the guys."
Jackman proved his commitment to the classroom by making the Dean's List last year. And he found something out about himself: "I actually like to read."
And he loves to coach. Jackman was the first Minnesota State player to be drafted by an NHL team when the Blue Jackets selected him in the second round in 2001. He became the first MSU player to play in the NHL two years later.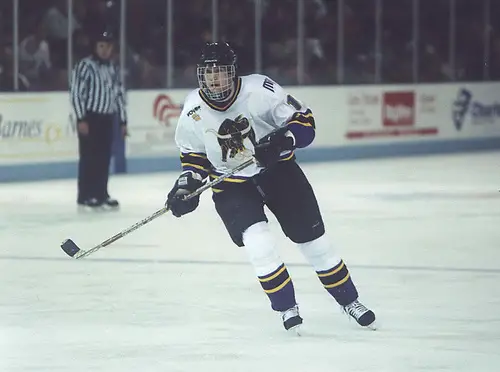 Jackman went on to play for five NHL teams. While he never emerged as a goal scorer, he proved to be an asset as a hard-working and physical player. Now, he welcomes the opportunity to share with others what he believes are the necessities of being a successful player.
"There were things I had to do to stay at that level, and those are the things I talk to the players about," Jackman said. "You have to constantly work on your skating and skills and try to get better. One of my roles with the Mavericks is to work with the guys who aren't in the lineup. Coach has given me the responsibility to make sure they are staying in shape and to help them get into the lineup."
Hastings quickly came to appreciate what Jackman had to offer to the program.
"A lot of things he couldn't do [early in his career] are a lot of the things our guys can't do," he said. "He had to find ways to continue to develop in order to stay in the NHL. He took the attitude that if he worked hard enough and repeated it enough that he could get better at it. So that makes him in unique in being able to teach those things.
"There's a humbleness to him that makes you want to be around him. And he has a tremendous work ethic. He came in wanting to learn and to help in any way he can."
Jackman has one more semester of school remaining and will graduate in the spring with a degree in education. He and Chelsey, who welcomed a daughter, Jane, to the family last March, will then hope to settle in someplace new as Jackman takes the next step in his new career.
Hastings believe Jackman is ready to be an assistant coach on either the professional or collegiate level.
"In the short amount of time he's been here we've tried to throw as much on his plate as we can," Hastings said. "He has the ability to relate to the players and is able to get them to see that he cares about helping them try to get better. That sets him up to be a really good assistant coach right now.
"He can run practices, he can run skills drills, and he's comfortable at it. I look at how the players feel about him, and if you polled our guys, he's a guy they want to see at the rink every day."
Until then, he'll be the "old" guy in class every day, no longer swimming against the current.